The Best Steel Aircraft Hangar Construction in IA & IL
Whether you are looking to build an airplane hangar for your helicopter, crop duster, biplane, glider, or military aircraft, Greiner Buildings can construct a durable metal pole building to keep your plane safe from the elements.
Our custom aircraft storage buildings are made with the most durable pole building materials that are tested and trusted to withstand tough Midwest weather conditions and last for years of dry, dependable aircraft storage.
We place a high value on honesty and integrity with every project we build. You will find our crews and our entire team of pole-building experts to be friendly, helpful, and easy to communicate with every step of the way.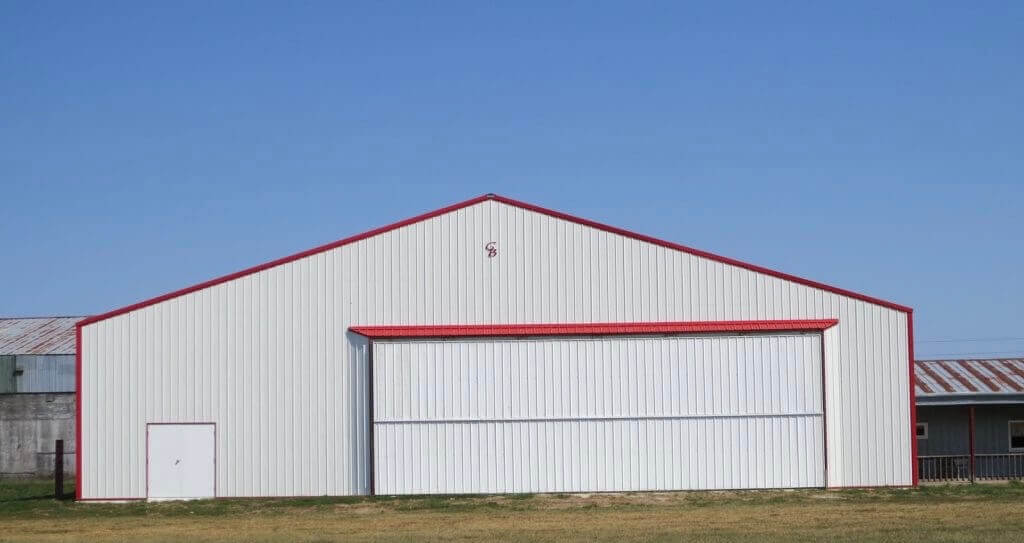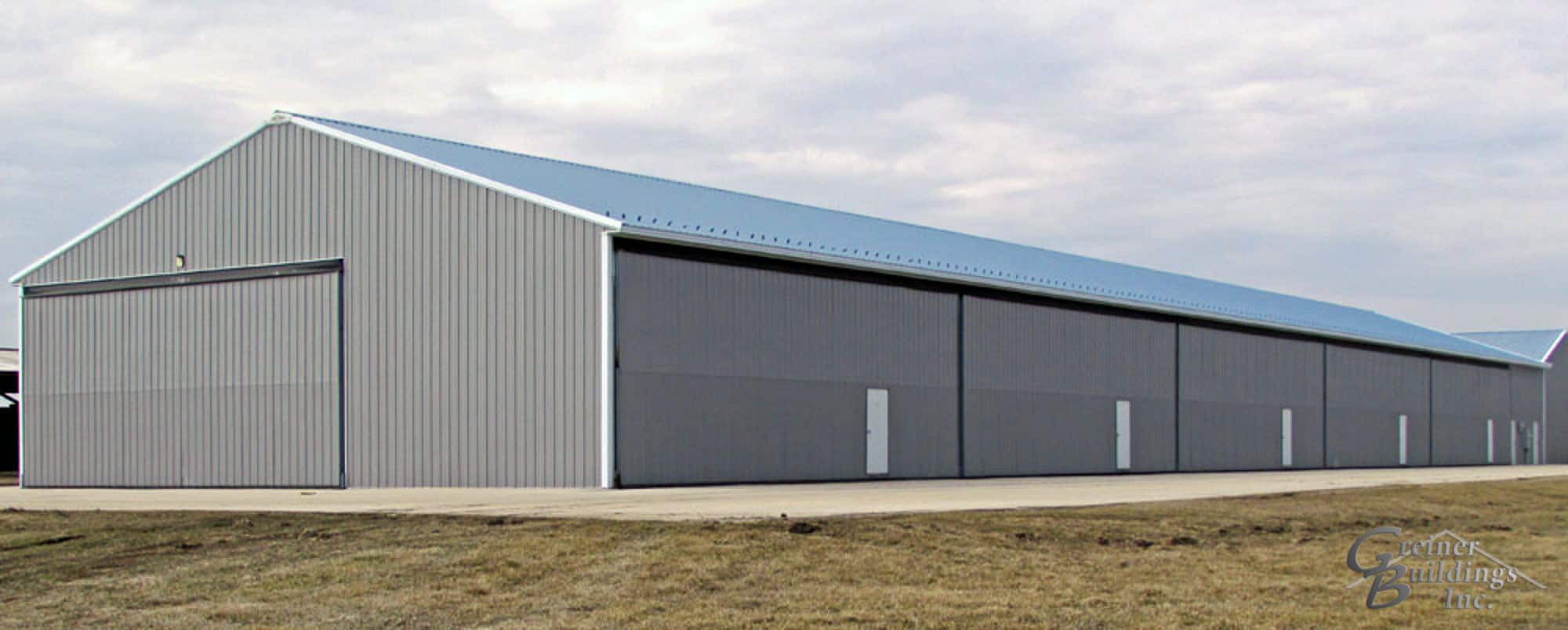 Custom Aircraft Hangar Design & Construction
Greiner Buildings and our team of in-house experts are able to give you the personalized service that you deserve. With our state-of-the-art software systems, we provide 2D and 3D CAD designs for your project first, so that you can know exactly what it will look like before the building process even begins.
Aircraft Hangar Cost to Build
If you're serious about building an airplane hangar or even just interested in seeing a custom design, your first question is likely "how much does it cost to build an airplane hangar?" Well, the good news is that steel aircraft hangar construction cost per square foot is known to be much lower than other types of building construction, like stud frame or masonry. Your exact cost when it's all said and done will depend on the total square footage and choice of post-frame building materials and finishing features such as windows and walk doors, roofing, and insulation. Whether you want a big or small airplane hangar, our friendly and professional team will work with you to construct a plane hangar that meets your needs and your budget. Contact Greiner Buildings for a customized airplane hangar cost quote.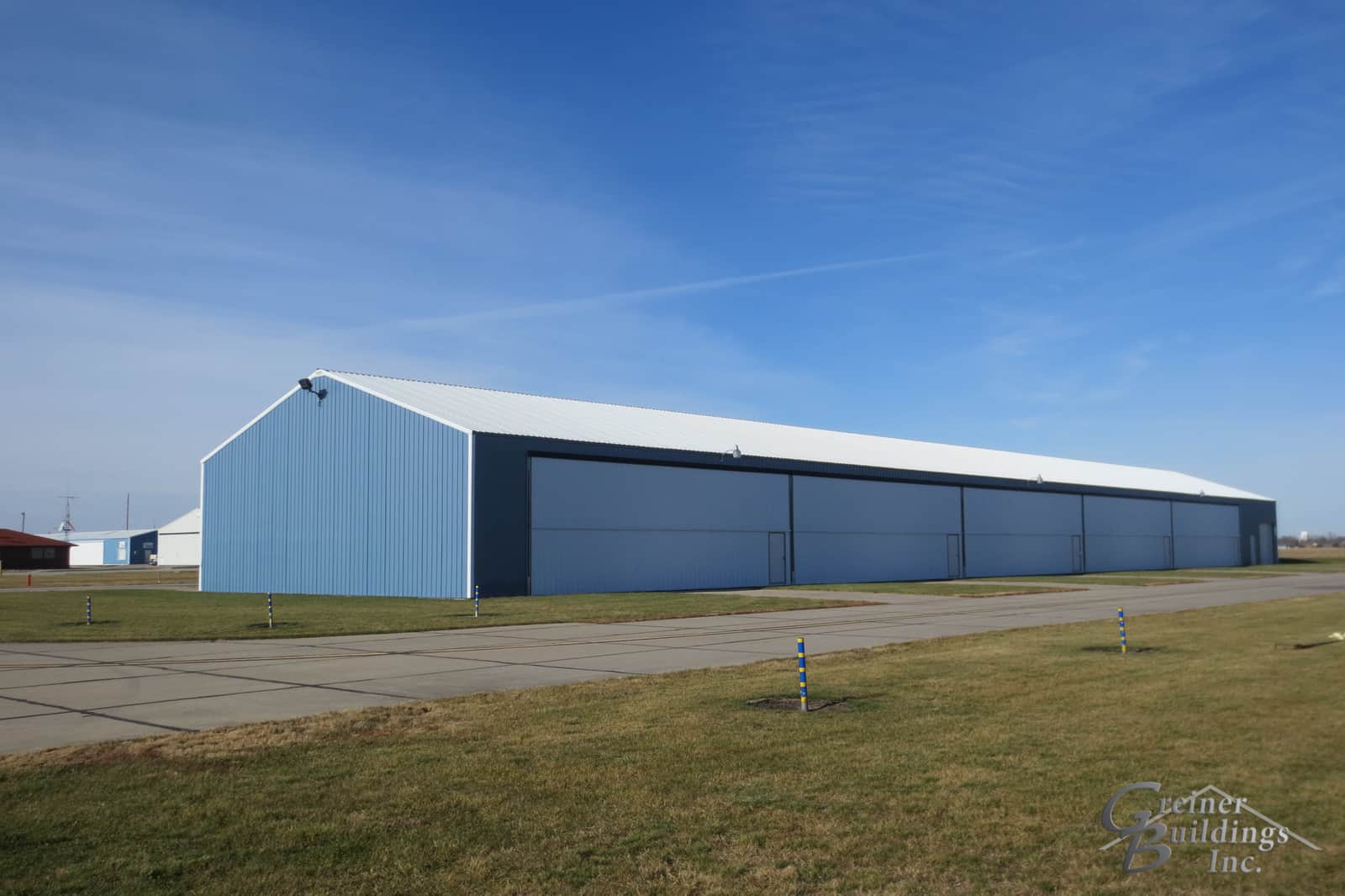 Because your time is important.
Because you want a building that lasts.
Because craftsmanship matters.
Complete Building Services
Because you don't need any stress.
More Commercial Buildings
We create commercial metal buildings of all shapes and sizes, including storefronts, community centers, and commercial condos.
The possibilities are endless.
What are you looking for?
Iowa and Illinois Accredited NFBA Builders. Washington, Clive, Kewanee, Quad Cities, Muscatine, Burlington, Des Moines, Ankeny, Winterset, Cedar Rapids, Iowa City, Solon, North Liberty, Mount Pleasant, Fairfield, Pella, Tipton, Williamsburg, Newton, Keota, Sigourney, Hiawatha, Marion, Columbus Junction, Wapello, Oskaloosa, Knoxville, Marshalltown, Altoona, Urbandale, West Des Moines, Bettendorf, Davenport, Ames, Kalona, Riverside, West Liberty, Princeton, Geneseo, Galesburg, LaSalle, Dixon, Rock Island, Moline, Wyoming and Sterling. Iowa and Illinois Quality Built Post Frame Pole Barns.