Columns & Lumber for Pole Buildings
Greiner Buildings takes great pride in the quality of materials we use to build our post frame buildings. Every post frame building we put together is built with materials that exceed the standards. All of our buildings are built with Glu-Lam columns provided by Rigidply Rafters.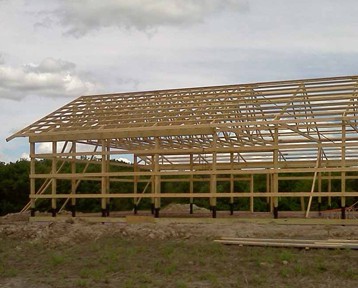 Rigidply has over 50 years of experience and has the industry's leading warranty. Combined with Greiner Buildings workmanship, you have untouchable quality and a post-frame building you can be sure will last. For all your post-frame building Illinois and post frame building Iowa needs, you can count on the professional team at Greiner Buildings.
Whether it be an agricultural building, cattle shed, or other post-frame building, we have you covered.
Glu-Lam Columns Benefits:
Stronger- finger-jointed and laminated. No nails, adhesives or butt joints. Built to last these columns will not separate like nailed, adhesive or butt joint columns.

Straighter than most post frame columns available today on the market

Minimizes cracking and splitting

Lighter- Kiln dried after treating gives you a lighter weight post that is strong and straight.

The most economical true Glu-Lam Post on the market.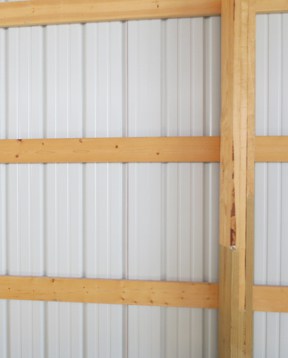 Not only do you get the Glu-Lam column standard on any Greiner post frame building you purchase you also get MSR 1650 Lumber. The picture shows the inside of a Greiner post frame building. The quality of MSR 1650 is unbeatable and it looks great! We can guarantee that you will be thrilled with MSR 1650 lumber. Check out the MSR 1650 list of benefits below, There really is nothing better on the market available today. Contact Greiner Buildings today for more information.
MSR stands for machine-stressed rated, meaning it has been tested for durability on a special roller machine. Here are some of the benefits that MSR provides:
Assures the performance and reliability of your structure
Machine tested for strength and durability.
Meets American Lumber standards (ALS)
Because your time is important.
Because you want a building that lasts.
Because craftsmanship matters.
Complete Building Services
Because you don't need any stress.
What are you looking for?
Iowa and Illinois Accredited NFBA Builders. Washington, Clive, Kewanee, Quad Cities, Muscatine, Burlington, Des Moines, Ankeny, Winterset, Cedar Rapids, Iowa City, Solon, North Liberty, Mount Pleasant, Fairfield, Pella, Tipton, Williamsburg, Newton, Keota, Sigourney, Hiawatha, Marion, Columbus Junction, Wapello, Oskaloosa, Knoxville, Marshalltown, Altoona, Urbandale, West Des Moines, Bettendorf, Davenport, Ames, Kalona, Riverside, West Liberty, Princeton, Geneseo, Galesburg, LaSalle, Dixon, Rock Island, Moline, Wyoming and Sterling. Iowa and Illinois Quality Built Post Frame Pole Barns.