Custom "Man Cave" Pole Barns
T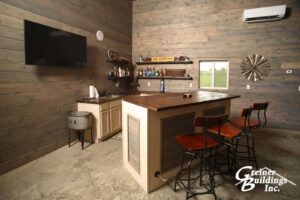 he "man cave" building trend has grown increasingly popular throughout the Midwest. If you are looking to build your dream home and want something completely original, Greiner Buildings is the expert you should choose. We specialize in constructing custom buildings unlike any you have ever seen. Our very own brand, the SHOME®, originated as a shop + home combination and has now inspired several types of combination buildings that homeowners love, specifically man caves.
Ideas for Your Man Cave
Your man cave can be whatever you want it to be, attached to your home or as a completely separate entity on your property. The Greiner Buildings Team has many ideas on how to build a man cave of your dreams. Here are some of the types of man caves we have come across:
Home + hobby shop
Home + workshop
Home + machine storage
Home + RV garage
Home + horse stables
Garage man cave
Half garage half man cave
Guesthouse
In-law suite
Private cabin/getaway
Gaming and entertainment room
Workshop + kitchenette
Barn home
Barn + shop
Why Choose Post Frame?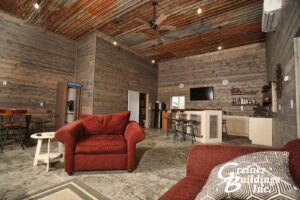 Post frame construction is what Greiner Buildings specializes in because we believe in the quality and other benefits that it provides. All of our buildings are constructed pole barn style to provide a classic yet unique look and to last for years to come. Post frame buildings are also very versatile and easy to add onto because of the framing system. You can easily add porches, room additions, and other features to your building. Our buildings are also extremely affordable and economical compared to your traditional steel or metal building.
Our pole barn style buildings often feature high, vaulted ceilings, large windows and doors, clear span space, stained concrete floors, and tall, beautifully handcrafted cabinetry. The options are endless, and we can accommodate any and all styles: from classic to modern, to rustic, to vintage.
Take a look at our SHOME® page to see some of the most recent projects we have done!
From the Bare Bones to Turn-Key Services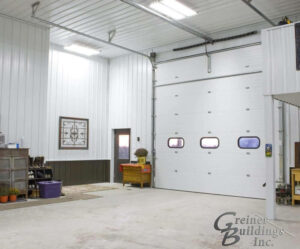 One of the many things that sets Greiner Buildings apart is the fact that we can provide you with as little to as much help as you would like with your building project. If you are a contractor yourself, Greiner Buildings does offer Man Cave Floor Plans to purchase. We can put up the walls and roof for you and let you take care of the rest. Some customers choose to have us put up the doors, windows, awnings, and drywall as well. However, we do provide amazing turn-key services and can take care of the project for you from start to finish. You can trust us with all the details so that you can walk into your finished building and be able to enjoy it right away.
Greiner Buildings Won 1st Place Nationally with this Man Cave
Greiner Buildings had the honor of receiving 1st place with this show-stopping Man Cave. G & Terri's Shop + Man Cave was awarded 1st place by the NFBA in the Hobby Garage division in 2016. Their building is a large shop lined and insulated for their farm toys, fully finished with a custom bar. It's a great place to enjoy the games on their movie screen! The living area is a large open space with 3 bedrooms, 3 bathrooms, and open staircase overlooking the family area complete with a large fireplace. The owners chose to refurbish antiques from other properties to complete their Mega Man Cave.
Greiner Buildings Featured in Lure of the Country Magazine
A few of our man caves were recently featured in the October 2017 edition of "Lure of the Country" magazine in an article called "Home Sweet Shome: Man Cave Trend Fuels Post Frame Building Boom." We are on pages 30-31. Check out the article here to see some of our incredible buildings and get some ideas for your own man cave!
What are you looking for?
Iowa and Illinois Accredited NFBA Builders. Washington, Clive, Kewanee, Quad Cities, Muscatine, Burlington, Des Moines, Ankeny, Winterset, Cedar Rapids, Iowa City, Solon, North Liberty, Mount Pleasant, Fairfield, Pella, Tipton, Williamsburg, Newton, Keota, Sigourney, Hiawatha, Marion, Columbus Junction, Wapello, Oskaloosa, Knoxville, Marshalltown, Altoona, Urbandale, West Des Moines, Bettendorf, Davenport, Ames, Kalona, Riverside, West Liberty, Princeton, Geneseo, Galesburg, LaSalle, Dixon, Rock Island, Moline, Wyoming and Sterling. Iowa and Illinois Quality Built Post Frame Pole Barns.