Pole Barn Builder in Galesburg, IL
A post-frame agricultural building can be a great place to store farm equipment and machinery to protect it from the Midwest weather.
Commercial pole buildings are an easy way to get your business built. We offer professional design plans, guidance, and quality construction.
Pole barn homes are a popular option because they can be a shop and home in one. You can get comfort, convenience, and customization with pole barn living.
Galesburg, Illinois, a town of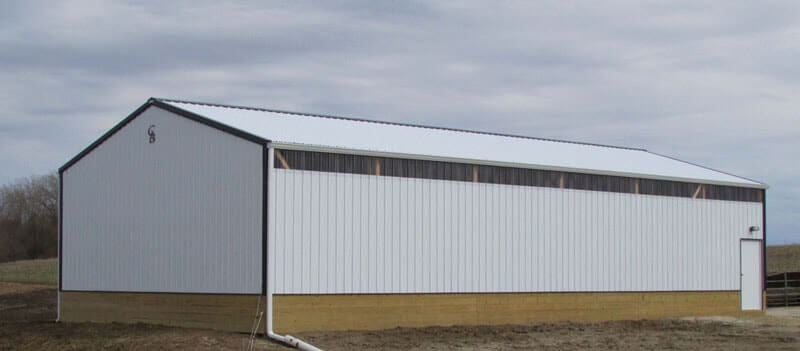 about 32,000, was settled in 1835. Galesburg has strong ties to the railroad industry, and was the first anti-slavery society in Illinois. Currently, it is home to Knox College, and annual events including a film festival and a cardboard boat regatta. Greiner Buildings is proud to service the Galesburg area, and provide post frame and pole building needs. We specialize in all different types of post frame and pole buildings to aid you and your business. Whatever type of building you need, we can help you out. Contact Greiner Buildings Inc. for quality construction services at an affordable price.
Post Frame Buildings Galesburg Options
Greiner Buildings provides many different post frame building options for residents living in Galesburg. The various types of buildings we offer include:
Agriculture Buildings and Cold Storage: Constructed in any size you require, these post frame buildings Galesburg solutions are durable and attractive. Greiner Buildings ensures quality service and sturdy buildings that require little maintenance after constructed.
Cattle Sheds: Greiner Buildings' cattle sheds are made to fit any of your needs. They are constructed with the right kind of roof, ventilation system, and degree of accessibility to meet your requirements.
Commercial: We offer 3D and 2D CAD designs, as well as various stylish and inexpensive options for your commercial buildings. Greiner Buildings can design and construct for you a business or public service building that is customized to your own personal preferences, and that falls into code.
Horse Barns: Whether you need a stable, riding area, or stall barn, we can build the perfect equestrian structure for you. We can install insulated roofs and walls and hay lofts. We can also design a custom horse stall that you and your horse will both love!
Hobby Shop Buildings: Greiner Buildings is dedicated to your success. Whether you own a business or have a passionate hobby, we want to build you a structure that will help you further it. Our hobby shops are of the best quality, lasting for years and maintaining their looks.
Insulated Shops: Post frame buildings are a large investment, and we want to make it the best investment for you. Greiner Buildings installs high-quality insulation in order to keep your shop and equipment safe and protected from the weather and other outside forces.
Residential Homes: For custom residences, Greiner Buildings proudly builds using post frame construction. Post frame buildings are cost-effective, energy efficient, and are of utmost quality. Let Greiner Buildings build your dream home in Galesburg, IL.
Machine Sheds: Greiner Buildings is proud to provide various sizes and styles of machine sheds and agricultural buildings to Galesburg residents and business owners. We build according to your personal needs and conditions.
Mini Storage: Our mini storage units are a very important asset to your business. We can build you a small storage unit that will be easily accessible, low maintenance, and will last for years to come.
Call Greiner Buildings today for more information about post frame and pole buildings in Galesburg, IL. Our design, construction, and repair services are unmatched and our prices unbeatable. We look forward to working with you!
What are you looking for?
Iowa and Illinois Accredited NFBA Builders. Washington, Clive, Kewanee, Quad Cities, Muscatine, Burlington, Des Moines, Ankeny, Winterset, Cedar Rapids, Iowa City, Solon, North Liberty, Mount Pleasant, Fairfield, Pella, Tipton, Williamsburg, Newton, Keota, Sigourney, Hiawatha, Marion, Columbus Junction, Wapello, Oskaloosa, Knoxville, Marshalltown, Altoona, Urbandale, West Des Moines, Bettendorf, Davenport, Ames, Kalona, Riverside, West Liberty, Princeton, Geneseo, Galesburg, LaSalle, Dixon, Rock Island, Moline, Wyoming and Sterling. Iowa and Illinois Quality Built Post Frame Pole Barns.