Galvanized Metal Skirting for Post Frame Buildings
Wood-Free Permanent Foundation System
A pole barn skirt board—also called a splash board or splash plank—is an essential component of the overall building. Located at the base of your structure and positioned horizontally across your columns, it establishes a secure start for the rest of the building. Wooden skirting is most commonly used for post frame foundations; however, with frequent and recurring exposure to dirt, weather, and other elements, it isn't uncommon for this skirting to decay or discolor early on in the life of the building.
Metal skirting has recently become a great alternative to the traditional wooden skirting, but not all metal skirting is created equally. Most metal skirting relies on expensive zinc treatments to obtain the desired durability. So while the results are better, it tends to be more costly.
A New Kind of Pole Barn Skirt Board
TrueBoard is a galvanized metal skirt board that helps protect and maintain the quality and look of your building. TruBoard is coated with an InterCoat® ChemGuard that extends the corrosion resistance of the galvanized steel, exhibits self-healing characteristics for scratches and perforation, and offers superior edge protection. This means that your pole barn skirt board will withstand elements and look great for the life of your building. No need for costly repairs or cover up. This method also requires less zinc to be used within the metal coating, cutting upfront costs as well.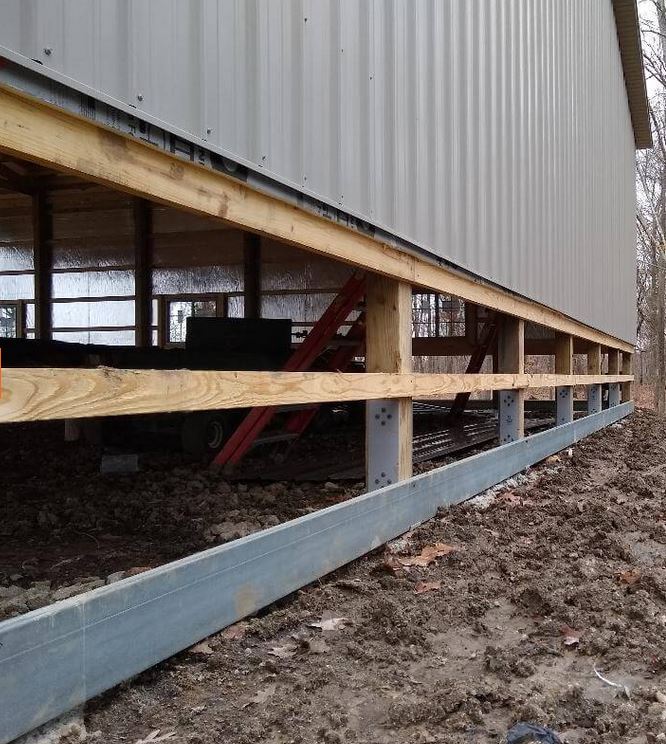 Because your time is important.
Because you want a building that lasts.
Because craftsmanship matters.
Complete Building Services
Because you don't need any stress.
What are you looking for?
Iowa and Illinois Accredited NFBA Builders. Washington, Clive, Kewanee, Quad Cities, Muscatine, Burlington, Des Moines, Ankeny, Winterset, Cedar Rapids, Iowa City, Solon, North Liberty, Mount Pleasant, Fairfield, Pella, Tipton, Williamsburg, Newton, Keota, Sigourney, Hiawatha, Marion, Columbus Junction, Wapello, Oskaloosa, Knoxville, Marshalltown, Altoona, Urbandale, West Des Moines, Bettendorf, Davenport, Ames, Kalona, Riverside, West Liberty, Princeton, Geneseo, Galesburg, LaSalle, Dixon, Rock Island, Moline, Wyoming and Sterling. Iowa and Illinois Quality Built Post Frame Pole Barns.