Benefits of Lined & Insulated Workshop Buildings
Your work is a product of its environment, and our temperature, moisture, and noise controlled shops are as complete as the work that you do. Our unique foundation system has an insulated frost wall making your shop more energy efficient. We also have in-house general contracting services so there's no need to subcontract. Whether it's the way our expert team builds them or the way you use them, our lined and insulated shops always come with comfort built in.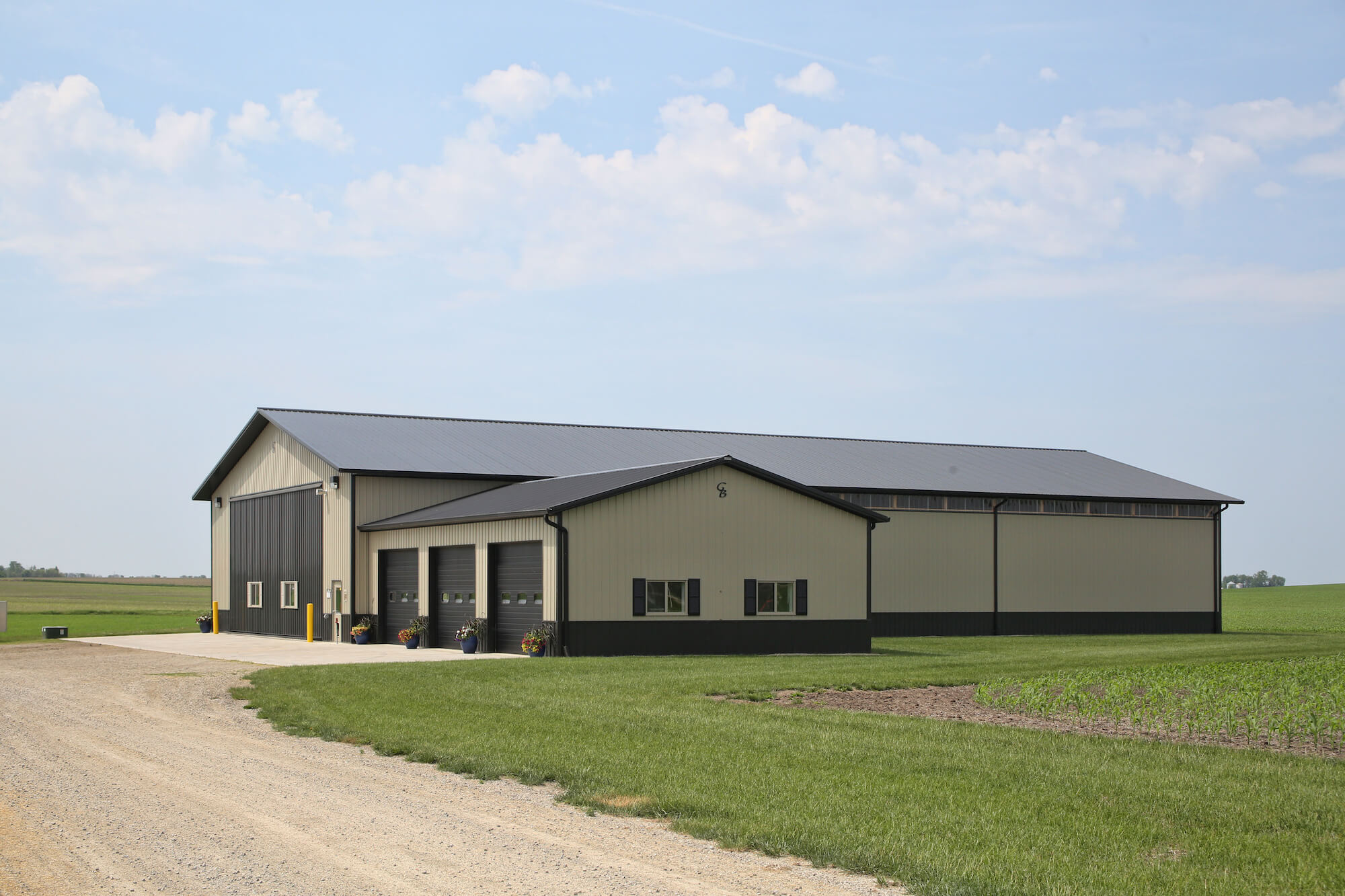 The Importance of Lined and Insulated Farm Shops in IA & IL
For a farmer, workshops can be an incredibly large investment and a very important one too. They may even be a once in a lifetime purchase and serve you for your entire career. At Greiner Buildings, we take the importance of your farm shop building very seriously and offer you the best quality service and production to create a space for you to thrive, grow, and enjoy hard work.
With over 25 years of professional experience, our experts are extremely knowledgeable about what we do. Whether you are planning to build an office, insulated storage shed, or a farm building that is some combination of these things, we have just the right materials and designs to create exactly what you are looking for. We manage all aspects of the construction process and are here to help you every step of the way.
Professional Installation of Insulated Metal Pole Barn Buildings
All of our metal pole barn shops are professionally lined and insulated, providing you with top-notch quality and utmost comfort. We only use the best insulation on the market for our post frame buildings. One type of workshop insulation that we use, TextraFine, is resistant to moisture, mold, and mildew and will prevent corrosion and rust. It also expands after it is put in, which fills in all the gaps and makes your building perfectly insulated, providing a consistent building temperature through the heat of the summer and the cold of winter. Your insulated shop building is such an important aspect of your lifestyle and livelihood, and you shouldn't be prevented from working because of the extreme weather that Illinois and Iowa can bring.
We offer multiple products and additions to choose from in order to custom design your shop. Select from a variety of doors such as walk doors, overhead doors, bi-fold doors, hydraulic doors, and slider doors, as well as other additions such as metal roofing, concrete flooring, and waterproofing.
Your satisfaction is our greatest concern and we want to work with you to create a space that will allow you to love your job even more. We can create your shop to be a simple storage unit for your equipment or make it a practical living space complete with an office, equipment wall, workspace, storage, restroom, kitchen, lounge area, and loft. Contact us to turn your dreams into our next project!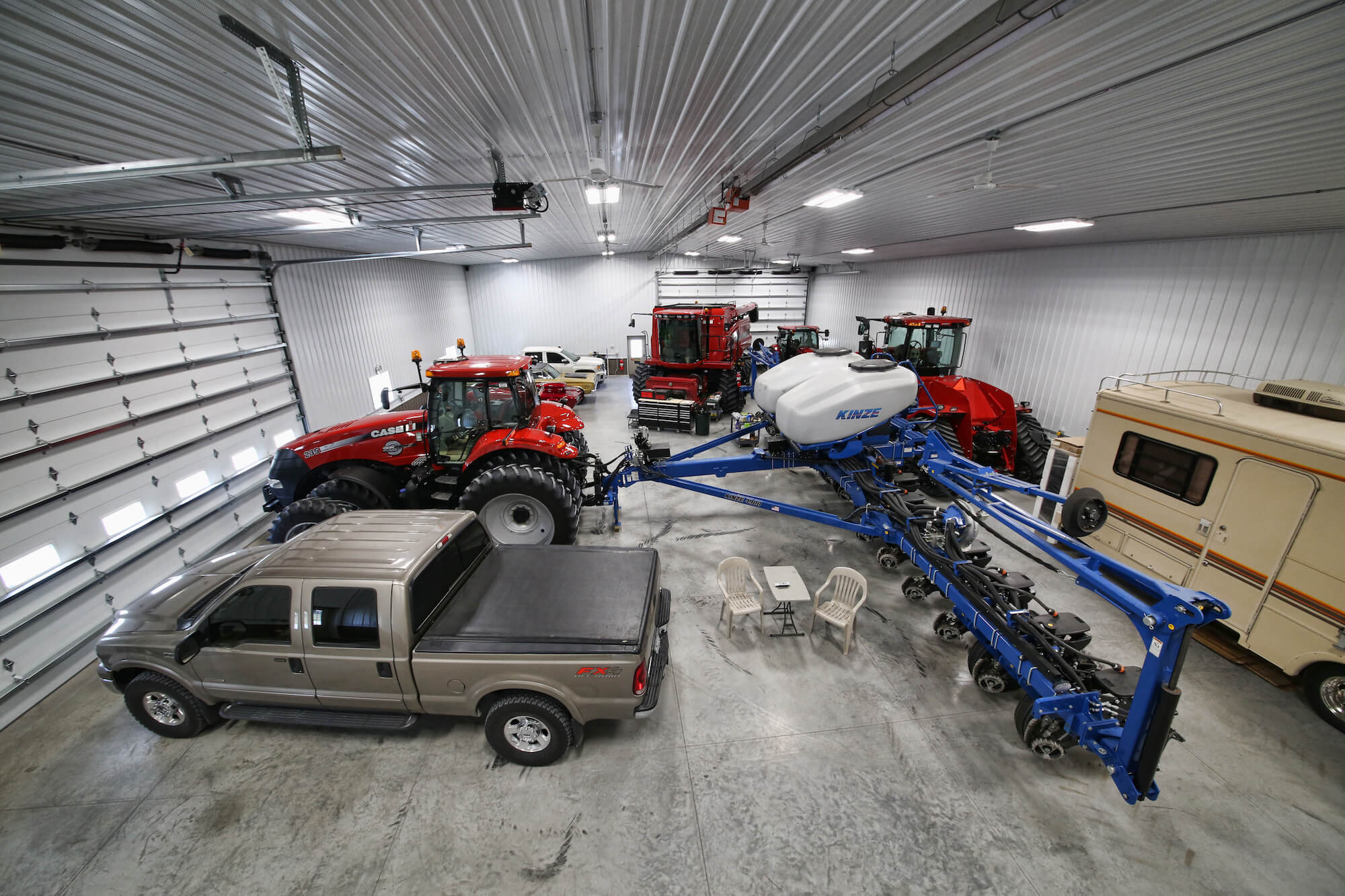 Lined & Insulated Shop Projects
Browse our gallery of recent lined & insulated workshop projects for ideas and inspiration.
More Agricultural Buildings
We build a number of different metal agricultural building types including machine sheds, cattle barns, and more.
Because your time is important.
Because you want a building that lasts.
Because craftsmanship matters.
Complete Building Services
Because you don't need any stress.
What are you looking for?
Iowa and Illinois Accredited NFBA Builders. Washington, Clive, Kewanee, Quad Cities, Muscatine, Burlington, Des Moines, Ankeny, Winterset, Cedar Rapids, Iowa City, Solon, North Liberty, Mount Pleasant, Fairfield, Pella, Tipton, Williamsburg, Newton, Keota, Sigourney, Hiawatha, Marion, Columbus Junction, Wapello, Oskaloosa, Knoxville, Marshalltown, Altoona, Urbandale, West Des Moines, Bettendorf, Davenport, Ames, Kalona, Riverside, West Liberty, Princeton, Geneseo, Galesburg, LaSalle, Dixon, Rock Island, Moline, Wyoming and Sterling. Iowa and Illinois Quality Built Post Frame Pole Barns.