Livestock Buildings, Cattle Sheds, and Barns in IA and IL
Every cattle farmer has different needs and requests when it comes to constructing their new cattle shed. At Greiner Buildings, we specialize in custom designs and have constructed many different types of livestock barns over the years. Just like with our other pole building options, livestock shed projects include CAD 2D and 3D designs, giving you a nearly exact replication of what your finished project will look like. Our team will work with you to help bring your cattle shed vision to life!
Custom Designs For You and Your Livestock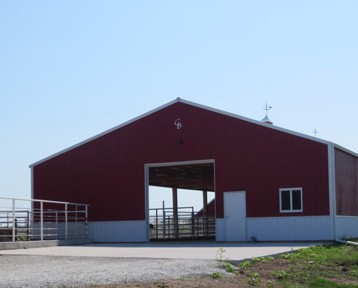 As a cattle farmer, you produce and profit from some of the world's most popular food staples: beef and dairy. The image, quality, and construction of your facility are essential to your livelihood. It is important that your cattle are safe from extreme climate and contained in a consistent and stress-free environment. In order to maintain this lifestyle for your cattle, there are many features you must take into consideration, all of which we provide:
Mono-sloping roofs: This is a roof designed with one slope which allows for natural ventilation, and takes advantage of the weather year-round, providing shade in the summer and sun exposure in the colder months.
Dual-sloping roofs: Like the mono-sloping roof, this roof also allows for natural ventilation and protection from extreme weather.
Open sidewalls: Having open walls also allows for natural ventilation, keeping your cows cool during the summer months and able to experience fresh air while still being confined in a safe environment.
Concrete wall foundations: The foundation of your facility is extremely important. A good concrete foundation will allow for a safe and reliable building structure, one that will give your cattle sure footing wherever they go.
Quality Doors: Whether you prefer a sliding door or a hinged vent door, both are a great addition to your cattle shed and instantly give your building the classic barn image.
Insulated metal roofs: Metal roofs are extremely durable and will last as long as the building itself. They are cost-effective and energy-efficient, as well as simply built and easy to install.
Natural lighting panels: These panels allow for natural light to pass through the building, giving them the benefits of natural sunlight without harming them with insects and extreme weather.
Our team is committed to using their expertise to provide you with a building to your specifications that is cost-effective and constructed with excellent quality in a timely manner. We build cattle shed pole barns in Iowa and Illinois and are excited to work with you to design and construct your new cattle shed. Contact the Greiner Buildings sales team today to start planning your post-frame cattle building.
Cattle Barn & Livestock Building Projects
Browse our gallery of recent pole barn livestock projects for ideas and inspiration.
More Agricultural Buildings
We build a number of different metal agricultural building types including machine sheds, cattle barns, and more.
Because your time is important.
Because you want a building that lasts.
Because craftsmanship matters.
Complete Building Services
Because you don't need any stress.
What are you looking for?
Iowa and Illinois Accredited NFBA Builders. Washington, Clive, Kewanee, Quad Cities, Muscatine, Burlington, Des Moines, Ankeny, Winterset, Cedar Rapids, Iowa City, Solon, North Liberty, Mount Pleasant, Fairfield, Pella, Tipton, Williamsburg, Newton, Keota, Sigourney, Hiawatha, Marion, Columbus Junction, Wapello, Oskaloosa, Knoxville, Marshalltown, Altoona, Urbandale, West Des Moines, Bettendorf, Davenport, Ames, Kalona, Riverside, West Liberty, Princeton, Geneseo, Galesburg, LaSalle, Dixon, Rock Island, Moline, Wyoming and Sterling. Iowa and Illinois Quality Built Post Frame Pole Barns.