Why Choose Metal Buildings in Illinois and Iowa?
For the past few years, steel frame metal buildings have become an increasingly popular option around the world. Metal buildings provide multiple benefits for business owners and individuals living in Iowa and Illinois. Here are the top 5 reasons customers choose metal buildings for their post-frame construction projects:
With nearly endless options for a wide variety of different application types, including Residential, Agricultural, and Commercial, you can easily customize your pole building to meet your exact specifications.
2. Environmentally Friendly:
When people think of steel they associate it as being strong, durable, and heavy. They very seldom think of steel as being environmentally friendly. In reality, steel offers more environmental benefits than other products. It is 100% recyclable and can be melted down then reused again and again to make different steel products.
3. Durability and Longevity:
Living in Iowa and Illinois, a range of extreme weather conditions can take a serious toll on the environment and post-frame buildings. We construct our metal pole buildings at Greiner Buildings to withstand snow, hail, and wind exposure better than buildings constructed with other types of materials. Plus, metal buildings are mold and mildew resistant and they will not erode, rot, or be destroyed by termites or other insects.
Steel buildings are easy to assemble saving valuable time and resources. They are pre-engineered, which means they are pre-welded and pre-drilled before they are transported to the work site for assembling.
Steel buildings are well-insulated so you can save money and lower your utility bills. And, since steel is a non-combustible material, you can also keep your insurance costs down throughout the life of the building.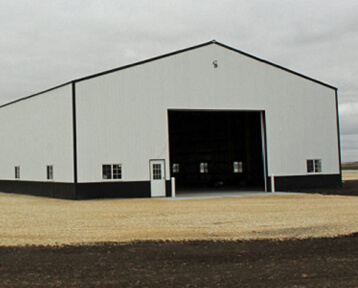 Metal Buildings from Greiner Buildings
As you can see, metal frame buildings offer many benefits, and its clear why these buildings are gaining popularity in many different industries. Contact Greiner Buildings today for more information about our metal post-frame buildings.
A post-frame agricultural building can be a great place to store farm equipment and machinery to protect it from the Midwest weather.
Commercial pole buildings are an easy way to get your business built. We offer professional design plans, guidance, and quality construction.
Pole barn homes are a popular option because they can be a shop and home in one. You can get comfort, convenience, and customization with pole barn living.
Because your time is important.
Because you want a building that lasts.
Because craftsmanship matters.
Complete Building Services
Because you don't need any stress.
What are you looking for?
Iowa and Illinois Accredited NFBA Builders. Washington, Clive, Kewanee, Quad Cities, Muscatine, Burlington, Des Moines, Ankeny, Winterset, Cedar Rapids, Iowa City, Solon, North Liberty, Mount Pleasant, Fairfield, Pella, Tipton, Williamsburg, Newton, Keota, Sigourney, Hiawatha, Marion, Columbus Junction, Wapello, Oskaloosa, Knoxville, Marshalltown, Altoona, Urbandale, West Des Moines, Bettendorf, Davenport, Ames, Kalona, Riverside, West Liberty, Princeton, Geneseo, Galesburg, LaSalle, Dixon, Rock Island, Moline, Wyoming and Sterling. Iowa and Illinois Quality Built Post Frame Pole Barns.