Pole Buildings in Moline, IL
A post-frame agricultural building can be a great place to store farm equipment and machinery to protect it from the Midwest weather.
Commercial pole buildings are an easy way to get your business built. We offer professional design plans, guidance, and quality construction.
Pole barn homes are a popular option because they can be a shop and home in one. You can get comfort, convenience, and customization with pole barn living.
Moline is one of the Quad Cities, along with Rock Island, Bettendorf, and Davenport. It is located in Rock Island County in Illinois and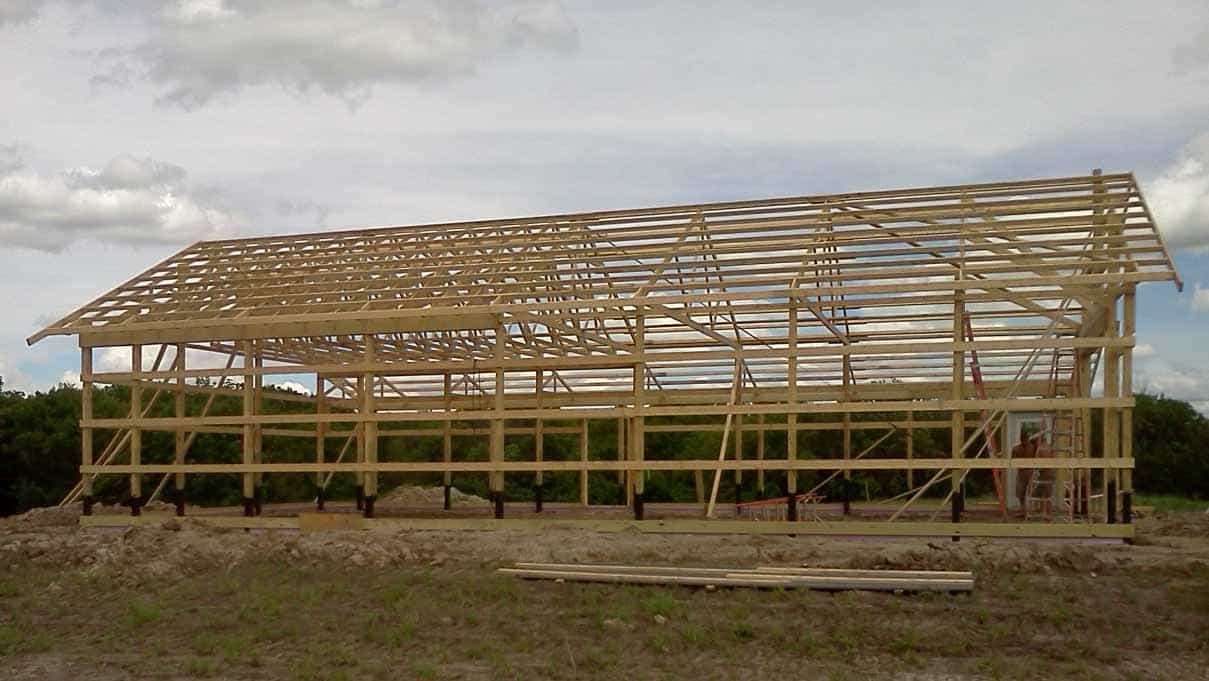 has a population of about 44,000. Outside of the Chicago Metropolitan area, Moline is the 9th most-populated city in Illinois. It is home to the corporate headquarters of John Deere, Quad City International Airport, Black Hawk College, and Niabi Zoo. There are various shopping plazas including Southpark Mall.
The booming city of Moline provides a great opportunity for pole and post frame buildings. Whether for a residential or commercial building, post frame construction has various benefits.
Benefits of Post Frame Construction by Greiner Buildings in Moline, IL
Quality: Our pole buildings are top quality because we utilize the best tools and equipment on the market. We have a professional team that is very trained and experienced to perform all building projects.
Energy Efficiency: Greiner Buildings design specialists ensure that the way our pole buildings are constructed allow for the best insulation and energy efficiency possible.
Speed: Pole buildings can be put up quickly, and you won't have to wait through the long winter months for your construction to be put up!
Long Life: Our constructions are built to last. We have the best products and expertise to ensure that your building will withstand throughout the years.
Affordability: Post frame buildings are a great choice if you want a wonderful building for a great price. Wood materials are much more cost effective than steel.
Versatility: Our pole buildings can become anything you want them to be. From custom homes and barns to machine sheds, cattle sheds, horse stalls, hobby shops, to commercial buildings, Greiner Buildings can build it all!
At Greiner Buildings, we offer our customers multiple services. We not only construct post frame buildings, but we also do 2D and 3D CAD Design and offer repair services. If you have any inquiries, don't hesitate to call us! We look forward to working with you for all of your post frame building needs in Moline, IL.
What are you looking for?
Iowa and Illinois Accredited NFBA Builders. Washington, Clive, Kewanee, Quad Cities, Muscatine, Burlington, Des Moines, Ankeny, Winterset, Cedar Rapids, Iowa City, Solon, North Liberty, Mount Pleasant, Fairfield, Pella, Tipton, Williamsburg, Newton, Keota, Sigourney, Hiawatha, Marion, Columbus Junction, Wapello, Oskaloosa, Knoxville, Marshalltown, Altoona, Urbandale, West Des Moines, Bettendorf, Davenport, Ames, Kalona, Riverside, West Liberty, Princeton, Geneseo, Galesburg, LaSalle, Dixon, Rock Island, Moline, Wyoming and Sterling. Iowa and Illinois Quality Built Post Frame Pole Barns.