Post Frame Buildings Mt. Pleasant, IA
A post-frame agricultural building can be a great place to store farm equipment and machinery to protect it from the Midwest weather.
Commercial pole buildings are an easy way to get your business built. We offer professional design plans, guidance, and quality construction.
Pole barn homes are a popular option because they can be a shop and home in one. You can get comfort, convenience, and customization with pole barn living.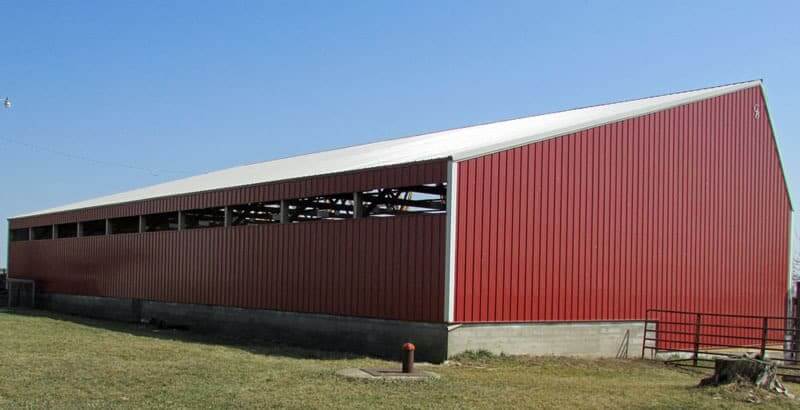 Mount Pleasant is a town located in Henry County, IA with a population of about 8,600. In 1835 it was founded by pioneer Presley Saunders, and incorporated by European Americans in 1842. In that time, Mount Pleasant was known for it's Opera House which was a common place for the community to gather. Speakers such as James Harlan, Sojourner Truth, Anna Dickinson, and Frederick Douglass would visit and speak there. 
Mount Pleasant is a city of rich history, making it a great place to live and to visit. If you are a resident of Mount Pleasant and are looking to build a custom home or barn, Greiner Buildings is here to help. We also build custom commercial buildings, hobby shops, livestock areas, and cold storage.
The Benefits of Pole Buildings & Post Frame Construction
Quality: The constructions built by Greiner Buildings are always of the utmost quality because of our top of the line equipment and professional team.
Energy Efficiency: Pole Buildings are designed and constructed in such a way that allows for incredible insulation, keeping your home or workplace extremely energy efficient.
Speed: No need to wait through the winter to have your new building, post frame construction can be done in no time at all!
Long life: All of our buildings are made to last. Wood materials are strong and sturdy and will see many years.
Affordability: On a budget? Don't worry! Post frame construction is affordable because wood is a lot more cost effective than other materials like steel.
Versatility: From custom homes and barns to machine sheds, cattle sheds, horse stalls, hobby shops, to commercial buildings, our pole buildings can be anything you want them to be! They also allow for easy add-ons such as garages, porches, and 4 season rooms.
Greiner Buildings is at your service for any post frame construction needs you may have in Mount Pleasant, IA. We offer 2D and 3D CAD Design, custom building, and professional repair services. Don't hesitate to call us today with any inquiries. We are happy to help!
What are you looking for?
Iowa and Illinois Accredited NFBA Builders. Washington, Clive, Kewanee, Quad Cities, Muscatine, Burlington, Des Moines, Ankeny, Winterset, Cedar Rapids, Iowa City, Solon, North Liberty, Mount Pleasant, Fairfield, Pella, Tipton, Williamsburg, Newton, Keota, Sigourney, Hiawatha, Marion, Columbus Junction, Wapello, Oskaloosa, Knoxville, Marshalltown, Altoona, Urbandale, West Des Moines, Bettendorf, Davenport, Ames, Kalona, Riverside, West Liberty, Princeton, Geneseo, Galesburg, LaSalle, Dixon, Rock Island, Moline, Wyoming and Sterling. Iowa and Illinois Quality Built Post Frame Pole Barns.