Pole Building Builder in Dixon, IL
A post-frame agricultural building can be a great place to store farm equipment and machinery to protect it from the Midwest weather.
Commercial pole buildings are an easy way to get your business built. We offer professional design plans, guidance, and quality construction.
Pole barn homes are a popular option because they can be a shop and home in one. You can get comfort, convenience, and customization with pole barn living.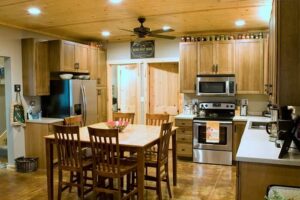 Dixon, Illinois is located in the northern part of the state, and is home to about 16,000 people. The boyhood home of former US President, Ronald Reagan, Dixon is the site of the Lincoln Monument Memorial State Memorial. The city is home to various other historical sites, making it a great place to visit as well as to live.
For residents in Dixon, IL, Greiner Buildings offers pole & post frame construction, design, and repair services. We pride ourselves in building custom homes and barns all over the Midwest. The types of buildings that we provide include:
Agriculture Buildings and Cold Storage: Our cold storage units are perfect for all of your agricultural needs. You can rest assure that we will build you a quality building that you can rely on.
Cattle Sheds: At Greiner Buildings, we know what your livestock needs. Our professionals are experts in designing the perfect shed to keep your cattle safe, dry, and comfortable throughout the year.
Commercial: Our 3D and 2D CAD designs and affordable stylish options make our commercial buildings hard to beat.
Residential Homes: Greiner Buildings specializes in building custom homes for residents of Dixon, IL. We use post frame construction to give you a cost effective, energy efficient, and versatile option for a custom built home.
Horse Barns: We love to build equestrian structures. Whether you need a riding area, a large stable barn, or a custom stall for your horse, Greiner Buildings can construct the perfect place for your horses.
Hobby Shop Buildings: We want to make your hobbies flourish and your business grow by designing and constructing you a shop to best suit your needs.
Insulated Shops: Greiner Buildings wants to make sure that all your equipment is protected and secure. That is why we professionally insulate all of our shops.
Machine Sheds: No matter what size or style, we can create a machine shed for all of your farming equipment. Customize it the way you want it to look!
Mini Storage: Our quality mini storage units are a necessary asset to your business. You can rely on us to build you a safe, attractive, and easily maintainable mini storage unit.
If you have any questions about our post frame buildings at Greiner Buildings in Dixon, IL, don't hesitate to call us today. We are here to help! Let us create the perfect custom building that you've always imagined. We can make your dreams a reality!
What are you looking for?
Iowa and Illinois Accredited NFBA Builders. Washington, Clive, Kewanee, Quad Cities, Muscatine, Burlington, Des Moines, Ankeny, Winterset, Cedar Rapids, Iowa City, Solon, North Liberty, Mount Pleasant, Fairfield, Pella, Tipton, Williamsburg, Newton, Keota, Sigourney, Hiawatha, Marion, Columbus Junction, Wapello, Oskaloosa, Knoxville, Marshalltown, Altoona, Urbandale, West Des Moines, Bettendorf, Davenport, Ames, Kalona, Riverside, West Liberty, Princeton, Geneseo, Galesburg, LaSalle, Dixon, Rock Island, Moline, Wyoming and Sterling. Iowa and Illinois Quality Built Post Frame Pole Barns.