Pole Barn Builder in Princeton, IL
A post-frame agricultural building can be a great place to store farm equipment and machinery to protect it from the Midwest weather.
Commercial pole buildings are an easy way to get your business built. We offer professional design plans, guidance, and quality construction.
Pole barn homes are a popular option because they can be a shop and home in one. You can get comfort, convenience, and customization with pole barn living.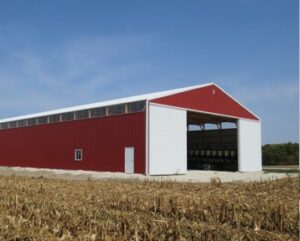 Princeton, Illinois is a town of around 8,000 people located in Bureau County. It is known for it's beautiful antique homes and historic downtown. Every year, they have a Homestead Festival in September where they host parades, plays, a beer garden, kids activities, craft shows, food stands, and more. Main Street in Princeton is full of various new shops and restaurants, as well as home to many historic venues such as it's movie theatre, courthouse, library, and bank.
Benefits of Post Frame Construction in Princeton, IL by Greiner Buildings
There are many things that residents of Princeton, IL can benefit from by hiring Greiner Buildings for post frame construction and pole buildings. Some of these include:
Quality: Our post frame buildings are top of the line because we use the highest quality products and equipment on the market. Our professional team is trained and experienced in all types of building projects.
Energy Efficiency: Our design specialists at Greiner Buildings construct all of our projects in order to allow the best insulation and energy efficiency imaginable for your building.
Speed: You won't have to wait through the long winter months for your pole building to be completed. We can put them up in no time!
Long life: To ensure that your building will last a lifetime, we use the best products and have incredible expertise in all of our work. At Greiner Buildings, our buildings are made to last.
Affordability: Because wood materials are less expensive than steel, post frame buildings will save you a lot of money on your budget.
Versatility: Pole Buildings are very versatile and can be made into almost anything. At Greiner Buildings, we use post frame construction to build anything from commercial buildings to custom horse stables. We can do it all!
Not only are we experts in building, but we also have incredible designers as well as a handy repair team. Let Greiner Buildings meet all of your post frame construction needs in Princeton, IL. We look forward to working with you! Call us today.
What are you looking for?
Iowa and Illinois Accredited NFBA Builders. Washington, Clive, Kewanee, Quad Cities, Muscatine, Burlington, Des Moines, Ankeny, Winterset, Cedar Rapids, Iowa City, Solon, North Liberty, Mount Pleasant, Fairfield, Pella, Tipton, Williamsburg, Newton, Keota, Sigourney, Hiawatha, Marion, Columbus Junction, Wapello, Oskaloosa, Knoxville, Marshalltown, Altoona, Urbandale, West Des Moines, Bettendorf, Davenport, Ames, Kalona, Riverside, West Liberty, Princeton, Geneseo, Galesburg, LaSalle, Dixon, Rock Island, Moline, Wyoming and Sterling. Iowa and Illinois Quality Built Post Frame Pole Barns.