Tiny Houses vs. Shomes | Greiner Buildings
Forget the Tiny House Trend, Check Out Shomes Instead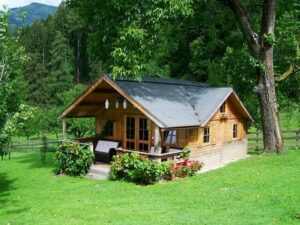 Tiny houses seem to be the new "big" thing. People looking to cut costs and live simply are looking at these 400 square foot homes (the average American home is over 2400 square feet). The trend really got a boost after the financial crisis in 2007-08. Tiny houses are affordable and energy-friendly and can be attractive for those very reasons. The homes are unique and a clever use of space.
Another smart use of space is a structure called a "Shome", a shop and a home combined into one. In the past, a garage or workspace was usually built elsewhere on the property, so you would have two structures, so, in turn, you would have more energy costs, increased property costs, and larger insurance premiums. Shomes are a combination of living space, exterior leisure space, and shop space. These beautiful structures are pole buildings adapted to contain residential living areas.
Benefits of a Shome
Cost effective: This method of building can be more affordable than traditional homes. Pole structures routinely cost less than steel frame or stud frame buildings.
Quickly built: A pole building can be built in dramatically less time than a steel or standard frame structure.
High quality: Greiner Buildings takes pride in using the highest caliber products, from screws to beams, to build strong and safe structures.
Energy efficient: Pole buildings have large areas that can be covered in large swaths of insulation. In addition, we use insulated trench footing, and the homeowner can choose to use Energy Star rated paint. This combination of features gives you a big head start on lowered energy costs.
Versatility: Pole buildings are inherently adaptable. The floorplan options are almost endless, allowing you to make your Shome fit your particular needs and wants.
Greiner Buildings Has You Covered
If you choose to build a Shome, Greiner Buildings can take care of all of your home construction needs. We design and manage the construction, giving you the peace of mind of only having to work with one company while your home is being built. If you want to build it yourself, we can supply you with professional plans and the materials you need to get the job done.
We know your home can be your biggest investment and your family's comfort and safety are your number one priorities. The experts at Greiner Buildings pays attention to every detail, ensuring you have a unique and special home, that meets or exceeds your requirements. We'll provide you with one-on-one attention, giving your detailed quotes and drawings, so you are able to customize your shome to your budget.
Our experience is manifest in the thousands of pole buildings we have built in Iowa and Illinois. Give us a call for more information and make sure to look through our photo gallery. We're sure that you will be happy with choosing us to make your next home a shome.
What are you looking for?
Iowa and Illinois Accredited NFBA Builders. Washington, Clive, Kewanee, Quad Cities, Muscatine, Burlington, Des Moines, Ankeny, Winterset, Cedar Rapids, Iowa City, Solon, North Liberty, Mount Pleasant, Fairfield, Pella, Tipton, Williamsburg, Newton, Keota, Sigourney, Hiawatha, Marion, Columbus Junction, Wapello, Oskaloosa, Knoxville, Marshalltown, Altoona, Urbandale, West Des Moines, Bettendorf, Davenport, Ames, Kalona, Riverside, West Liberty, Princeton, Geneseo, Galesburg, LaSalle, Dixon, Rock Island, Moline, Wyoming and Sterling. Iowa and Illinois Quality Built Post Frame Pole Barns.