Pole Buildings in Toulon, IL
A post-frame agricultural building can be a great place to store farm equipment and machinery to protect it from the Midwest weather.
Commercial pole buildings are an easy way to get your business built. We offer professional design plans, guidance, and quality construction.
Pole barn homes are a popular option because they can be a shop and home in one. You can get comfort, convenience, and customization with pole barn living.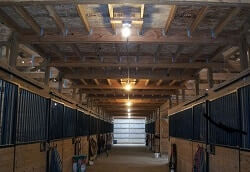 Toulon was founded in 1841. In 1858, both Abraham Lincoln and Stephen Douglas spoke there during their senatorial campaign. Several churches and businesses make Toulon their home, including Stark County Ambulance, the only Advanced EMS provider in the county.
Benefits of Post Frame Construction in Toulon, IL
Greiner Buildings offers Toulon residents and homeowners many benefits when they hire us to build their post frame structures. Here are just a few of the benefits that post frame construction offers:
Quality: Using only the highest quality tools and equipment available, Greiner Buildings wants to make sure that you have the best building for years to come. Combine the best products with our highly trained experts and the combination is unbeatable.
Versatility: Post frame buildings can be adapted to just about any option you can think of.
Affordability: By being made from wood, pole buildings are much more affordable than ones made from materials like steel.
Energy Efficiency: The nature of a post frame structure allows for insulation, reducing your heating and cooling costs.
Long Life: We use the highest quality wood available. That, combined with our construction methods, ensures that you will have a building that will last a lifetime.
Speed: Due to the small amount of labor and materials needed to construct a pole building, the structure can be built in a short amount of time.
Greiner Buildings is proud to offer residents of Toulon the highest quality post frame construction in the nation. We can custom build your structure to your specifications and preferences. Contact us today to learn more about Post Frame Buildings in Toulon, IL.
What are you looking for?
Iowa and Illinois Accredited NFBA Builders. Washington, Clive, Kewanee, Quad Cities, Muscatine, Burlington, Des Moines, Ankeny, Winterset, Cedar Rapids, Iowa City, Solon, North Liberty, Mount Pleasant, Fairfield, Pella, Tipton, Williamsburg, Newton, Keota, Sigourney, Hiawatha, Marion, Columbus Junction, Wapello, Oskaloosa, Knoxville, Marshalltown, Altoona, Urbandale, West Des Moines, Bettendorf, Davenport, Ames, Kalona, Riverside, West Liberty, Princeton, Geneseo, Galesburg, LaSalle, Dixon, Rock Island, Moline, Wyoming and Sterling. Iowa and Illinois Quality Built Post Frame Pole Barns.