Pole Building Builders in Waterloo, IA
A post-frame agricultural building can be a great place to store farm equipment and machinery to protect it from the Midwest weather.
Commercial pole buildings are an easy way to get your business built. We offer professional design plans, guidance, and quality construction.
Pole barn homes are a popular option because they can be a shop and home in one. You can get comfort, convenience, and customization with pole barn living.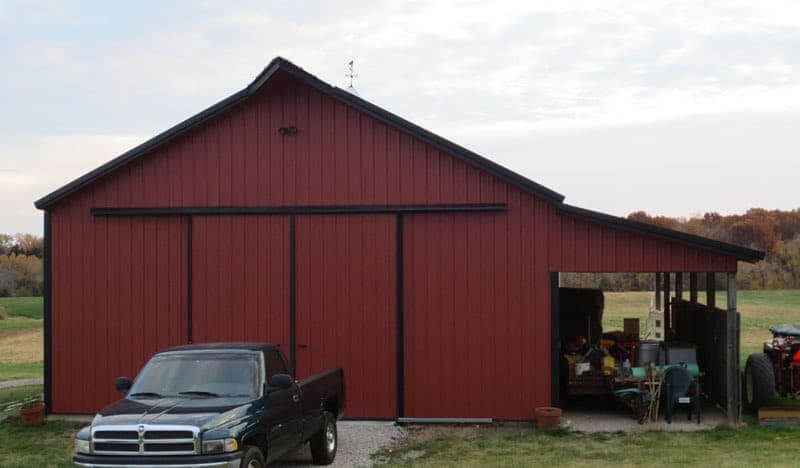 As the 6th largest city in the state of Iowa, Waterloo has 68,000 residents and is located in Black Hawk County. It is home to the Waterloo Center for the Arts which has a variety of visual and performing arts. It holds the largest collection of Haitian art in the USA, along with Midwest Regional Art, Mexican Folk Art, International Folk Art, Public Art, and American Decorative Art. Waterloo is also known for it's Grout Museum District that is full of different types of museums. Some of these include the Grout Museum of History and Science, Sullivan Brothers Iowa Veterans Museum, Bluedorn Science Imaginarium, and the Snowden House.
Benefits of Pole Buildings in Waterloo, IA by Greiner Buildings
Residents of Waterloo, IA can benefit from post frame construction in various ways. Here are some advantages of hiring Greiner Buildings for your post frame building needs:
Quality: You can trust the professionals at Greiner Buildings to construct a quality post frame building that will withstand harsh weather and last for many years.
Energy Efficiency: Energy efficiency is important because it can lower your heating and cooling bills exponentially. With post frame construction, our buildings are designed for perfect insulation and efficiency.
Speed: Because post frame construction does not require a ton of manual labor or materials, the buildings can be put up very quickly.
Long life: At Greiner Buildings, our buildings are made to last a lifetime. All of the equipment, materials, and expertise that we use will ensure you that your building will be in great shape for years to come.
Affordability: If you are on a budget, post frame construction is the way to go. You can still get the best quality construction at a low cost, especially because wood is much less expensive than steel.
Versatility: Pole Buildings allow for incredible versatility, you can build many different types of buildings with this type of construction. Also, it's frame allows you to make additions such as porches, sun rooms, decks, etc.
The experts at Greiner Buildings can take care of all your post frame construction needs. We design custom buildings from scratch and build them to perfect completion. We also can make any repairs on pole buildings that you already own. Call us today for more information about our services in Waterloo, IA.
What are you looking for?
Iowa and Illinois Accredited NFBA Builders. Washington, Clive, Kewanee, Quad Cities, Muscatine, Burlington, Des Moines, Ankeny, Winterset, Cedar Rapids, Iowa City, Solon, North Liberty, Mount Pleasant, Fairfield, Pella, Tipton, Williamsburg, Newton, Keota, Sigourney, Hiawatha, Marion, Columbus Junction, Wapello, Oskaloosa, Knoxville, Marshalltown, Altoona, Urbandale, West Des Moines, Bettendorf, Davenport, Ames, Kalona, Riverside, West Liberty, Princeton, Geneseo, Galesburg, LaSalle, Dixon, Rock Island, Moline, Wyoming and Sterling. Iowa and Illinois Quality Built Post Frame Pole Barns.