Materials Matter! Why Material Quality Matters in the Pole Barn Building Business
When it comes time to build, why compromise with second-rate materials? Your building is a long-lasting investment, not a short-lived endeavor. Using high-quality materials for your post-frame building is not just a luxury; it's a wise and responsible decision. 
Every building serves a purpose. Homes provide safe havens for families, commercial structures create productive workspaces for businesses, and community centers offer reliable gathering spaces. Each of these purposes is worth protecting. Quality materials ensure your pole barn building delivers its promise.
At Greiner Buildings, we understand how material quality impacts the finished build. Building with us means you'll never second-guess the integrity of your structure. Every component of our pole barn buildings utilizes tried-and-true materials through the meticulous attention of our crew.
What are the best pole barn construction materials?
The best materials for any construction project are reliable, long-lasting, and sustainable. Investing in quality materials pays off in the long run. You'll reduce maintenance costs and avoid premature replacements, saving time and money.
What are the benefits of using quality construction materials?
Quality materials contribute to a quality build. Better materials mean safer, more cost-effective buildings. 
Safety:

Safety should be the number one concern of any construction project. Using top-notch materials reduces the risk of accidents, keeping occupants, workers, and visitors out of harm's way.

Cost-efficiency:

While high-quality materials have higher upfront costs, they reduce long-term expenses. They require less maintenance and repairs than lower-quality materials. 
Greiner is a build above. We use the best materials for our projects, whether we're building residential, commercial, or agricultural pole barn buildings. We're constantly setting new standards in the post-frame construction industry, and our top-choice materials set us apart. 
We are the number one pole barn material provider in Iowa and Illinois. In addition to using the best materials for our clients, we also offer contractor material packages!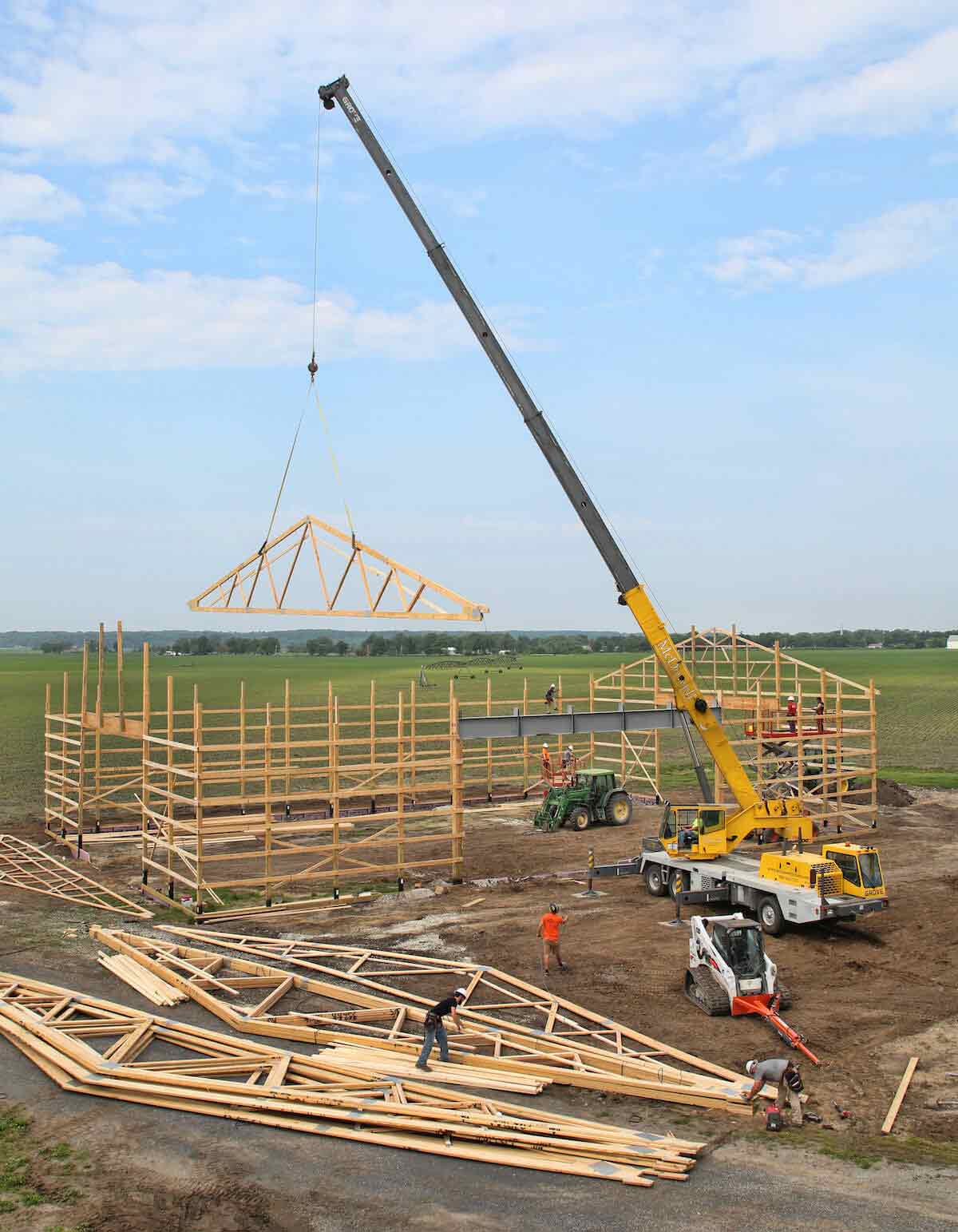 Machine Stress Rated (MSR) Lumber
Stronger: each piece tested to 1650 ft. lbs
Safer
Aesthetic
MSR lumber has been tested and graded for its strength and stiffness. In construction, this type of lumber is used for load-bearing structures that need reliable, consistent strength.
How is MSR lumber tested?
MSR lumber undergoes a testing process that evaluates its strength and stiffness. Rigorous testing ensures MSR lumber is reliable and consistent. The testing process includes a series of steps:
Grading:

We visually inspect all lumber for any defects or irregularities. Knots, splits, and other imperfections are considered during the grading process.

Testing:

The lumber undergoes mechanical stress tests using specialized machines. These machines apply various forces to the lumber and help assess its performance under different loads.

Classification:

The lumber is assigned a specific grade based on its performance. The grade indicates the lumber's strength and stiffness.
Straighter: easier to build perfectly straight buildings

Aesthetic

Sustainable

Long-lasting
Glulam (glue-laminated) columns are layers of lumber bonded with durable, moisture-resistant adhesives. Glulam columns keep your pole barn building safe, straight, and reliable.
What are the benefits of glulam columns?
Glue-laminated columns are the premium choice. They provide countless benefits to post-frame construction.
Strength and Stability:

Compared to solid wood posts, glulam columns are structurally superior. Glulam columns endure a lamination process that eliminates timber defects. This results in a more uniform and reliable material.

Versatility:

Glu-laminated columns can be cut to specified lengths and sizes. This specificity allows seamless construction and efficient building. 

Longevity and Durability:

Glu-laminated columns withstand harsh environmental conditions, making them great contenders for building shelters. The bonding process used in glulam manufacturing enhances the column's resistance to decay, insect infestations, and weathering. 

Consistency and Predictability:

Glu-laminated columns are manufactured under controlled conditions, ensuring consistent quality and predictable performance. Reliability is crucial in construction projects.

Sustainable and Eco-Friendly

: Glulam is a sustainable building material. It's an efficient use of lumber, as it can be manufactured from smaller-diameter trees and fast-growing species, reducing the demand for large, old-growth timber.

Aesthetics:

Glu-laminated columns are visually appealing. They have consistent grain patterns and smooth surfaces. They can be left exposed in architectural designs and add a touch of natural beauty to the structure.

Lighter Weight:

Glulam is lighter than solid wood. This makes handling and installation easier.

Fire Resistant:

Glu-laminated columns exhibit excellent fire resistance. When exposed to fire, the outer layers char and insulate the inner layers, providing a measure of fire protection. 

Cost-Effective:

Glulam has a higher upfront cost than solid wood, but its long-term durability and reduced maintenance requirements result in cost savings over the structure's lifetime.
Color-retaining: keeps structures looking good 

Weather resistant

Chemical resistant

Environmentally friendly
Kynar paint is a high-performance coating that is exceptionally weather resistant, even in harsh conditions. It withstands UV radiation, extreme temperatures, moisture, and chemical exposure. These properties make it the premium choice for metal roofing, metal wall panels, and exterior cladding systems.
What are the benefits of Kynar?
Long-lasting:

Kynar paint is highly durable. It resists all kinds of wear, including corrosion and environmental damage. Its durability reduces the need for frequent repainting, reducing maintenance costs and environmental impacts.

Color:

Kynar paint is renowned for its exceptional color retention. It's available in numerous colors, making it suitable for any aesthetic. 

Resistant to chemicals:

Kynar paint is resilient to acids, alkalis, and industrial pollutants. Its chemical resistance suits chemically aggressive environments, like industrial facilities and air-polluted areas.



Sustainable:

Kynar paint contains a low level of volatile organic compounds (VOCs), making it environmentally friendly compared to other paint.
Your building is only as strong as its weakest point, which is why we build using only the highest-quality materials available. A Greiner-made building stands the test of time. Our steel is more robust, our lumber is certified to hold its load, and our paint is weather-proof and long-lasting.
Ready to start your pole barn project? Contact our experts today about our pole building prices and quotes.
What are you looking for?
Iowa and Illinois Accredited NFBA Builders. Washington, Clive, Kewanee, Quad Cities, Muscatine, Burlington, Des Moines, Ankeny, Winterset, Cedar Rapids, Iowa City, Solon, North Liberty, Mount Pleasant, Fairfield, Pella, Tipton, Williamsburg, Newton, Keota, Sigourney, Hiawatha, Marion, Columbus Junction, Wapello, Oskaloosa, Knoxville, Marshalltown, Altoona, Urbandale, West Des Moines, Bettendorf, Davenport, Ames, Kalona, Riverside, West Liberty, Princeton, Geneseo, Galesburg, LaSalle, Dixon, Rock Island, Moline, Wyoming and Sterling. Iowa and Illinois Quality Built Post Frame Pole Barns.