How to Choose the Best Pole Barn Builder: 11 Points & a Checklist
To choose the best pole barn builder for your upcoming project, you're going to need a firm list of needs to steer you in the right direction.
We've worked with over 1,200 customers in our 37+ years of post-frame building experience. Several key things will help you find the right contractor to help your building meet your end goal. If you find the right post-frame builder, your building should serve your family (or business) well for decades to come. And, you'll avoid any headaches along the way.
There are 3,784,293 construction businesses in the US as of 2022 (IBIS World). How do you find out which pole barn company is right for you? Is it possible to know what to expect from a contractor before signing on the dotted line?
Here are 11 ways to find a post-frame contractor who can deliver a painless building process:
1. Seamless communication
Your post frame builder needs to provide excellent project communication for you.
The simple truth is a beautiful hardwood floor would be a disappointment if you wanted stained concrete. The best contractor companies have developed a simple process to aid communication.
They ask clarifying questions that discover your goals and offer potential solutions for each item along the way.
Speaking of clarifying questions, download this 31-question checklist to help you interview contractors more thoroughly.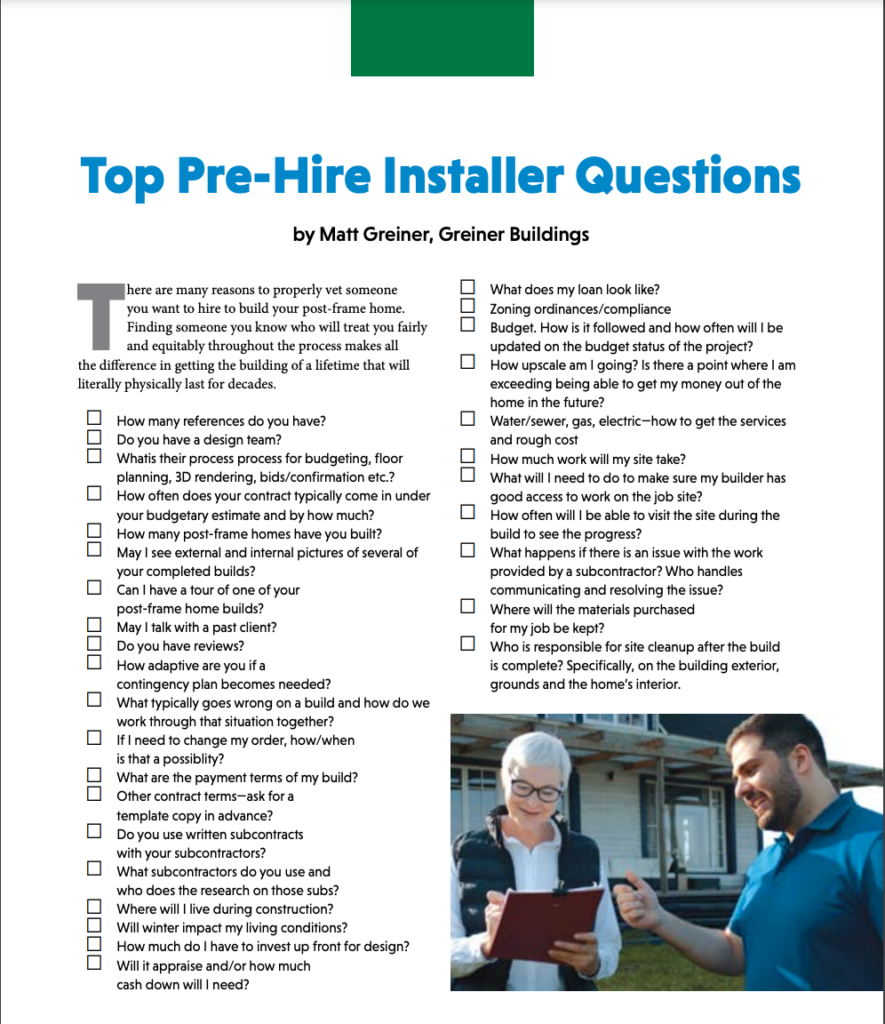 Do you need help interviewing contractors?
With this 31-question checklist you will be able to confidently pick a contractor that is the best fit for you.
(Free download, no email required)
Gather a quick perspective on how well you connect in the first 1-2 building quote meetings. If you get a sense they aren't taking your input seriously, go find another builder.
There is no replacement for quality customer service during the planning process.
2. Trained & certified foreman
A qualified foreman is often hard to find, especially when it comes to building a pole barn. They are the on-site leaders who implement the building plan created by the engineer.
He or she needs to be trained and certified. The foreman makes sure everything goes according to plan. He or she is the person who oversees the work site, so they should have experience working on projects like yours.
They also need to be able to communicate effectively with you (and their team). A foreman must know how to explain things clearly and succinctly.
Don't be afraid to ask if they hold a certificate from the National Frame Building Association or a similar organization.
3. Qualified engineers
Your post-frame dream building needs a creative problem solver to bring that vision to life.
Sure, there are hundreds of construction companies out there who can build according to plans. But, you're going to need the help of a qualified construction engineer to build anything more custom than a DIY pole barn shell. Do some research on their website, and ask how long their engineer has been on the team.
4. Industry experts (30+ years of experience)
Experience really is the best teacher.
You can't replace 37 years of building experience with book knowledge when it comes to post-frame construction. So, make sure you find a quality pole barn company that hasn't popped up just since pole barns got popular. Longevity comes from trust built through delivering quality work — time and time again.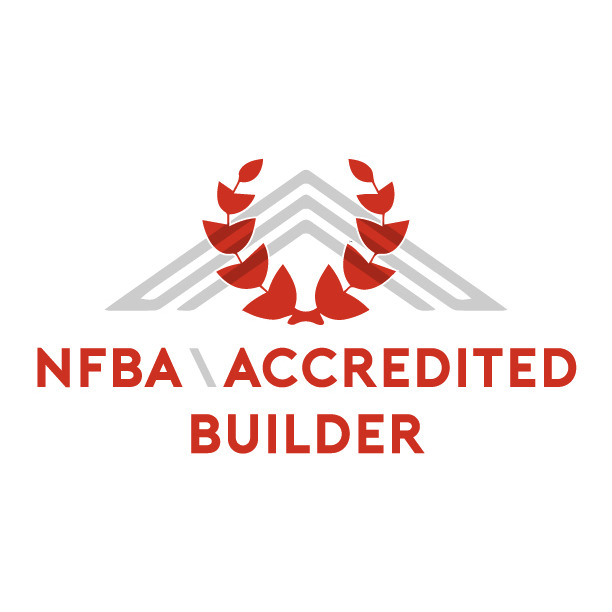 Choose a company that belongs to the National Framing Building Association (NFBA). NFBA members use quality pole barn materials on every project, according to industry standards.
Matt Greiner, the owner and CEO of Greiner Buildings, serves on the NFBA Board of Directors and previously served as president. Greiner Buildings was founded in the 1980s in Washington, Iowa. Our family business has grown into an established post-frame construction company with over 60 employees and 4 offices.
Every step of the way, we've learned there is no substitute for experience.
5. Professional and committed crew
We've already talked about your foreman, but don't forget about the other building crew members.
The pole barn build is the most important step in the entire process. You want a pole barn building crew made up of only in-house employees — no random sub-contractors. We carefully hand-pick and train our crews to make certain every building is made with the utmost quality and care. You want to find a pole barn company that invests in his or her crew because they will carry that same quality commitment into your pole barn project.
Professionalism and expertise can't be overemphasized.
6. Safety standards & Risk Management
Safety on the job site must be a top priority for everyone.
Look for contractors who have received the Platinum Level Achievement award from the NFBA for safety. This seal of approval shows the contractor has the right safety processes in place. 
Check out the contractor's insurance plan as well. We make sure our customers don't need to carry additional insurance by placing Builders Risk coverage on all projects.
You need a crew who is focused on delivering a safe, efficient, and high-quality build.
7. High-quality materials
Building materials are constantly improving in the post-frame construction world.
The ideal builder creates new standards of excellence within the post-frame construction industry. We find and use the highest quality materials to deliver the best experience to every customer. New technology is developed every year. The best pole barn builders test and adapt it to improve their projects.
Here's a video of our crew installing radiant heat in a Shome floor:
8. Great reviews & referrals
Read online reviews for every post-frame builder you're considering hiring. They will help you get those unfiltered details — straight from the mouths of customers just like you.
This step gets overlooked even though it takes so little effort.
Customer testimonials are gold. Find those 4- and 3-star reviews and see what the company's clients have to say about the items in this list. Skip past the perfect 5-star reviews and find out what types of mistakes the builder makes on their worst days.
Did the design meetings get misinterpreted often? Were the timeline estimates off?
9. Honest & clear marketing
The best contractors under-promise and over-deliver.
Be careful if the building company promises you the moon. You might end up with a bunch of expensive headaches instead. Unreasonable promises are a good sign of inexperience.
Experience and skill build the confidence you'll be able to spot.
10. Award-Winning projects
Awards in the post-frame industry are a big deal.
Sure, building design is something to celebrate. But, what makes a quality pole barn builder stand out from the crowd? Consider any relevant experience, previous customer satisfaction, and the entire construction process.
The Accredited Post-Frame Builder program publicly honors post-frame builders for their business integrity and industry knowledge. Accredited Post-Frame Builders demonstrate they have policies and programs in place that will ensure quality and guarantee customer satisfaction. – National Frame Building Association
Check out our award-winning buildings to get a taste of what you should look for. and hire the most reliable and professional employees. As the business continues to grow, we stay grounded in our constant focus on creating the best experience for our customers.
11. Interview and observe
There are a lot of contractors building custom pole barns. However, pole barn construction isn't as easy as it looks.
This checklist will help you simplify the decision process and find the best one for your project.
Download this list of 31 questions to ask your post-frame builder (before hiring them).
You'll want to interview several different companies before making your final choice. Ask about how they work, who their clients are, and what kind of experience they've had. You'll also want to view a few projects. Pole barn construction isn't as easy as it looks.
This gives you an opportunity to see if they follow through on their promises or not. If they don't deliver, you'll find out immediately. Use this checklist to help you find the right building partner and avoid costly mistakes down the road.At Greiner Buildings, we have the expertise necessary to help you build a pole barn that fits your wants and needs. We understand post-frame construction completely, so we can help you design a building that is secure and functional. Submit a quote request to start the process today!
What are you looking for?
Iowa and Illinois Accredited NFBA Builders. Washington, Clive, Kewanee, Quad Cities, Muscatine, Burlington, Des Moines, Ankeny, Winterset, Cedar Rapids, Iowa City, Solon, North Liberty, Mount Pleasant, Fairfield, Pella, Tipton, Williamsburg, Newton, Keota, Sigourney, Hiawatha, Marion, Columbus Junction, Wapello, Oskaloosa, Knoxville, Marshalltown, Altoona, Urbandale, West Des Moines, Bettendorf, Davenport, Ames, Kalona, Riverside, West Liberty, Princeton, Geneseo, Galesburg, LaSalle, Dixon, Rock Island, Moline, Wyoming and Sterling. Iowa and Illinois Quality Built Post Frame Pole Barns.