Greiner Buildings Pole Building Options for Iowa and Illinois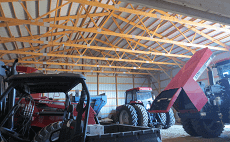 Pole buildings are becoming more and more popular in Iowa and Illinois because of the low construction costs and durability of the buildings. These buildings are professionally built and designed to your specifications, as you and your family are involved in every step of the design process. Want a beautiful custom building that will last for years to come? Consider a pole building. Contrary to popular belief, pole buildings aren't just limited to barns! Greiner Buildings offers numerous different options for pole buildings, from commercial businesses to cattle sheds and more! Whether you're interested in a new, modern home for your family or a functional shop for your business, a pole building is the way to go.
Pole Buildings for Your Specific Needs
Types of pole buildings offered by Greiner Buildings include:
Commercial and Public Service: Our commercial buildings offer something new and exciting for the modern business owner. We design and manage the construction in all of our building sites. Our Greiner building crews can meet any deadline. Our buildings can offer a fresh look for your building or government building. Whether you're a new business owner or simply looking for a new building for your veteran company, consider a pole building from Greiner.
Residential Homes: Post frame homes are becoming more popular in Illinois in Iowa. These homes are great for any family because they offer low-cost construction, unique design, and are built using long-lasting materials. They are perfect for young families, retirees, and anyone in between. Greiner manages the entire construction process, leaving you to spend time on what's really important while we construct your perfect home. We can also supply professional plans and materials if you are interested in constructing the home yourself.
Lined and Insulated Shops: Your shop is an important part of your life, whether it's used for a hobby you love or a business you depend on. Illinois and Iowa winters can be cold, but you shouldn't have to shut down production just because of the weather. Consider one of Greiner's custom insulated shops. We can construct an efficient, beautiful shop designed specifically for your hobby or business. These are some of our favorite buildings to construct, as they are often a large investment and an important part of your livelihood. Therefore, we want to build it perfectly. Our insulated and lined buildings offer stronger foundations than most buildings and can be used year-round. These buildings are energy efficient and perfect for all of your needs.
Machine Shops and Cold Storage: Cold storage buildings require professional construction because they are needed to keep perishable goods from going bad. Because of the specific needs for these buildings, everything must be built correctly. This is where Greiner Buildings come in. We can construct a building that meets any budget or deadline. Come be a part of the design of your building and enjoy a custom professional cold storage building! We offer multiple additions to your buildings, such as waterproofing, steel slide door girts, concrete footings at slider openings, and high quality lumber and bracing.
Horse Barns and Cattle Sheds: Looking to construct a new horse barn or cattle shed? You've come to the right place. For many people in Iowa and Illinois, horses are like a part of the family, and your cattle is your livelihood. Just like all our other construction projects, we offer 3D CAD design to ensure the perfect layout for your needs. We offer insulated, ventilated, durable buildings that will keep your horses happy and healthy. We also offer natural lighting for your horse arenas, At Greiner, we pride ourselves on our attention to detail.
Mini Storage: Another building offered by Greiner is a mini storage building. These buildings are designed to be waterproof, maintenance free, and secure, ensuring you the perfect building for your storage business. These buildings offer a great storage environment sure to please all your customers. We offer customized floor plans with durable building materials.
Greiner Buildings is happy to serve the states of Iowa and Illinois with high-quality construction. Our service area reaches from Peoria, Illinois, to Cedar Falls, Iowa, and many cities and towns in between. Whether you're in need of a home in Galesburg, a horse barn in Rockford, or a cattle barn in Waterloo, Greiner is proud to serve you! Visit our Service Area page for more information. Contact us today to learn about our quality construction!
What are you looking for?
Iowa and Illinois Accredited NFBA Builders. Washington, Clive, Kewanee, Quad Cities, Muscatine, Burlington, Des Moines, Ankeny, Winterset, Cedar Rapids, Iowa City, Solon, North Liberty, Mount Pleasant, Fairfield, Pella, Tipton, Williamsburg, Newton, Keota, Sigourney, Hiawatha, Marion, Columbus Junction, Wapello, Oskaloosa, Knoxville, Marshalltown, Altoona, Urbandale, West Des Moines, Bettendorf, Davenport, Ames, Kalona, Riverside, West Liberty, Princeton, Geneseo, Galesburg, LaSalle, Dixon, Rock Island, Moline, Wyoming and Sterling. Iowa and Illinois Quality Built Post Frame Pole Barns.