6 Fancy & Functional Metal Ag Buildings
Thinking about adding a metal ag building to your property? Get inspired with these industry-leading examples
Metal ag buildings in the Midwest aren't the cold, dark, and stuffy structures of the past. Today these economical buildings can include fancy features like hydraulic overhead doors, brick or stone wainscoting, cupolas with dramatic interior lighting, and even weathervanes that display your favorite sports team, high in the sky. More importantly, they can be custom-built to your exact functional needs and can be lined and insulated in order to keep you comfortable during unpredictable Midwest weather.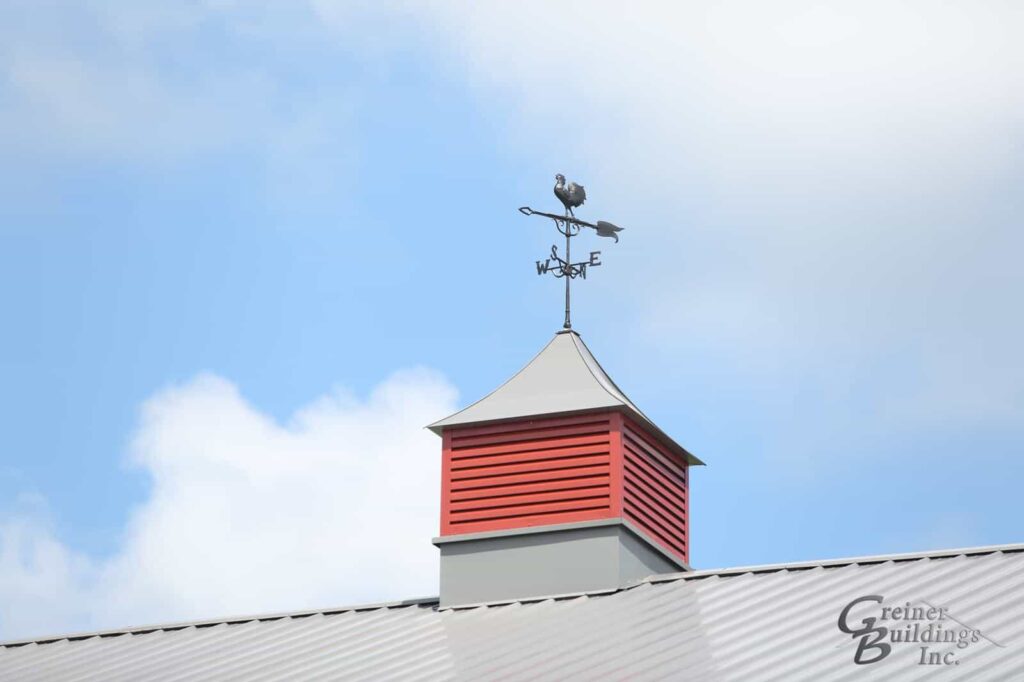 What are metal ag buildings used for?
Metal ag buildings and farm buildings are commonly used as protection for farm equipment and machinery like tractors, spreaders, sprayers, and combines. These types of buildings also work great as livestock buildings and hay storage buildings, and can even include a workshop or finished office area.
To get a better idea of your design options, let's take a look at an assortment of different fancy yet functional metal ag buildings, all custom-built by Greiner Buildings.
1. Mike's Lined & Insulated Farm Shop
Mike's massive 60′ x 120′ x 18′ metal ag building was built in Atkinson, Illinois, and is primarily used to store farm equipment. The concrete foundation and floor provide a durable and low-maintenance parking spot for all his heavy machinery.
2. Kurt's Insulated Workshop
Kurt's 54′ x 120′ metal ag building features a large overhead hydraulic door in the front with a big split-slider in the back. Is it any wonder why this one was featured as 2015's Agricultural Building of the Year?
3. Premier Supplies Livestock Building
This unique 60′ x 208′ x 16′ metal ag building is home to a number of proud sheep in Washington, Iowa. Half of this 2018 Livestock Building of the Year is lined and insulated for lambing ewes while the other half is open-air space.
4. Matt's Lined & Insulated Shop
Matt's stunning metal ag building is 60′ x 104′ 18′ and is located in Western Illinois. As you can see, this insulated farm shop serves as a dry and secure spot for his beautiful collection of classic cars and farm machinery.
5. Mike's Award-Winning Metal Machine Shed
This 64′ x 88′ x 16′ metal ag building in Iowa may not be fully-insulated, but it still took home the 2016 Agricultural Workshop of the Year award due to its extremely functional floor plan and fancy design touches.
6. Jason's Equestrian Barn
Jason's metal ag building is home to some of the happiest horses in Eastern Iowa. Their comfortable 60′ x 72′ x 14′ home features transparent siding that allows for natural lighting, a cupula for additional airflow, and a convenient overhang porch just outside the large sliding doors.
More Info on Metal Ag Building Construction
Between their economical cost and extensive customization options, metal ag buildings are certainly worth your consideration.
Whether you just want to learn more about metal ag buildings or you're ready to get started designing, Greiner Buildings can help. With multiple locations across Iowa and Illinois, our team is proud to be a leading metal ag building designer and builder in the Midwest and has even been recognized with multiple building awards and countless customer testimonials.
Contact Greiner Buildings today for expert post frame building advice or for your free metal ag building cost quote.
What are you looking for?
Iowa and Illinois Accredited NFBA Builders. Washington, Clive, Kewanee, Quad Cities, Muscatine, Burlington, Des Moines, Ankeny, Winterset, Cedar Rapids, Iowa City, Solon, North Liberty, Mount Pleasant, Fairfield, Pella, Tipton, Williamsburg, Newton, Keota, Sigourney, Hiawatha, Marion, Columbus Junction, Wapello, Oskaloosa, Knoxville, Marshalltown, Altoona, Urbandale, West Des Moines, Bettendorf, Davenport, Ames, Kalona, Riverside, West Liberty, Princeton, Geneseo, Galesburg, LaSalle, Dixon, Rock Island, Moline, Wyoming and Sterling. Iowa and Illinois Quality Built Post Frame Pole Barns.