6 Steps For Choosing Your Ideal Pole Barn Windows
Pole barn windows come in a wide range of materials and designs. These choices will depend on the building style and your project's budget. Here are 6 crucial steps to help you pick the best windows for your building.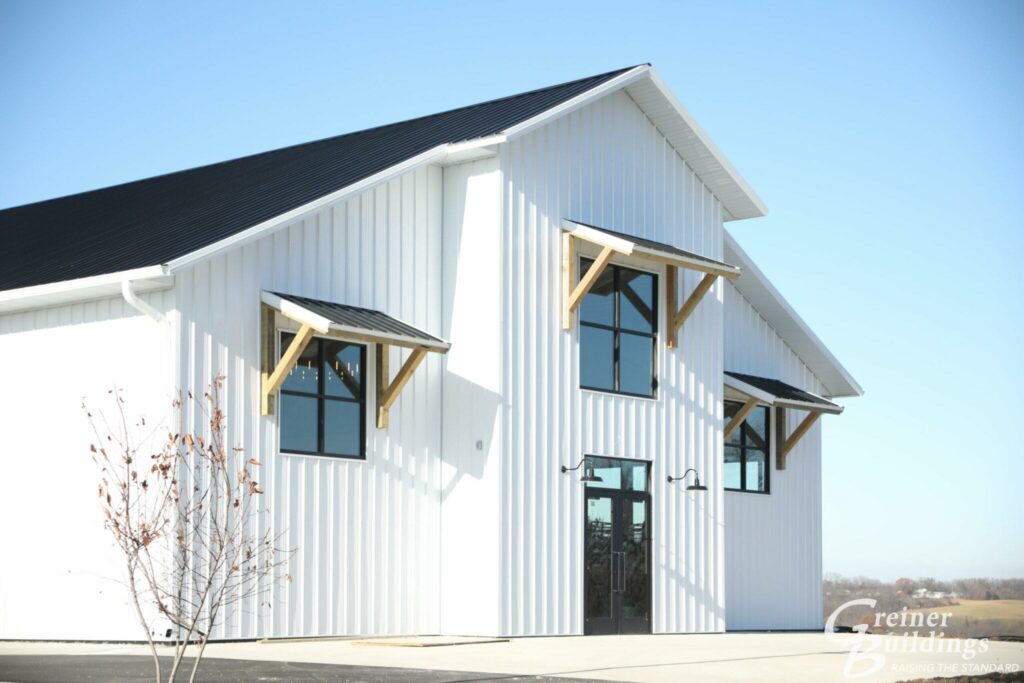 The right windows can save you up to 50% on energy loss. So, this is not an area where you want to pinch pennies. They will affect the long-term durability of your building. Gather all the info before making the wisest decision.
We spend a lot of time reviewing window options with our clients for every new project, and we've learned a few key essentials along the way.
Why Is Finding The Right Windows So Important?
Doors and windows are your access to the outside world.
Think about it; what room do you spend most of your time in now? How much do you enjoy natural light gleaming through, or watching a thunderstorm rolling in?
Look out of the window and you have a finer sight than any painter has ever placed on a piece of canvas.

Ian Pears
Make the right choice, and you'll end up with beautiful light-filled rooms you never want to leave. They'll be easy to clean and need zero maintenance, so your family can enjoy your new post-frame building.
Or, if your new windows aren't the best fit, you're stuck with an expensive decision that's not easy to change.
Who wants to deal with water leaks every time it rains? Or expensive windows you can't even open? The best window style and material for your pole barn will depend on all types of factors. Design preference, placement, budget, material availability, and other decisions are all important.
Windows seem like a small area of your home, but they can make or break your family's living experience.
The simple truth is that it's important to have your contractor help navigate the design and build process. They can focus on the right priorities within your timeline and budget.
We've worked with over 1,200 customers during our 35+ years of award-winning building experience. And, who knows how many windows we've designed, ordered, and installed for homeowners like you.
Choosing windows doesn't have to be a complicated and overwhelming process. Keep your goals clear, find a knowledgeable contractor, and don't rush the decision. You can find exactly what you're looking for.
Here is our best advice on picking the right windows for your new post-frame building.
How To Choose The Best Windows For Your Pole Barn
Pole building construction offers high-quality buildings customized to your needs. Here is how your windows play an exciting role in that custom design.
1. Window Placement
First, consider where your windows will be placed.
There are several technical things you'll need to plan for. A custom pole barn truss might be needed to ensure the wood isn't visible inside of the window. If you're considering skylight windows, your contractor will need to update roofing material needs.
Different sides will get direct sunlight at different times of the day, so keep that in mind when choosing the height and glass options. You might even want to accentuate a fireplace or other building features.
Safety codes will likely require a window in each bedroom on residential buildings.
An experienced contractor can help you understand all the building options and requirements. But it helps to bring your favorite ideas to share with the designer.
One of the most challenging window locations we faced was this tightly-planned radius window. We completely adjusted the frame during the building process to fit our client's design goals:
Wind is often the strongest challenge your building will face. So listen to your contractor if they recommend breaking larger windows into sections. You'll want to keep your posts in the correct areas.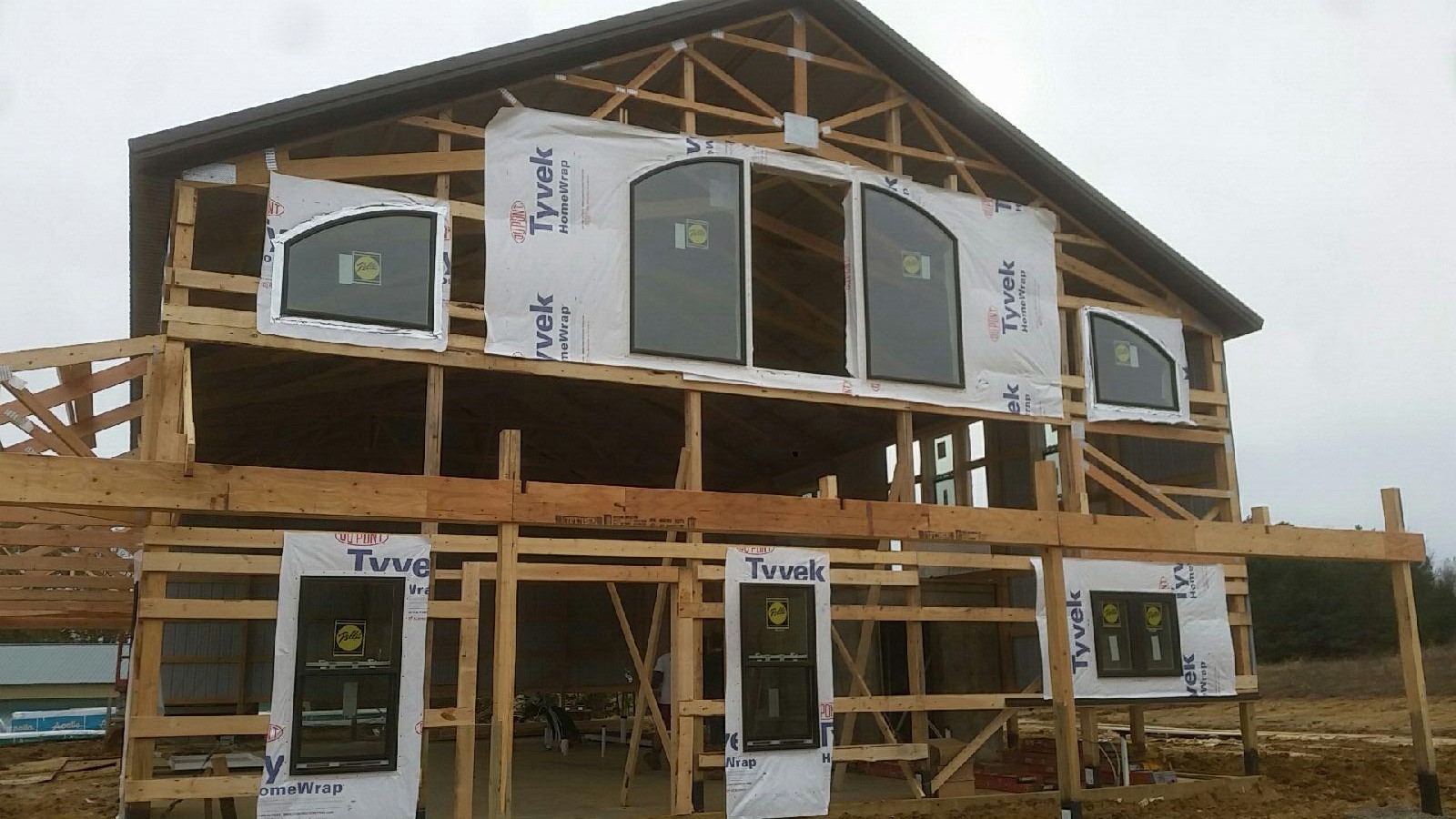 2. Window Construction
If you live in an area with cold winters, you'll need materials strong enough to withstand extreme temperatures.
You will also need to install storm windows to protect your windows from wind damage. If you plan to hold horses or livestock inside your building, you will want to go with aluminum windows. Aluminum is lightweight, strong and durable. And, it's a popular choice in construction because of its lower cost compared to other options.
Aluminum is also resistant to corrosion and rusting. Screws connect the window joints, and polyurethane foam seals the frame. Thermal breaks are used to keep heat inside the house while allowing cool air to flow out.
Over the years, we've found that more cold air leaks through the window frames and joints than the glass.
Wood windows are sometimes preferred because of their natural beauty and durability. You can choose from several wood types and finishes to create a custom look.
Interior windows are usually made of vinyl, while exterior windows are often made of wood or metal.
Vinyl windows are not recommended on the exterior. They are the cheaper option, but too flexible and won't hold up well against the rigors of weather. The heat-welded joints won't last nearly as long as the "joinery" on aluminum windows.
Insulated vs. Non-Insulated
Obviously, you'll need to know if your building will be insulated. If you're building a Shome, a shop with living quarters, then energy-efficient windows will be important. But, if you're building a simple machine shed, then durability and security will be higher on the priority list. And, you can save your budget with non-insulated windows.
3. Exterior Colors of Windows
Believe it or not, the color of your windows directly affects quality. It's not just a preference issue.
White is the best choice for your windows because it doesn't fade when exposed to sunlight. It's the color we recommend for most buildings. But, there are countless color options if you want to mix things up.
Your window color choice will be related to the colors of your pole barn doors, metal siding, and roof. So, keep your options open and your eyes peeled for ideas.
4. Grid Styles & Patterns
You might be satisfied with the classic window options. But, creative widow patterns are the perfect way to highlight the style of your post-frame building. Windows do much more than provide natural light.
Window placement can transform your pole barn home into a masterpiece. There are endless possibilities.
Here are the most common window grid patterns:
Colonial
Prairie (Single or Double)
Perimeter (Single or Double)
Diamond
Victorian
Our commercial event venues bring out the largest window needs. Here's a peek into one of our most complicated window projects. It provides an amazing view over the valley nearby: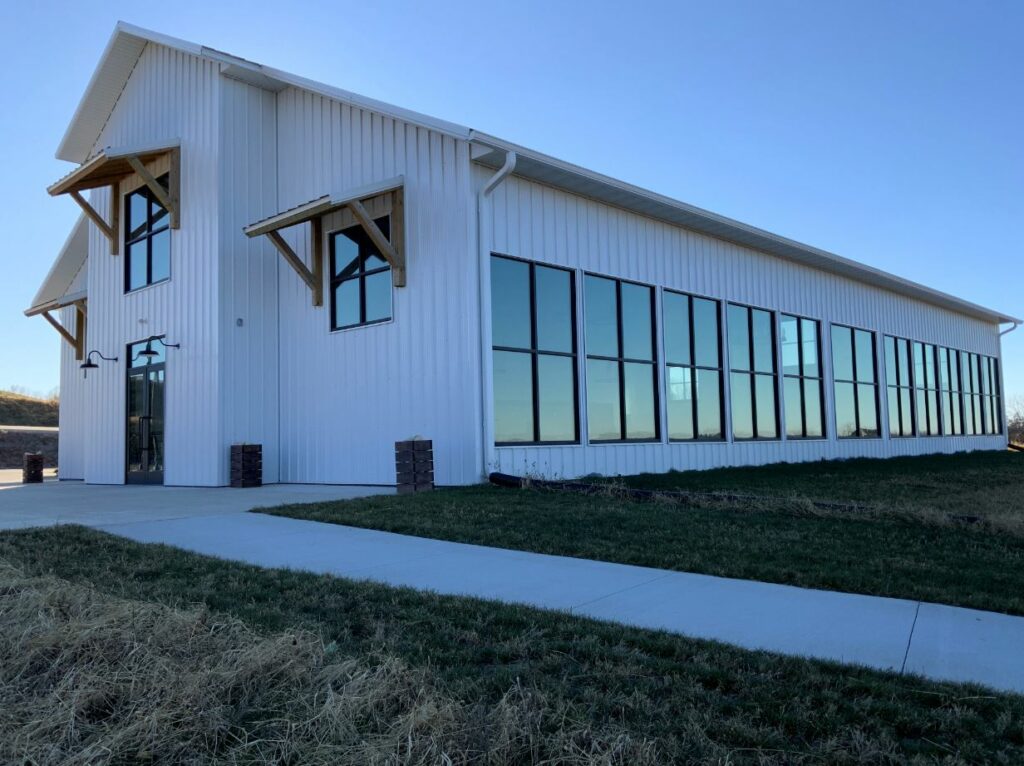 Your residential building might not need quite as many windows, but it's fun to dream right?
5. Glass Options
Glass panes are usually made of tempered glass.
Tempered glass is stronger than ordinary glass, and it's especially crucial for any shop windows that might easily be struck. Double pane insulated glass is another great option. It keeps heat out while keeping cold air inside. These windows come with a silicone bead that seals them to the frame.
Low-E, low-emissivity, glass is the industry standard to save on heating and cooling costs. These windows contain a microscopic coating to make them more thermally efficient. The coating is thin, non-toxic and virtually colorless.
Windows manufactured with low-e coatings typically cost about 10% to 15% more than regular windows, but they reduce energy loss by as much as 30% to 50%. – Energy.gov
As always, consider how close to equipment or fun-loving kids your windows will be placed. Investing in top-quality glass now will save you a maintenance headache down the road.
6. Window Styles for Your Pole Barn
If you're wanting to stick with standard window types, you can take your pick from this common list:
Double-hung windows
Single-hung windows
Casement windows
Awning windows
However, we're guessing you want to see the more unique options. You're only building this pole barn once, right? Now is the time to review some high-quality window options, such as picture windows.
Don't forget to run your ideas through your post-frame contractor to learn more about their suppliers. Here's a quick list of shapes and types of windows you should review:
Geometric-Top Single Hung
Colonial Casement
Single Slider
3-Lite Slider
Eyebrow
Picture
Half-Round
Gothic
Full Circle
Oval
Hexagon
Octagon
Quarter-Round
Pentagon
Trapezoid
Triangle
Not all of these will complement the look and style of your building. But, gather some inspiration photos to show your builder and get their design input. You can view images of our commercial projects and residential buildings here.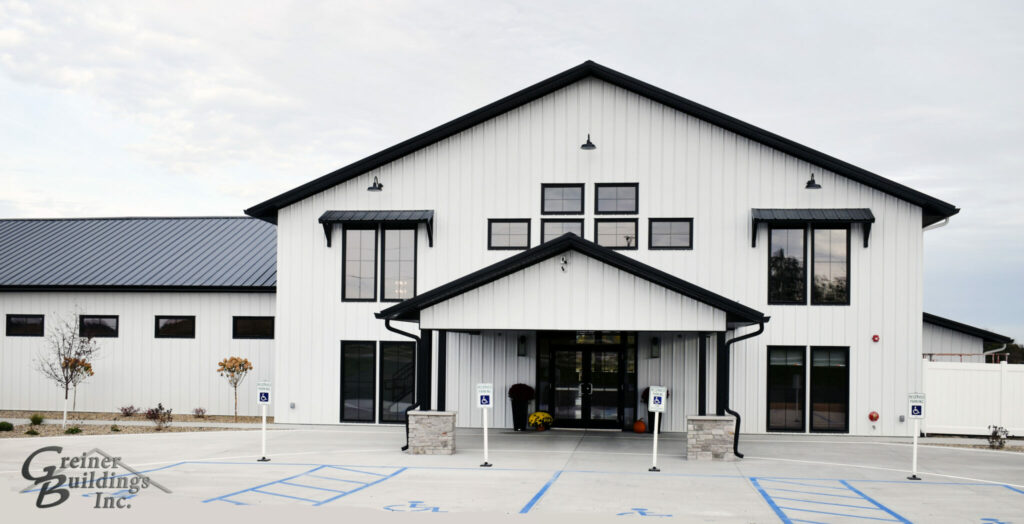 Cost of Pole Barn Windows
Long-lasting windows are going to cost more than lesser quality windows.
Pole barn window options are improving every year, in both style and quality. And, in some areas, you might be able to upgrade window quality for a very small additional cost. Your post-frame contractor will be able to help you navigate the nuances and price fluctuations.
Actual window costs vary according to each window manufacturer and the installation process required.
For Shomes, we use a few different manufacturers. But Windsor and Pella are the top two we recommend to clients. As always, make certain you follow the supplier's window installation instructions. Then, they'll be maintenance-free for decades down the road.
What Pole Barn Window Is Best For You?
A little knowledge about your options goes a long way.
We've provided you with more details than you'll likely ever need when picking your pole-barn windows. The good news is — you don't have to be the expert.
Quality windows are a key way to reduce your energy and maintenance costs. But the real win comes when your builder can match that great quality with a window design that highlights the unique style of your building.
Take a look at our latest Signature Series specialty metal pole barns and see what sets our construction company apart. We design and construct your dream pole buildings throughout the Midwest including pole barns, post-frame buildings, pole buildings, steel buildings, metal buildings, and more. Our expert CAD designers give you 2D blueprints and 3D models of your custom design, and then our expert in-house construction crews use high-quality materials to bring the design to life.
Give us a call at 888-466-4139 for a free quote and get started today!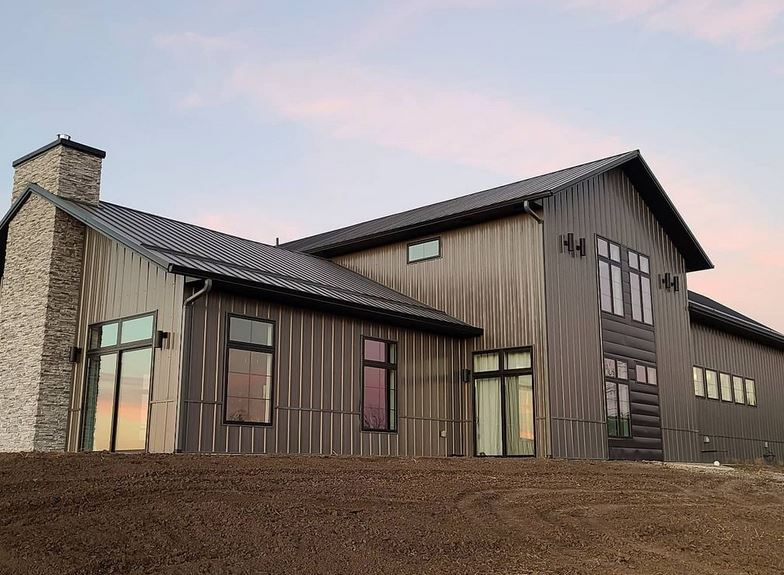 What are you looking for?
Iowa and Illinois Accredited NFBA Builders. Washington, Clive, Kewanee, Quad Cities, Muscatine, Burlington, Des Moines, Ankeny, Winterset, Cedar Rapids, Iowa City, Solon, North Liberty, Mount Pleasant, Fairfield, Pella, Tipton, Williamsburg, Newton, Keota, Sigourney, Hiawatha, Marion, Columbus Junction, Wapello, Oskaloosa, Knoxville, Marshalltown, Altoona, Urbandale, West Des Moines, Bettendorf, Davenport, Ames, Kalona, Riverside, West Liberty, Princeton, Geneseo, Galesburg, LaSalle, Dixon, Rock Island, Moline, Wyoming and Sterling. Iowa and Illinois Quality Built Post Frame Pole Barns.