RV Barn With Living Quarters: Your Custom Dream Home
An RV barn with living quarters might be just what you need to combine your love of travel with your dream home. We all dream of traveling once the kids are out of the house and jobs aren't holding us down. But, you need a home base, right?
Living the full-time RV life sounds great, but who wants to commit to living in a box on wheels 365 days a year?
Thanks to pole barn building technology and materials, you can build a customized RV barn home that meets the needs of your family—and your RV or 5th wheel camper.
Facts & Figures
Did you know RV ownership is at a record high right now?
Over 11.2 million households owned an RV in 2021, up 26% to more than 8.9 million RV-owning households in 2011 (GoRVing.com). But very few of those recreational vehicle owners are "full-timers."
Barndominium homes are rising in popularity (Washington Post). The number of steel-frame houses rose from 3,000 in 2019 to 5,000 in 2020 (NAHB).
More families are living the RV life and more families are joining the tribe of steel-frame pole barn homes. Based on the number of Shomes ® and custom pole barns we've built throughout Iowa and Illinois, we know this is more than a short-term trend.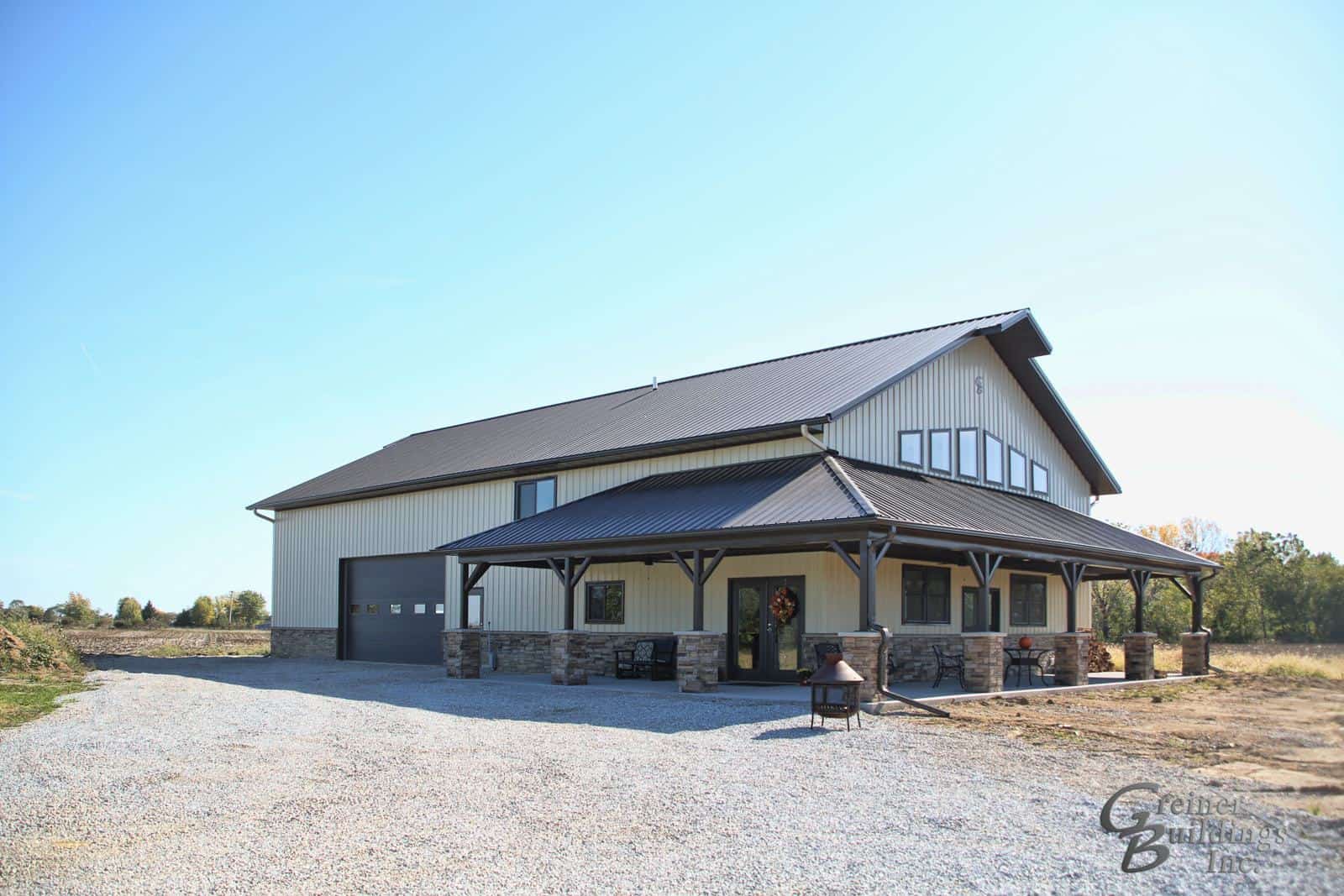 Why Should I Build an RV Barn with Living Quarters?
If you're building a new home in 2022 and already have an RV, then an RV barn with living area just makes sense.
You don't have to choose between traveling and hosting your family during the holidays. Build the home you've always wanted, without losing quick access to your RV.
Adventure at Your Finger Tips
How many times have you second-guessed leaving town because of the hassle of packing up?
Let's be honest, it takes some effort to pack up and drive cross-country. What if you could prep for your next trip in your own garage—away from rain, snow, and wind? You don't have to drive an hour away to pick it up from storage, and you don't have to unpack it at 11 pm every time you return home.
You can pull in, close the garage door, and crash right into your bed.
Endless Design Possibilities
If you're building the garage already, adding that 2nd floor doesn't take much effort.
The square footage can vary according to your needs. But, that's only the beginning. Block off a custom shop, entertainment room, or open concept living room and kitchen to take your pole barn home to the next level.
Stick frame homes struggle to create open concepts, but your post frame RV barn begins with an open floor plan!
Weather & Security
The average RV costs $100,000 to $300,000. That's nothing to scoff at.
It is something to keep safe. After all, who would leave their $200,000 vehicle out in the elements 365 days a year? Tornadoes, hail storms, and other severe weather are real issues in Iowa and Illinois.
Storing your RV indoors can even save you the hassle of winterization.
Increase Your Resale Value
RV storage needs are growing at the same rate as RV sales.
Your RV garage will add immense value to the home as high-quality boat or farm equipment storage as well. An off-site indoor storage location can cost up to $300 per month, $3,600 per year.
This is a great way to build something you love now—that's an investment for later.
How Much Does an RV Barn with Living Quarters Cost?
Let's get practical, how much does an RV pole barn really cost?
With anything, it all depends on what's most important to you. It would be nice to know exactly what your metal building home costs will be. But unfortunately, there is no black and white answer. Multiple factors influence your pole barn cost.
Commodities like lumber and steel, design features, and city or county building regulations vary according to your region.
4 things to keep in mind:
Site preparation
Building size & floor plan
RV garage design
Finishing & furniture
Our fully finished Shome ® buildings range anywhere from $400,000 to $600,000 or more. Think carefully and prioritize the features that are most important to you. Last-minute changes to features like doors, porches, and windows will cost more and add to the overall timeline.
Should You Hire a Professional Builder?
You need the right people to make the process as smooth as possible.
You might have the skills to finish out your RV barn home—but it might not be worth the time and effort. Wouldn't you rather spend time with your grandkids than manage a construction project?
Either way, proper planning is critical. Plan ahead, communicate with your builder and you'll be able to prevent any random surprises from popping up at the last minute.
Floor Plan Examples
Let's get into some floor plan ideas!
Here are 2 floor plans of pole barns we recently built for clients in the Midwest.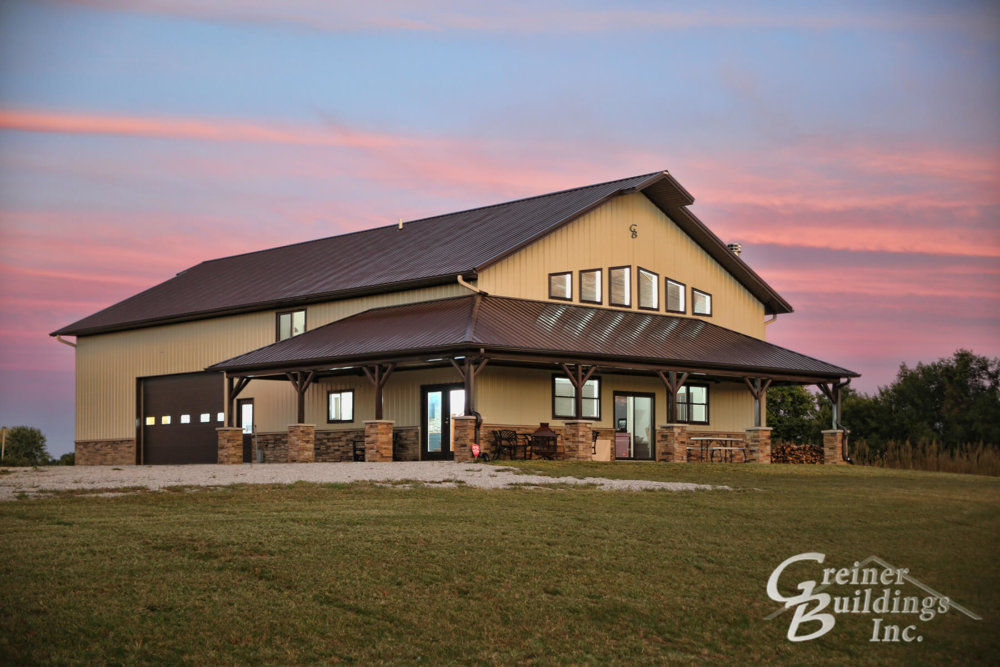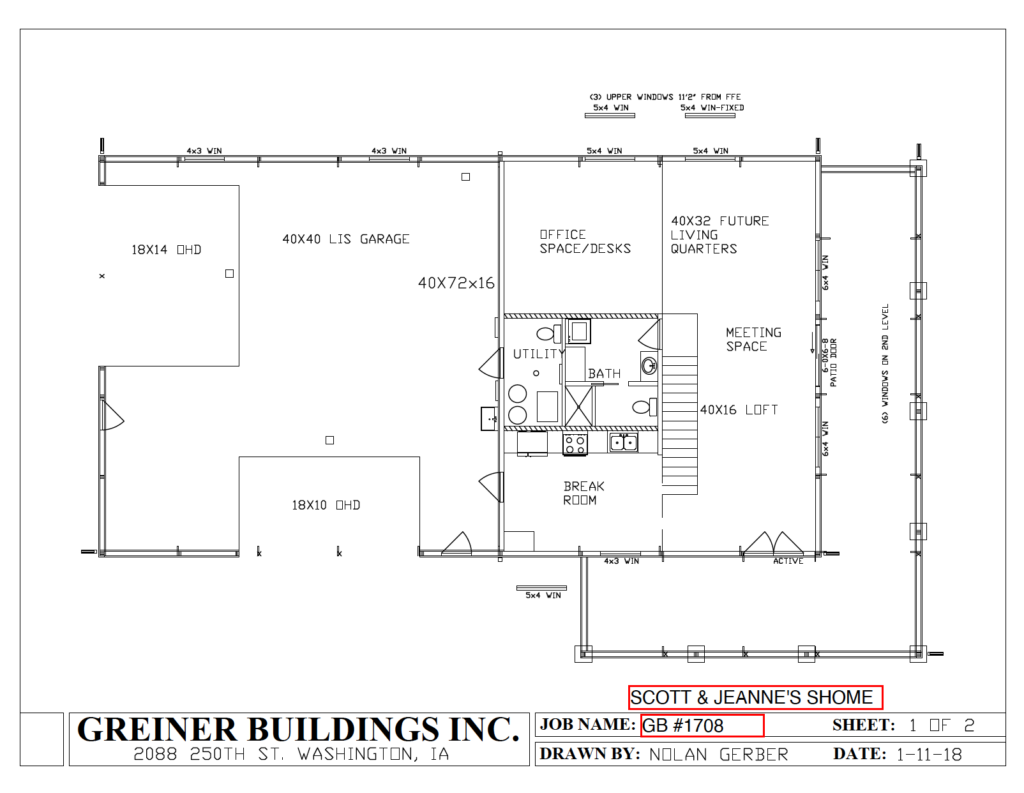 40' x 72' x 16' building size
2 stories
40' x 40' garage
40' x 32' lower living quarters
40' x 16' loft area (unfinished)
Office space, meeting area, break room
1 bathroom, utility space
Covered patio
2 Overhead doors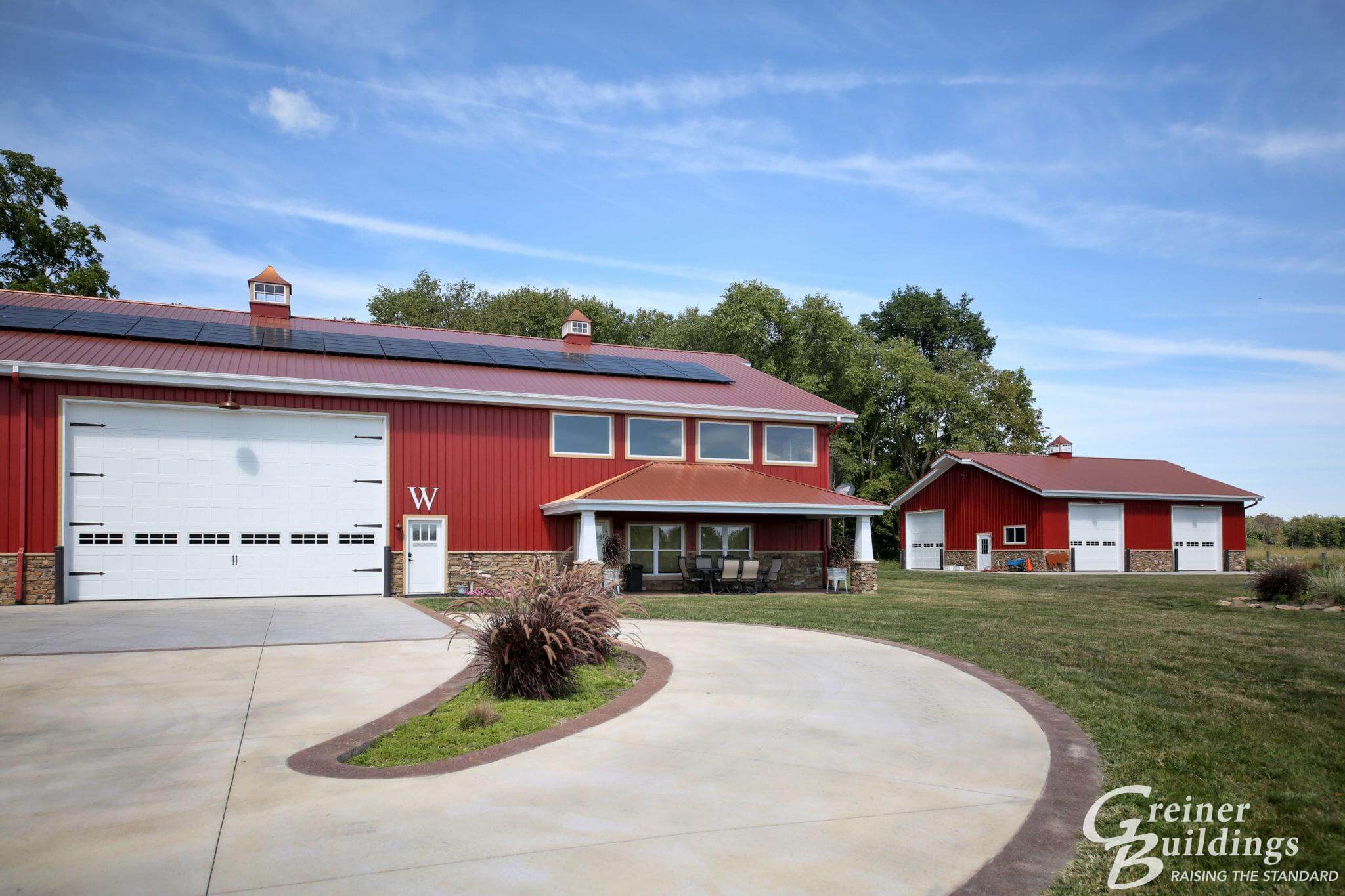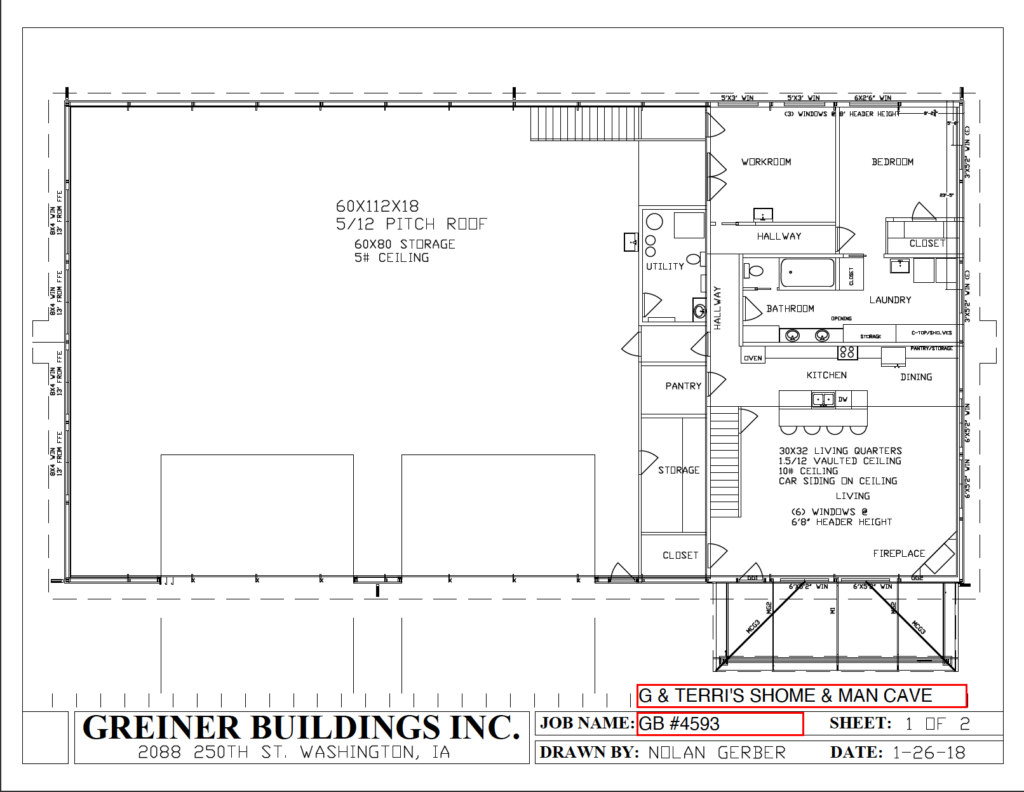 60' x 112' x 18' building size
2 stories
60' x 80' garage
30' x 32' lower living quarters
30' x 32' loft area
2 bedrooms, 2 bathrooms, closets
Kitchen, dining area, laundry
Workroom, 2 storage rooms
Stone fireplace, loft balcony
2 Overhead doors
How Big Should Your RV Garage Be?
There are several things you need to consider when drawing out the plans for your RV garage. Let's discuss them one-by-one.
The contractor will want some hard numbers from you right off the bat, to give an accurate quote.
Measure Your RV Size
You might already know the full length, width, and height or your RV. Or, you might still be shopping. Here are some average measurements:
Length
Class C motorhomes range from 21-41 feet in length.
Class A motorhomes go as long as 45 feet.
Width
Class A motorhome is typically 8 feet and 4 inches wide. (12' with both slides out)
Height
Maximum height of an RV is 13 feet 6 inches.
Make sure you know your minimum size and don't forget details like slide-outs, car trailers, and bike racks.
Plan For Your Maintenance & Cleaning
We all know how difficult it is to find a quality RV mechanic. But, what if you had a warm, dry shop to do basic maintenance yourself?
Keep your garage height tall enough to stand and do work on the roof and A/C units. Cleaning, packing, and travel prep just got a whole lot warmer, dryer, and easier!
Consider Resale Value
Resale value is a top priority anytime you're building a new home.
So, make sure your garage fits RVs larger than yours. The next buyer might have a 45' Class A. Thirteen feet, six inches is the standard height restriction across the country, so you won't have to worry about anyone needing a garage taller than yours.
Recommended RV Garage Size
Here is our recommended minimum RV garage size (you can always go much larger):
Length — 50 feet
Width — 14 feet
Height — 20 feet
Important Needs for Your RV Garage
There are a few key things you need to get right in your RV garage. It's much easier (and cheaper) to build it correctly now than add-on a garage two years from now.
Commercial Grade Overhead Doors
Overhead doors offer the best protection and design options for your home.
The insulation, seal, and weather resistance of an overhead door provide the very best temperature control and moisture prevention for your building. These doors require 2' of headroom for operation, so you'll want to include that in your blueprint planning.
Plan for a door this size (minimum): 14 feet (height) x 10-12 feet (wide)
Customizing the look of your pole barn overhead door offers you an opportunity to create a clean and consistent look across your entire property.
Colors & material textures
Windows
Hardware options
Your overhead door can be the focal point that brings everything together.
Reinforced Concrete Flooring
You need a concrete floor that's at least 5-6 inches thick, or you'll see cracks start appearing.
Class A RVs usually weigh 33,000 to 36,00 pounds. Your builder will probably recommend reinforcing the floor with rebar as well—so go with his guidance. Concrete isn't something easy to replace.
We've got years of experience using concrete polish and stain coatings. You'll find plenty of color and finishing options available to make sure the garage design flows seamlessly with the rest of your home.
30 Amp Electrical Wiring
We all know it's crucial to set up your wiring with the right power for your RV.
You'll need a 30 amp system to run 2 air conditioner units and a few basic lights. Go with 50 amp if you plan to run more than that. You'll get a built in extra bedroom for the grandkids.
Water Supply
Don't forget, you'll need convenient access to an indoor water supply.
It doesn't take much to set up a water supply inside your garage, but the benefits are tremendous. Think of all the days you're filling up in the cold rain right now. And, imagine doing it all in a dry, warm garage—not too shabby right?
Gray Water Drainage System
What if you had a clean and simple way to drain greywater, without chasing down the closest truck stop?
Check with your builder to find out if there is enough space on your property to place a gray water drainage system on-site. But, it's likely you'll be ready to go. Think about it, no more last minute stops at Flying J when you just want to get home.
Storm Shelter
Tornados are no joke, and we often get requests to include storm shelters inside our RV barns.
You'll have the space available in your garage (or other areas). Talk with your contractor to learn more. It might be worth including installation right from the beginning instead of trying to retro-fit one later.
Finding the Right Contractor
Whatever you do, don't go into your RV barn project unprepared. Find an experienced pole barn contractor who can help guide you into this new adventure.
Mistakes in planning your RV barn with living quarters can get serious.
Extended timelines that keep your move in limbo.
Missed budget goals that put your financial freedom on pause.
Ventilation issues that require costly re-routing.
Awkward floor plans that keep your dream home from reaching its full potential.
Keep the new adventures to your RV travel. A good contractor keeps things clear, simple, and quick:
Clear and frequent communication with your project manager.
Accurate CAD drawings of your building—before you commit to the floor plans.
Shorter timelines, without the hassle of managing dozens of sub-contractors yourself.
Your new dream home built—while you're living that travel lifestyle you love so much.
The best contractors listen to your needs, get creative, and then bring a few workable solutions—with an accurate budget and timeline.
We want your RV barn with living quarters to meet your ideal vision. Whether you are looking to build a kit pole barn or a custom Shome®, we're here to help.
Here are some kind words from a few of our long-time clients.
We Are Shomes® Experts
We have 35 years of experience in metal pole barn construction, and we are ready to share it with you.
A Shome® Shop + Home RV barn is the new secret to modern-day country living customized to your way of life. An RV barn with living quarters is a great option because it offers you an open floor plan, a customizable interior and the RV garage you need.
We provide the custom, individualized care that custom pole barn homes require. And, we've got what it takes to get your project done on time and on budget. Give us a call today to tell us about your next project.
What are you looking for?
Iowa and Illinois Accredited NFBA Builders. Washington, Clive, Kewanee, Quad Cities, Muscatine, Burlington, Des Moines, Ankeny, Winterset, Cedar Rapids, Iowa City, Solon, North Liberty, Mount Pleasant, Fairfield, Pella, Tipton, Williamsburg, Newton, Keota, Sigourney, Hiawatha, Marion, Columbus Junction, Wapello, Oskaloosa, Knoxville, Marshalltown, Altoona, Urbandale, West Des Moines, Bettendorf, Davenport, Ames, Kalona, Riverside, West Liberty, Princeton, Geneseo, Galesburg, LaSalle, Dixon, Rock Island, Moline, Wyoming and Sterling. Iowa and Illinois Quality Built Post Frame Pole Barns.