How to Choose the Best Colors for Your Post-Frame Building
You want to choose the perfect exterior colors for your post-frame building. It's one of the most crucial decisions you will make in the construction process. After all, it's the first thing people see when they drive up, so you want to get it right.
This article contains our best recommendations for your building color combination.
We've built award-winning post-frame homes for customers in the Midwest since the 1980s. So, after 2,000+ projects, we think this guide will give you a head-start in the decision-making process.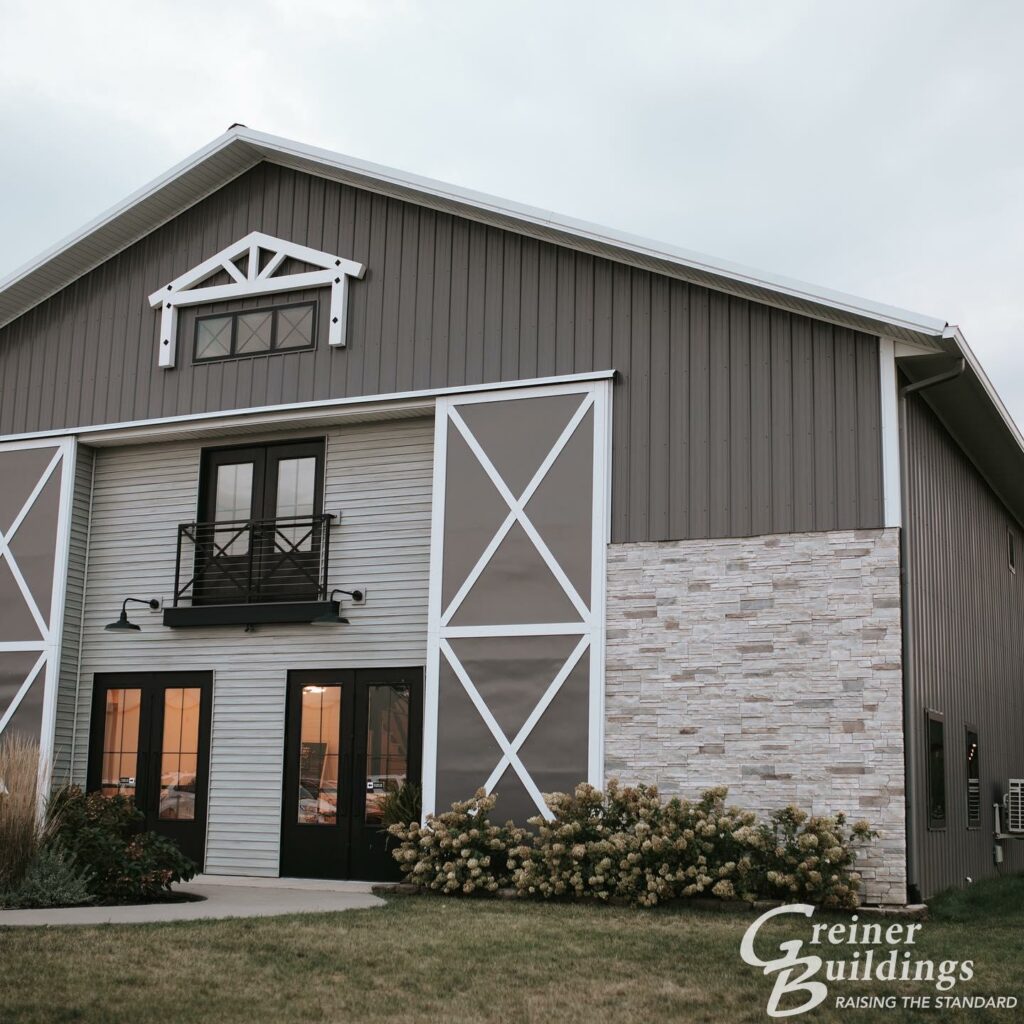 7 Tips to Select the Best Colors for Your Post-frame Building.
Here are a few key reminders to point you in the right direction when picking your colors, and not run into any expensive regrets 5 years from now.
Match to other buildings. Don't forget to at least coordinate your pole barn colors with any nearby buildings.
Think about the natural environment. Even if there are no nearby buildings, you still need to consider the surrounding landscape. Are there evergreen trees, crop fields? Do you prefer your post-frame building to blend in or stand out?
Learn about color restrictions. Thankfully, restrictions are less common these days. Check with your local building inspector about any restrictions in your area.
Purpose of your post-frame building. Take a step back and remember the primary goal and purpose of your pole barn project. Are you concerned with finding an inexpensive option for an agricultural barn? Or, will this be your dream home (with some creative natural elements)? The perfect pole barn is the one that fits your family or your business.
Don't forget about accent colors. Of course, your roof and walls constitute most of the exterior steel on your building. Contrasting or coordinating colors for your trim, door panels, soffit, and wainscoting can create a combination you love.
Choose high-quality metal and paint. You should choose your pole barn metal and paint carefully so that it stands up well against the elements for years to come. Remember that the only thing between you/your interior and mother nature is often the metal panel. The paint is the first layer of protection that comes in direct contact with the elements 24/365. Greiner Buildings uses a variety of metal manufacturers depending on client perspectives including J MAC Metals, Central States, and McElroy Metals.
Our preference is to use a 26 gauge panel w/ G90+ galvanization and most importantly 70% PVDF resin-based paint. The heavy panel adds strength while the G-90 galvanization avoids edge-rusting. Since this article is about paint we'll hone in on that topic further. PVDF resin based paints such as Kynar, Hylar, or Trinar (which are competing brands), are known for their superior capability to retain color – reducing fading and chalking over time. By far, PVDF's counterpart SMP (siliconized modified polyester) paints are most common because they are cheaper. But they fade quicker and all that work you did to choose beautiful colors will quickly disappear as fading is very unattractive. 
Take it from the experts at GB – use PVDF, it's worth every penny!
Regarding warranties, most warranties in the industry are quite similar but be sure to understand what the metal manufacturer warranty actually covers. You'll want to choose a reputable manufacture to protect you from defects such as chipping, cracking, etc.
Consider your energy efficiency needs. Certain colors and brands also have superior reflective and energy-efficient properties that can be beneficial for the interested client.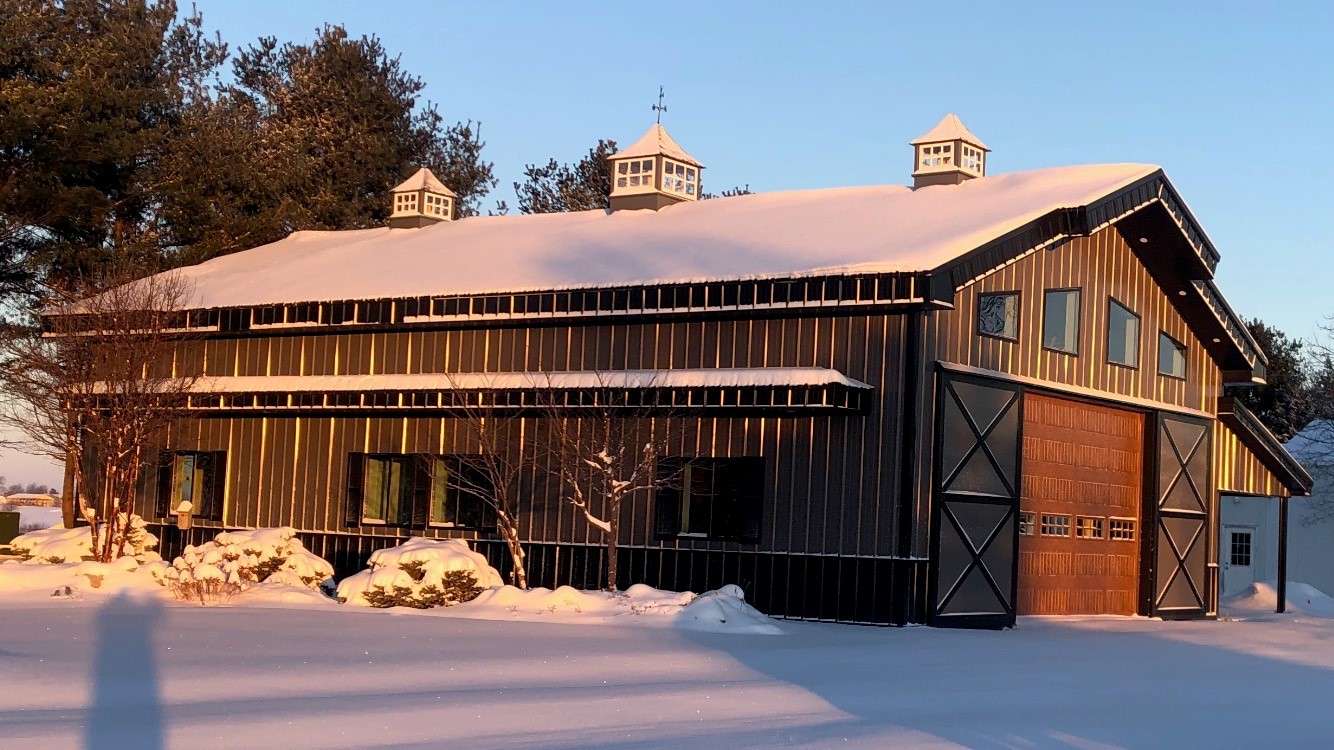 How many colors should I choose?
There is a wide variety of color schemes available for pole barns, but the most common are two-toned and three-toned ones. Your options might be comprised by one for the sidewalls and another for the roof, but they may include a different color for the trims. Usually, the wainscot, windows, doors, and trim are matched with the roof color.
So, start by viewing your pole barn color combination using these 3 categories:
Metal wall siding color.
Metal roof color.
Trim color.
However, if you're attracted to a mono-colored scheme where all of the building components are the same color, that's an option too.
There are wonderful opportunities for even four-color options. Pole barn design features such as overhead doors, walk-in doors, window trim, cupolas and mansards now come in beautiful colors. And, they'll take your building to the next level in aesthetics. The choices are limited only by your imagination.
Regardless of how many colors you choose, remember that the goal is to make your building pop off the landscape. So try to avoid matching the roof and sidewalls exactly. A little variation goes a long way.
Trending Pole Barn Colors for 2023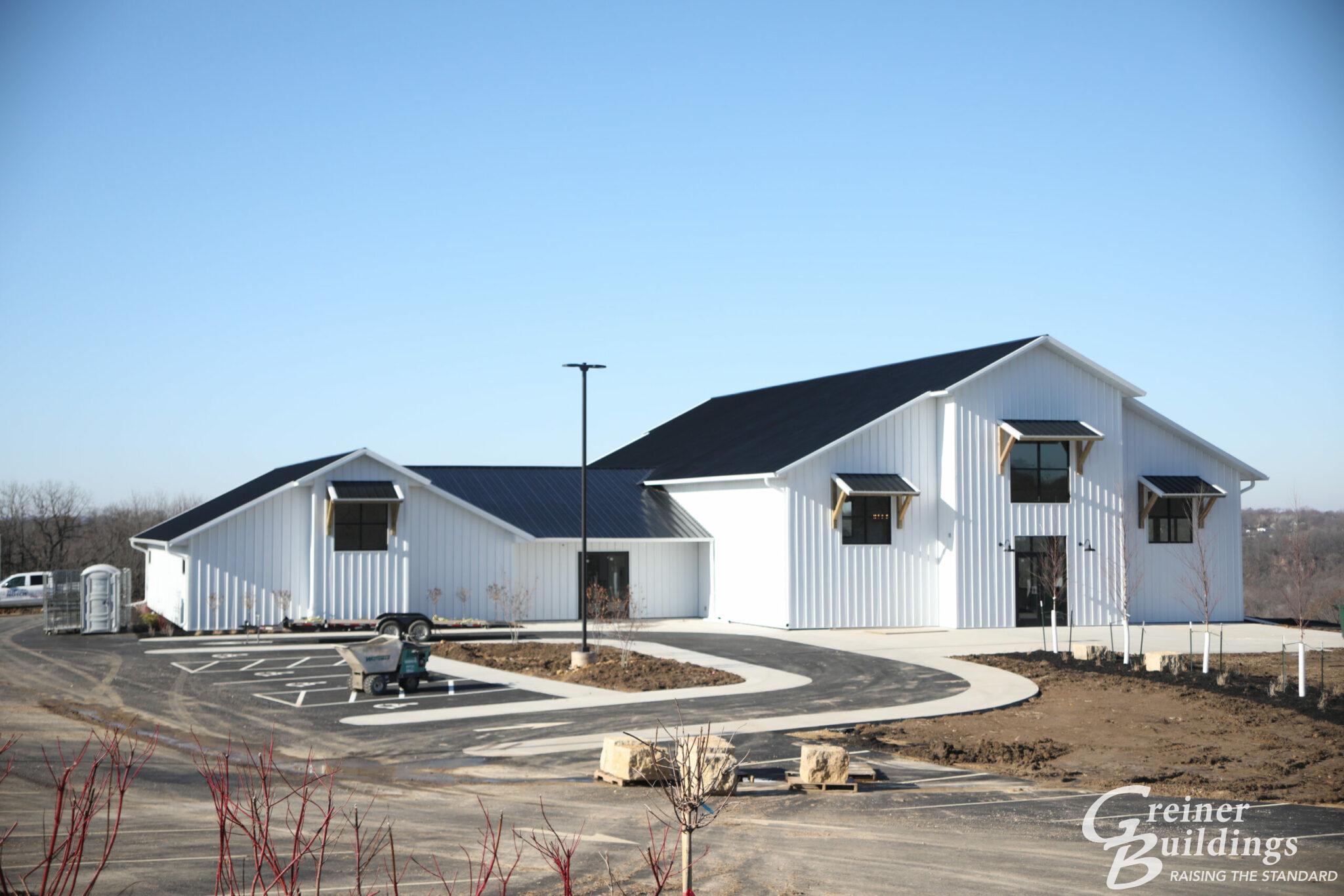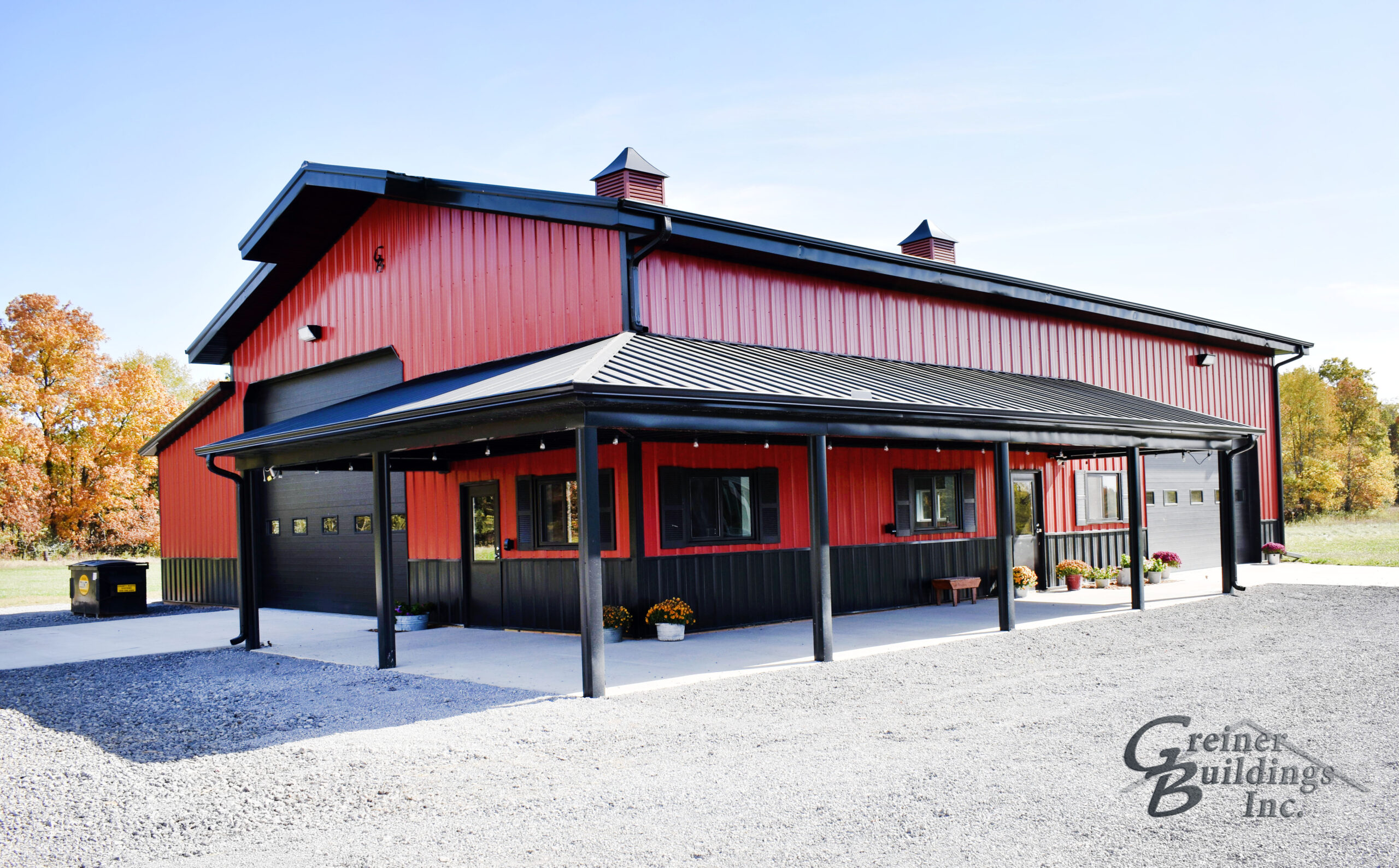 The modern farmhouse style kicked off strong in 2015 and hasn't slowed down. Here are some other popular colors that will stick around in 2023.
Charcoal Gray
White
Burnished slate
Beige
Smoke gray
Alpine white
Red
Hunter green
Matte black
Brown
The Modern Farmhouse Style
In 2022, Greiner has seen in the most common pole barn color choice—from red to a white and black color scheme.
A black-and-white color scheme remains timeless in its aesthetic appeal. There are countless ways to decorate with different colors. Black-and-white pole barn designs allow you to express yourself by adding your own personal touches. You can opt for white exterior siding with black exterior window frames. Then, use a matte black metal roof to give your building a modern look—without losing that warm and inviting style.
The matte paint finishes hide any scuffs or oil canning issues more effectively as well.
Exterior color trends tend to last for a decade (or more), so look for more pole barns with black roofs in the coming years!
What colors look best together?
Your color preference options are nearly endless, especially when you look at combining them in a 2-tone or 3-tone design.
But, choosing your dream building design shouldn't feel like going to the dentist. Greiner works directly with J MAC Metals for our metal siding design options. So to keep things simple and styling, they've created 14 signature colors for our customers.
Here's our Quad Panel Metal color chart (click to download the PDF):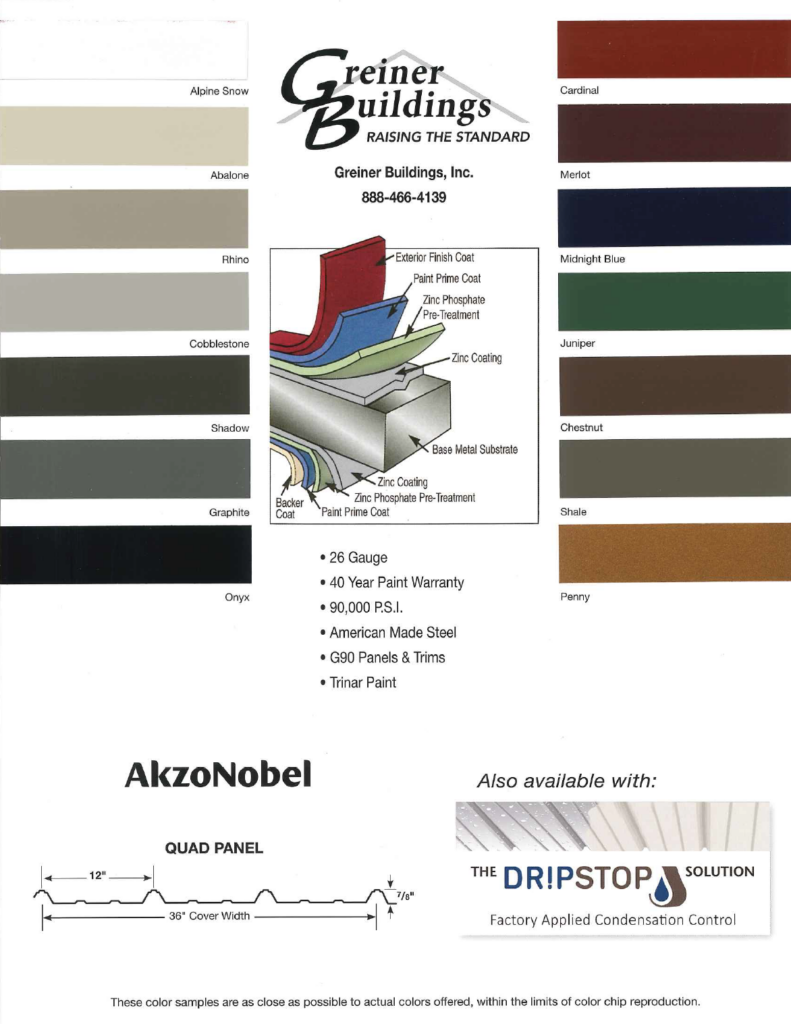 We recommend you speak with a proven post-frame contractor and work through their color charts together. A pole barn color visualizer can help, but nothing beats working with an expert.
Here are some color combinations we recommend to customers:
White walls: Matte Black, Charcoal Gray, Ash Gray, Evergreen, Brown, or Red.
Clay walls: Dark Brown, Red, or Evergreen.
Gray walls: Gray, Midnight blue, or Evergreen.
Red walls: Alpine Snow White, Sandstone, Bone White, Quaker Gray, or Antique Brown.
Or, you can always go a unique route and stand out among the rest:
Clay (Abalone) walls: Light Stone, or Midnight blue.
Terratone Brown (Shale) walls: Charcoal Gray, or Black.
Here's a 3-tone design we built that utilized a wood-grain color on the garage door: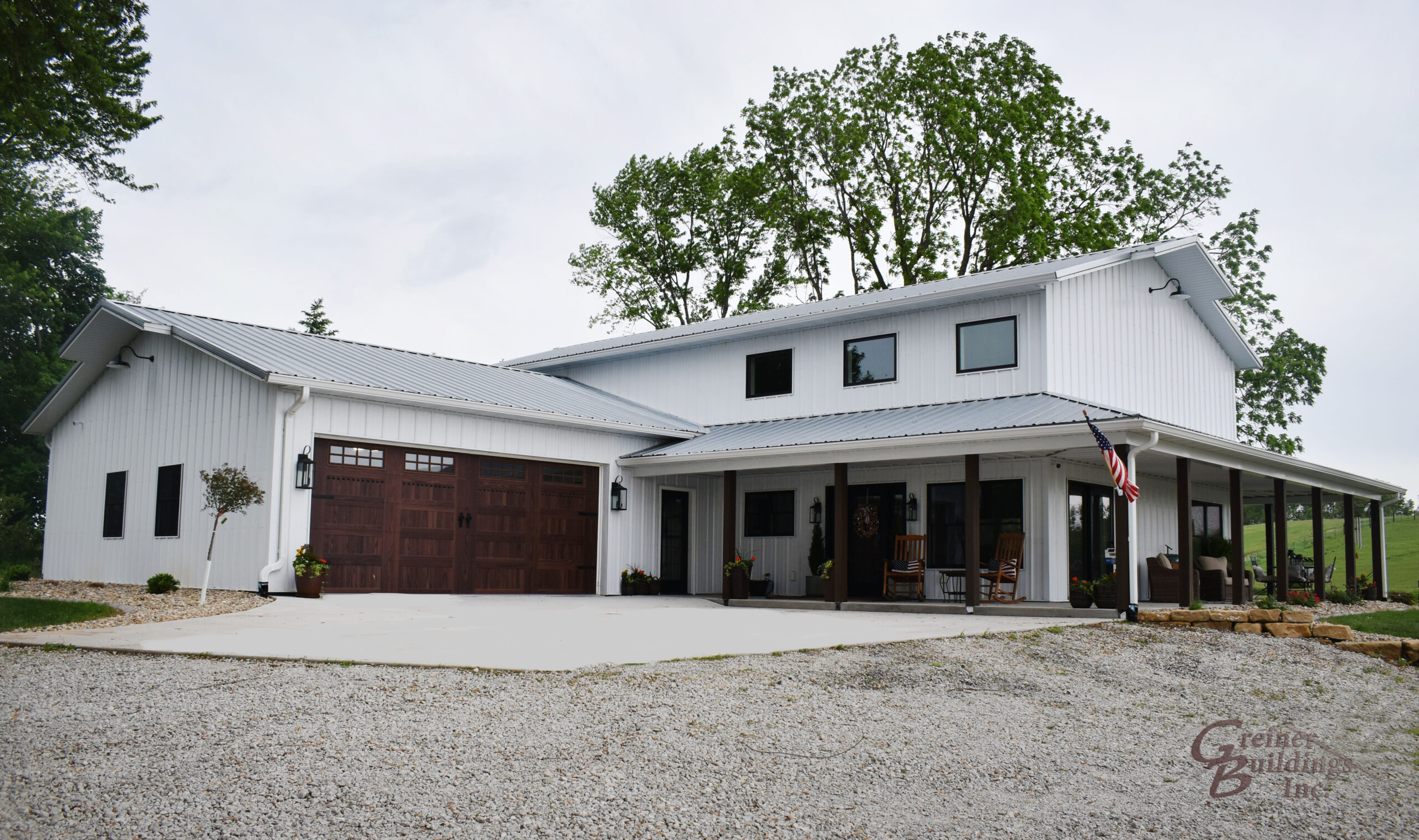 This recent post-frame home has a large number of colors that all fit together well. This was an exciting project because every detail had to be carefully considered and scrutinized using 3D technology and creative minds.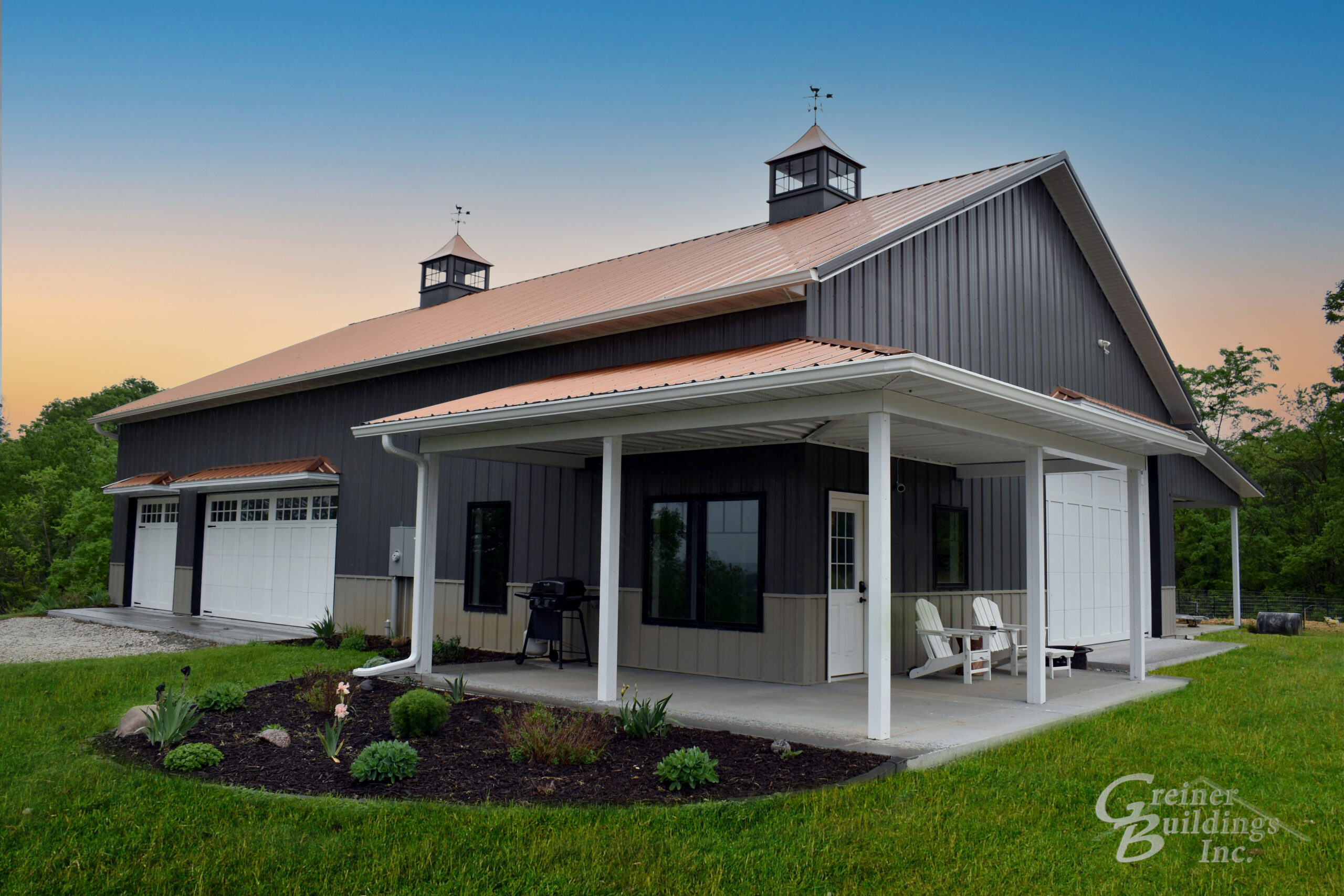 Where can I find color inspiration?
Ok, here's the fun part!
Do a little research to discover what colors you gravitate toward. Take pictures of buildings in your area and think over what you love about them.
Actual color samples – Nothing beats ordering a basic sample of metal roofing or siding to match up directly with your trim materials, driveway, or porch posts. You can get samples in various sizes, shapes, and prices. And, they're perfect for testing out different paint shades on-site.
Recent Greiner projects – Many of our clients find ideas on our website by viewing our gallery of recent building projects. It contains hundreds of examples of Shomes, agricultural barns, and commercial buildings. And, many customers have commented on how much our gallery helped inspire their final color choices.
Pinterest – There are millions of images on Pinterest, including color palettes that might work well in your home.
Instagram – Post-frame buildings and the barndo life are trending across every social media platform. So, create a bookmark folder and share them with your contractor.
Which Pole Barn Colors Will You Choose?
If you are interested in learning more about building your own metal pole barn shop and home, give Greiner Buildings a call today. We will go through the entire process with you from start to finish. Our professional design team can create 2D and 3D CAD Designs so that you can customize your dream Shome® before the construction even begins. The Shome® is the perfect combination of pole barn with living quarters. Call us today to learn more about this structure that the entire Midwest is raving about!
What are you looking for?
Iowa and Illinois Accredited NFBA Builders. Washington, Clive, Kewanee, Quad Cities, Muscatine, Burlington, Des Moines, Ankeny, Winterset, Cedar Rapids, Iowa City, Solon, North Liberty, Mount Pleasant, Fairfield, Pella, Tipton, Williamsburg, Newton, Keota, Sigourney, Hiawatha, Marion, Columbus Junction, Wapello, Oskaloosa, Knoxville, Marshalltown, Altoona, Urbandale, West Des Moines, Bettendorf, Davenport, Ames, Kalona, Riverside, West Liberty, Princeton, Geneseo, Galesburg, LaSalle, Dixon, Rock Island, Moline, Wyoming and Sterling. Iowa and Illinois Quality Built Post Frame Pole Barns.