Which Type of Door Is Right for Your Pole Barn?
Ah, the humble door. It might seem that the type of door you pick for your pole barn or machine shed building wouldn't make much of a difference, but that really is not the case. Picking the right door for your pole barn building should not be an afterthought. The type of door you choose will directly affect the overall functionality and use of your pole barn building and is certainly a decision that warrants some consideration.
Key Considerations for Picking Your Pole Barn Door
Before learning about the different types of pole barn doors, it is important to consider the ways in which the door will be used. Knowing what you need and want from your pole barn doors will make the decision about what type of door to invest in that much easier. Consider the following:
1. How often will you be using the doors?
Is the door on an agricultural building with equipment going in and out daily, or is it on a machine shed that you spend time in once a week? The frequency of use can help determine how much convenience and ease is necessary in accessing the doorway.
2. What size of vehicle or equipment will be going through the doorway?
The features of certain types of doors are really only beneficial for a certain size of door opening. The size of door you need has a direct correlation to the type of door you select. Knowing what the doorway is going to be used for and the associated dimensions will help lead you to the right decision.
3. How big is your building and what does the layout of your building plan accommodate?
It is important that you take the complete layout of your building into consideration, including ceiling heights. Figuring out and being clear with your builder about the type of door you want up front can help influence design and structure choices for the building proactively.
4. What do you want your building to look like?
As much as the type of door you pick for your pole barn building can make or break the functionality, the style and design of the door can make or break the finished look. The ability to customize the design and features of the pole barn door varies greatly based on the type of door you choose.
Now that you know what you want and need from your pole barn doors, you are more prepared to make a decision and really weigh the pros and cons of each door type. Sliding, overhead, and hydraulic doors are the three most common types of pole barn doors. Read on to learn more about each of these pole barn doors and the different advantages and disadvantages of each option.
The Budget Saver: Sliding Doors for Pole Barns
Pole barn sliding doors are the best way to get more door for less money. Sliding doors offer more width than other pole barn door options and allow you to maximize use of the entire building clearance height. For reference, Greiner Buildings has installed sliding doors up to 40' wide and 20' tall.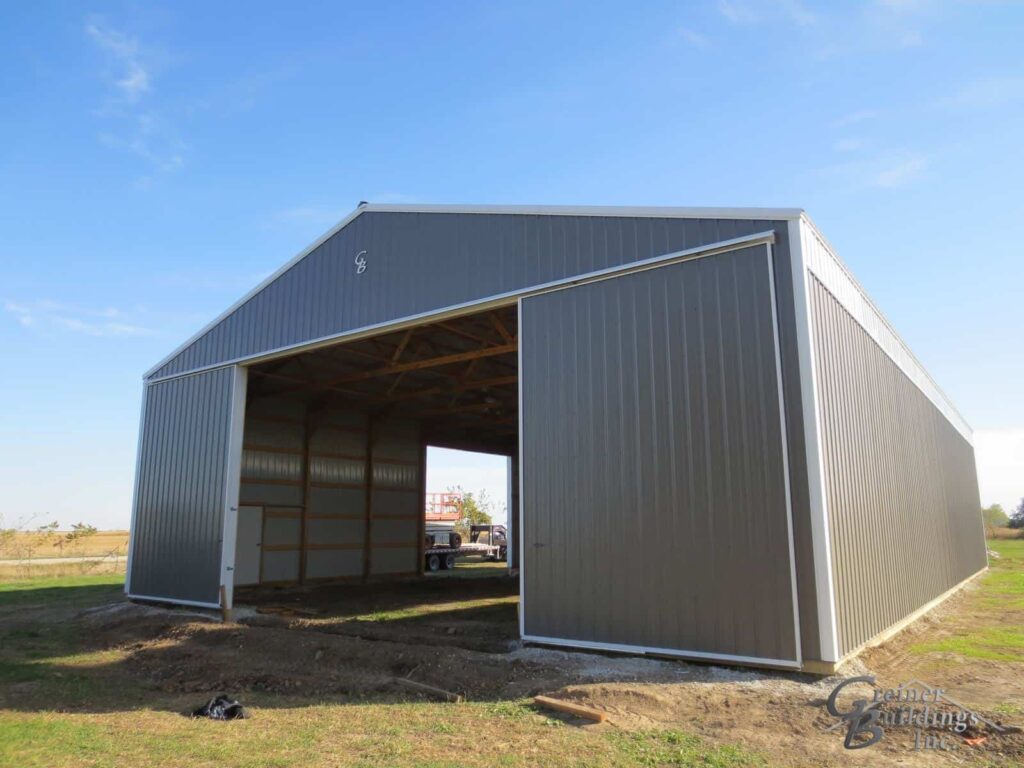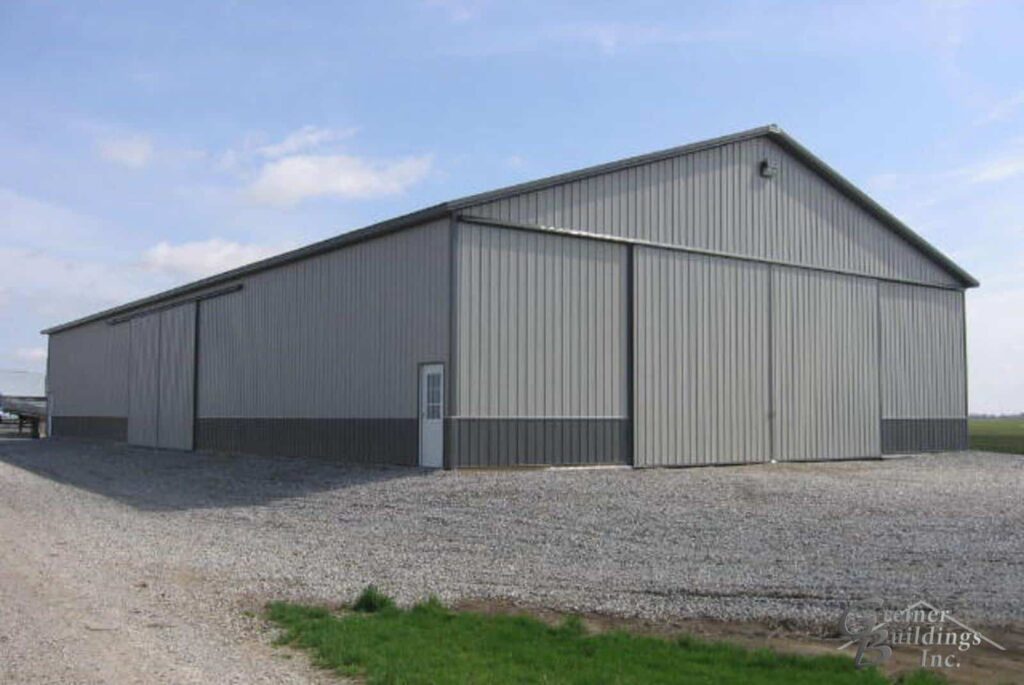 However, what these doors offer in terms of utility, they tend to lack in convenience and comfort. The sliding door option requires the user to manually unlock and open the door each time, meaning additional work just to access the building. Additionally, sliding doors often do not seal completely potentially exposing your building to dirt, insects and animals, and excessively cold or hot temperatures. As such, sliding doors are recommended most for pole buildings in which the door is used less often.
Sliding doors can also impact the overall design of your pole barn. While sliding doors offer many customizations in what direction and how far the door slides, you must ensure there is sufficient space on the side of the building for not just the door but the space in which the door will slide. This can limit design options for the building as there is less opportunity for windows and walk-through doorways.
As an affordable option when large doorway space is needed, pole barn sliding doors are an excellent choice for livestock barns, equestrian buildings, and machine sheds.
The Tried-and-True: Overhead Doors for Pole Barns
Pole barn overhead doors are the most popular option, known for being reliable and convenient for everyday use. Overhead doors work like a traditional garage door and feature automatic controls that easily allow the user to open and close the door without getting out of their vehicle or equipment. This feature can be a big difference-maker for farmers after a long day of work.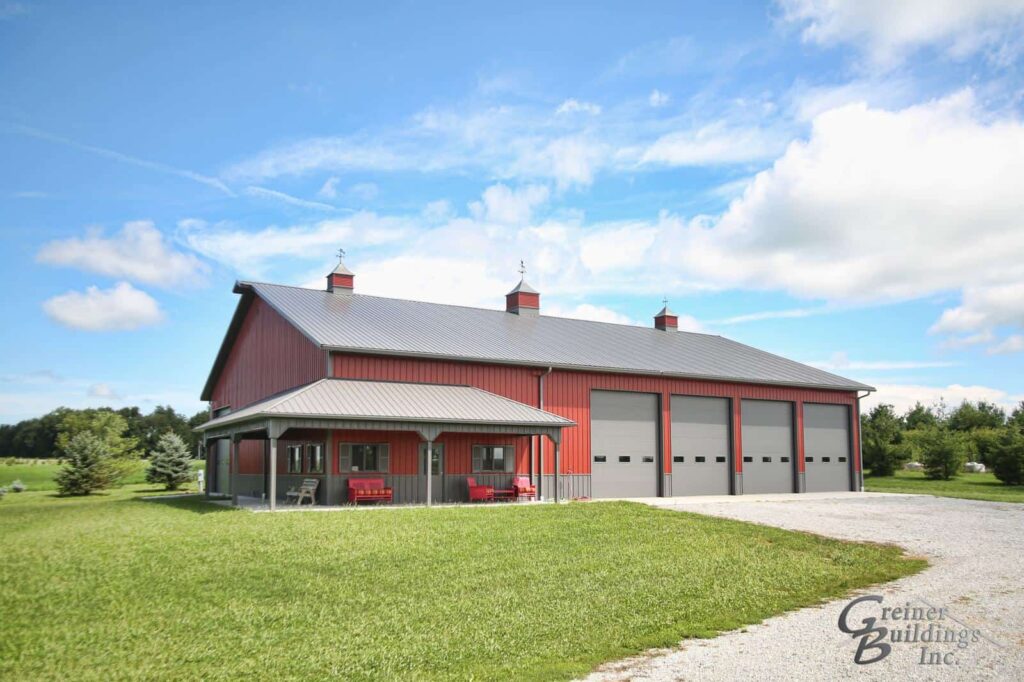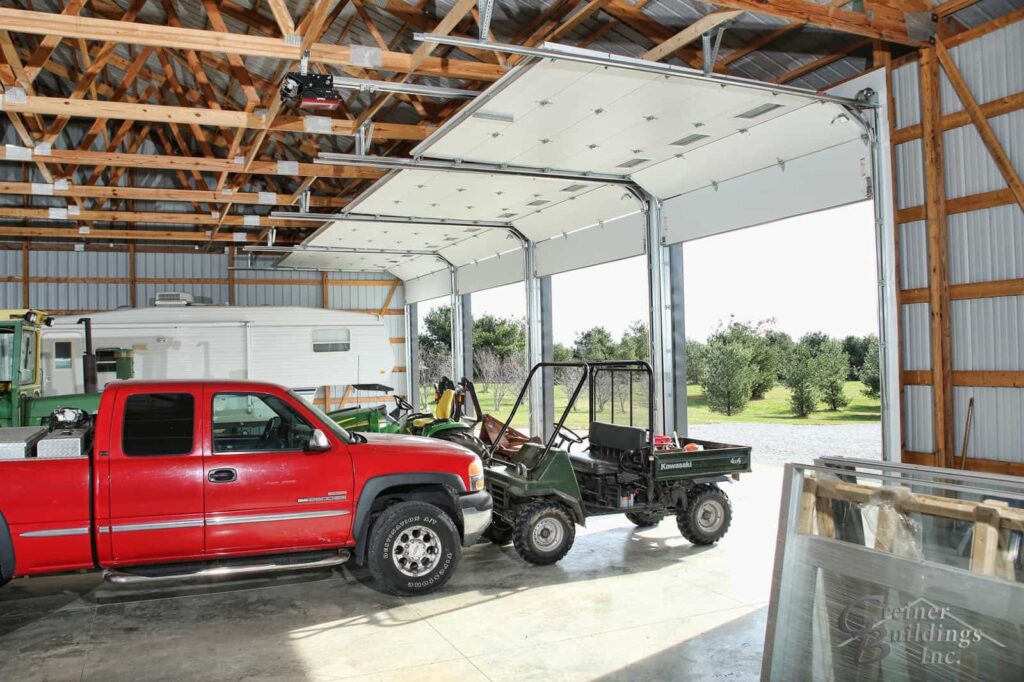 Overhead doors offer maximum protection for your building and the important equipment and supplies you keep in it. The insulation, seal, and weather resistance of an overhead door provides the very best temperature control and moisture prevention for your building.
Overhead door sizes for a pole barn tend to be smaller than the other door options but with standard door sizes of up to 24' wide, are still plenty big for most uses. Custom overhead door options are available, and Greiner Buildings has previously been able to accommodate doors up to 32' wide. The other consideration with overhead doors is building height. These doors require 2' of headroom for operation, which must be factored into the overall building size at the beginning of construction.
When it comes to style, overhead doors offer the most design customizations for your pole barn building. Customizing the look of your pole barn overhead door offers you an opportunity to create a clean and consistent look across your entire property. With a variety of door colors and textures to choose from, along with accenting window and hardware options, your overhead door can be the perfect finishing touch that brings everything together.
With the most convenience and customization options, overhead doors work best for Shomes, hobby garages and workshops, and agricultural buildings.
The Powerhouse: Hydraulic Doors for Pole Barns
These doors are big and powerful, with a hydraulic system that is specifically designed to more easily and efficiently control doors that are much larger than a standard opening. With sizing options of up to 60' wide, these doors can be expensive; however, they are also often the only option for doorways of this size, making the decision easy.
Hydraulic doors offer all of the same insulation and weather resistance as the overhead doors, allowing you to keep your building climate-controlled and ensure optimal conditions for the contents of your pole building. Additionally, hydraulic doors open outward, allowing you to maximize space inside the building. There is no need to expand the height of your building – adding unnecessary cost to your project – simply to fit the door.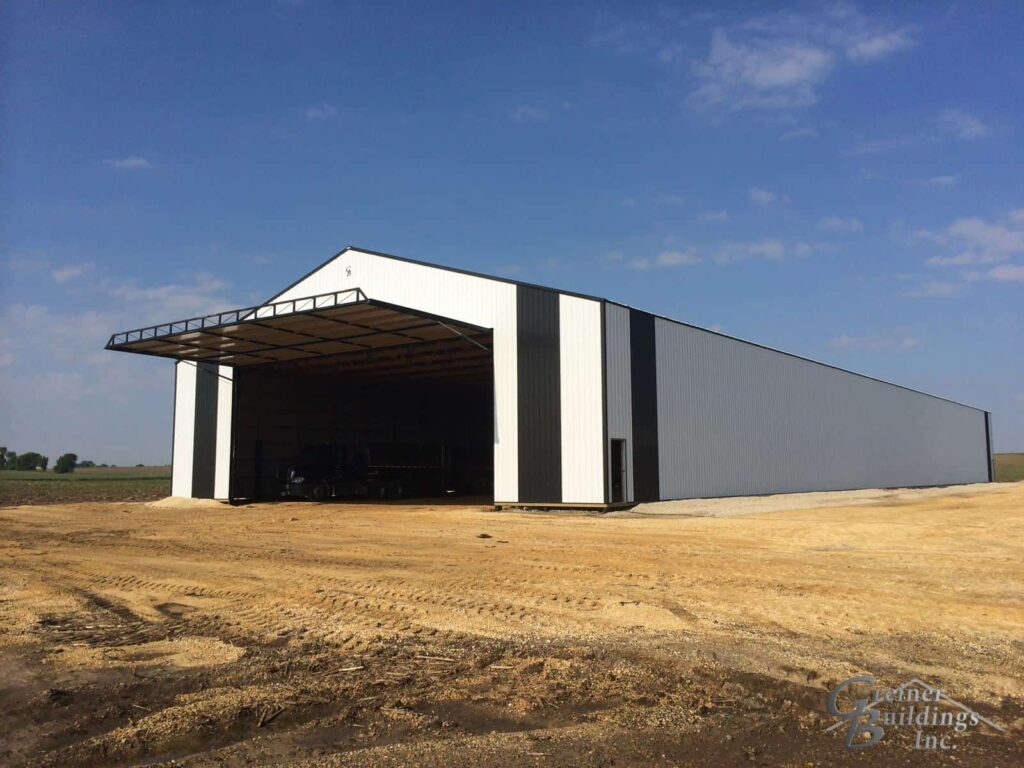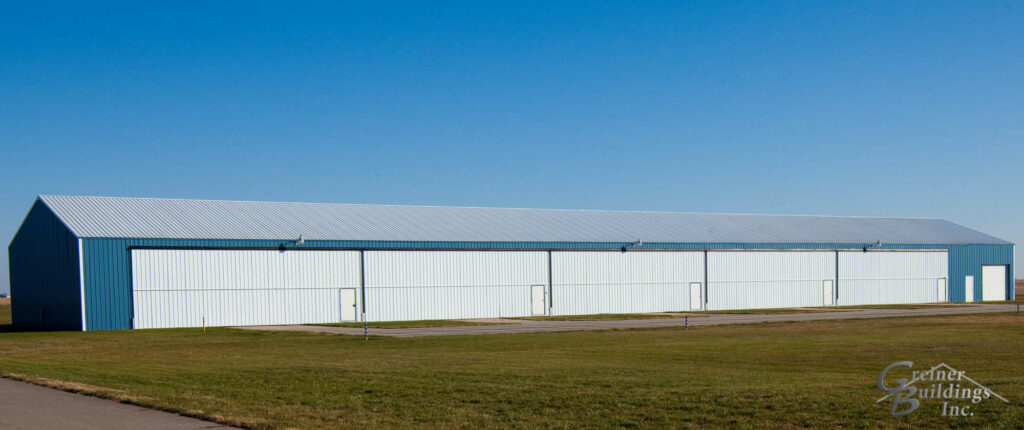 Large-scale farming operations and commercial business most commonly benefit from the use of hydraulic doors, and in general we recommend hydraulic doors for buildings like airplane hangars and agricultural shops.
So, which type of pole barn door is right for your building? If you still have questions after reading this article, don't hesitate to contact an expert at Greiner Buildings. Greiner Buildings has over 35 years of experience constructing pole buildings in Iowa and Illinois. We provide complete building services and handle everything from design to material delivery to construction. Request your free quote today and be one step closer to have the pole building of your dreams (with the perfect door).
What are you looking for?
Iowa and Illinois Accredited NFBA Builders. Washington, Clive, Kewanee, Quad Cities, Muscatine, Burlington, Des Moines, Ankeny, Winterset, Cedar Rapids, Iowa City, Solon, North Liberty, Mount Pleasant, Fairfield, Pella, Tipton, Williamsburg, Newton, Keota, Sigourney, Hiawatha, Marion, Columbus Junction, Wapello, Oskaloosa, Knoxville, Marshalltown, Altoona, Urbandale, West Des Moines, Bettendorf, Davenport, Ames, Kalona, Riverside, West Liberty, Princeton, Geneseo, Galesburg, LaSalle, Dixon, Rock Island, Moline, Wyoming and Sterling. Iowa and Illinois Quality Built Post Frame Pole Barns.