Pole Buildings vs. Stick-Built Construction
A question we get a lot is – What is the difference between post-frame construction and stick-built? It's important to know the difference before starting your next building project. At Greiner Buildings, we specialize in post-frame construction, and we can go on and on about the many benefits of using this method for your next pole building project. So, to help you gain a better understanding of how post-frame and stick-built differ from one another, we've put together a list that breaks down some of the main differences.
What is post-frame construction?
First thing's first. Let's be clear on what post-frame construction is. The National Frame Building Association describes post-frame construction like this: "Post-frame buildings feature large, solid sawn posts or laminated columns instead of wood studs, steel framing, or concrete masonry."
Pole building framing uses those poles or posts to create strong vertical structural support for the building. The posts are buried deep into the ground or attached to a foundation while horizontal beams or girts provide horizontal support.
Simple enough, right? So, now that we know what post-frame construction is. Let's explore how it differs from traditional stick-built construction techniques and some of the key benefits of post-frame pole buildings.
Top 5 Reasons to choose post-frame construction
1. Post-frame projects typically require fewer materials
Typical stick-built construction places studs at either 16" or 24" on-center spacing, while post frame buildings use a spacing of 8' and sometimes even larger. That means less lumber, which ultimately translates into faster construction timelines. For business owners, this is a big deal. A quicker construction process means less downtime for them and their business. That extra spacing between posts and trusses also results in fewer thermal breaks for greater energy efficiency.
2. Pole buildings don't require as much site preparation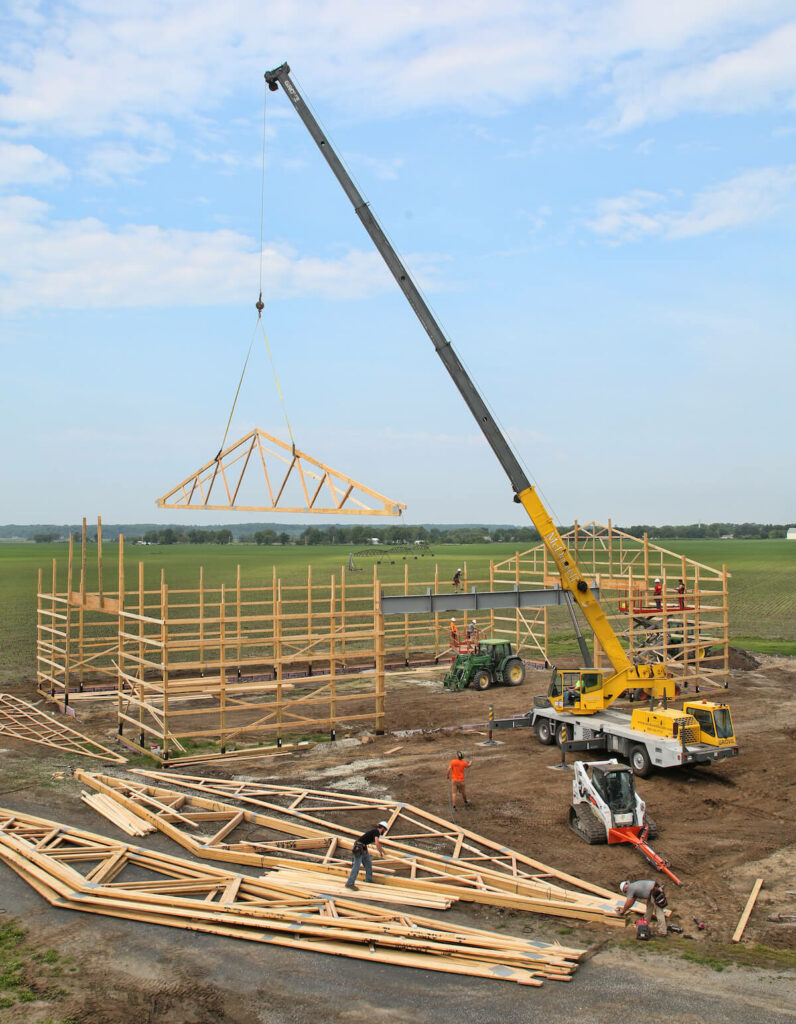 Post-frame buildings don't require you to pour a continuous concrete foundation. That provides a lot of flexibility when it comes to preparing your site. When using stick-built construction methods, you spend a lot of time grading and preparing the site to pour the foundation. With post-frame construction, on the other hand, you can start building without a perfectly level site. You can build first and then do a final grade later, which saves a lot of time and energy during the construction process.
3. Superior Structural Stability
We've already covered that you don't need to pour a concrete foundation for pole buildings. So then how do you get a stable structure? Well, post-frame construction utilizes posts instead of wood studs and other framing materials. Those posts are anchored deep into the ground. This results in a better transfer of energy when the structure is exposed to harsh weather conditions such as wind or snow. The posts transfer that weight into the ground, resulting in a much stronger and durable structure that is built to stand up to harsh conditions that can put a strain on stick-built structures.
4. You can construct large, wide-open spaces
Post-frame buildings don't have internal load-bearing walls. The posts and framing bear the weight of the structure. And, because you don't need load-bearing walls inside your building, that gives you the freedom to achieve large wide-open spaces and floor plans. This feature makes pole building construction a great fit for a wide variety of commercial and agricultural uses such as cattle barns and storage buildings.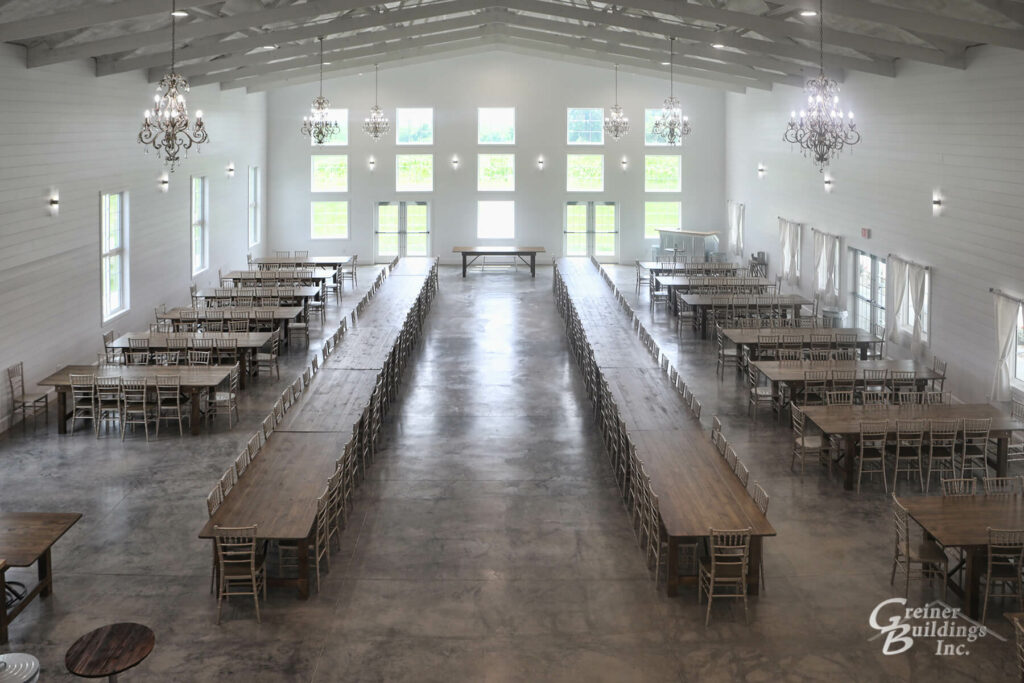 5. Flexible design options
Post-frame buildings are easy to customize to meet a large range of user needs. Use a metal pole building for your next storefront building, warehouse, workshop, hobby garage, wedding barn venue, and much, much more. Need your new pole building to match an existing structure? No problem! All building projects come with 2D and 3D CAD blueprint designs. You'll see a near-exact representation of how your new building will look before we start building. Our in-depth design process will provide you with confidence that your new building project will meet your needs and expectations.
Choose Greiner Buildings for your next post-frame construction project.
Now that you know and understand some of the key benefits of post-frame construction over stick-built, it's time to choose a builder. It's important to choose one who has the knowledge, experience, and design capabilities to take your project from vision to reality.
Greiner Buildings has over 35 years of experience constructing pole buildings in Iowa and Illinois. We provide complete building services and handle everything from design to material delivery and construction. No matter how big or small your project is, our expert team has the training and expertise to produce a high-quality building that will last you for years to come.
Contact us today to learn about how our team can help you build the custom pole barn of your dreams!
What are you looking for?
Iowa and Illinois Accredited NFBA Builders. Washington, Clive, Kewanee, Quad Cities, Muscatine, Burlington, Des Moines, Ankeny, Winterset, Cedar Rapids, Iowa City, Solon, North Liberty, Mount Pleasant, Fairfield, Pella, Tipton, Williamsburg, Newton, Keota, Sigourney, Hiawatha, Marion, Columbus Junction, Wapello, Oskaloosa, Knoxville, Marshalltown, Altoona, Urbandale, West Des Moines, Bettendorf, Davenport, Ames, Kalona, Riverside, West Liberty, Princeton, Geneseo, Galesburg, LaSalle, Dixon, Rock Island, Moline, Wyoming and Sterling. Iowa and Illinois Quality Built Post Frame Pole Barns.