3 Popular Uses for Pole Barns in the Agricultural Industry
The significance of the agricultural industry in the Midwest is no secret. For hundreds of years, deep fertile soil and extensive rural landscape has allowed this place we call home to be one of the very best places for farmers to grow crops and raise livestock.
Over time, ag workers in America's Heartland have utilized the 127 million acres of agricultural land to create a $76 billion industry and to become one of the largest suppliers of the world's food, fibers, and other materials people depend on every day.
Many are farming corn and soybeans, others are raising hogs and beef cattle, and many more are part of a commercial seed business.
No matter their exact role in the industry, one thing is consistent; they almost all use pole buildings and metal pole barns. But what makes these types of buildings so popular among agricultural experts? Read on to find out.
1. Equipment Storage & Protection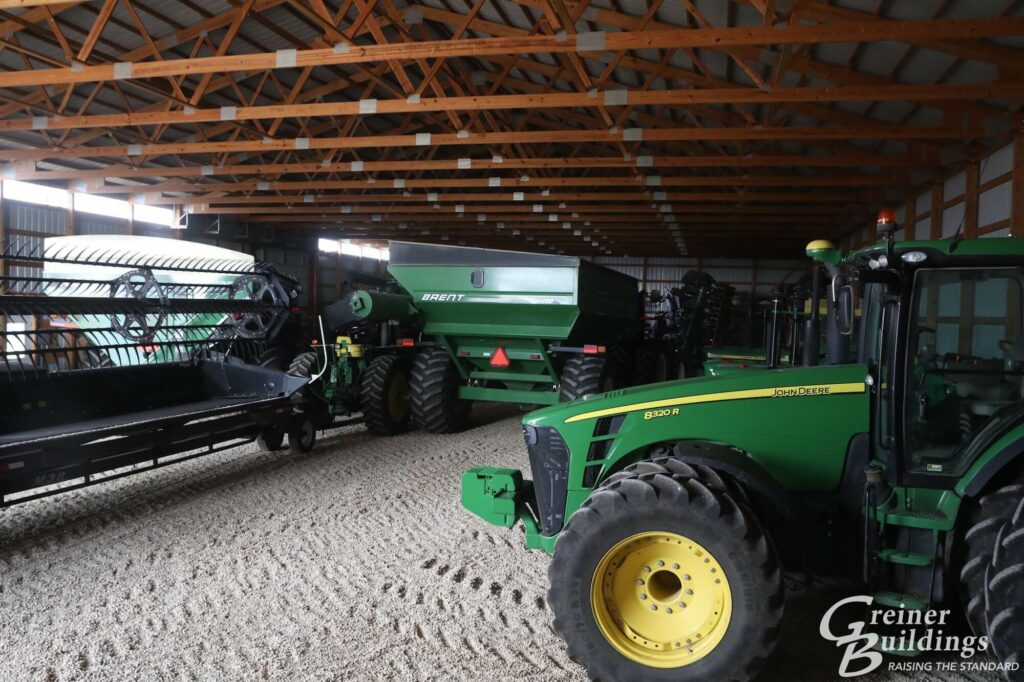 Those big diesel tractors, spreaders, sprayers, and combines work hard out in the field. When they're not being used, a pole barn is the ideal place to keep them protected from our harsh Midwestern weather. The better you store and protect your expensive equipment, the longer it'll keep working hard for you.
Machine sheds are a very cost-efficient choice for farm machinery storage as they typically don't have insulated walls or concrete floors. Many find the strong steel roof and four solid walls of a simple machine shed to be sufficient for farm equipment storage.
Others prefer to keep their pole building warm in the winter months with insulation, concrete foundation, and a sealed lining within all material gaps. The major benefit to a lined and insulated shop is the ability to comfortably work on your equipment and projects all-year-round while also preventing fluid and line freezing. Want the best of both worlds? Our custom 2d & 3d CAD capabilities allow us to design and build lined shop/machine shed combinations with about any floorplan or features you can imagine.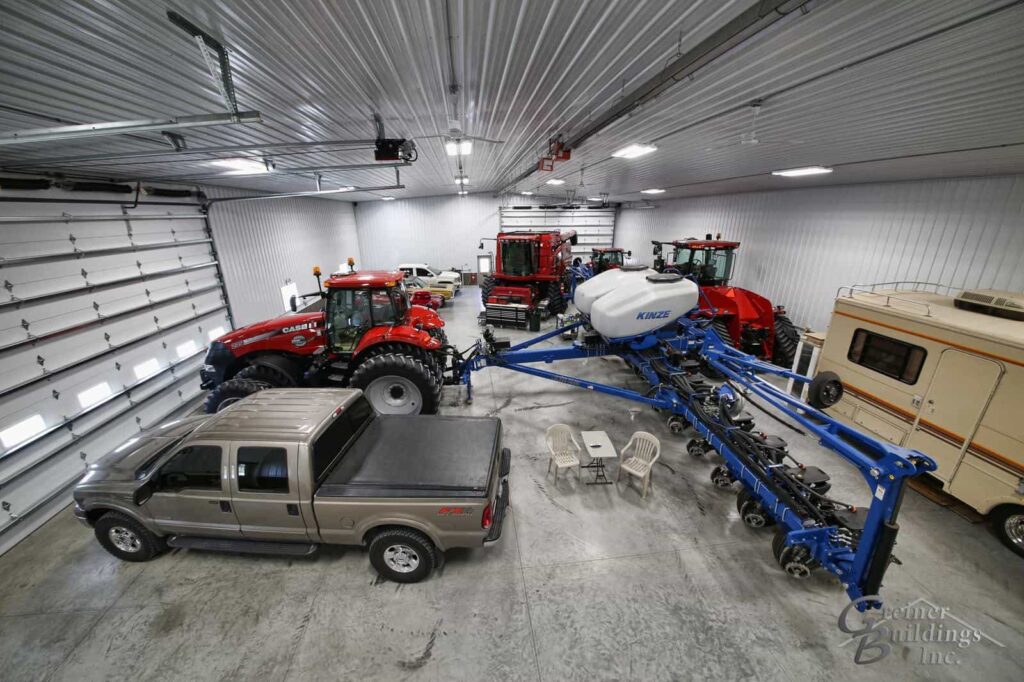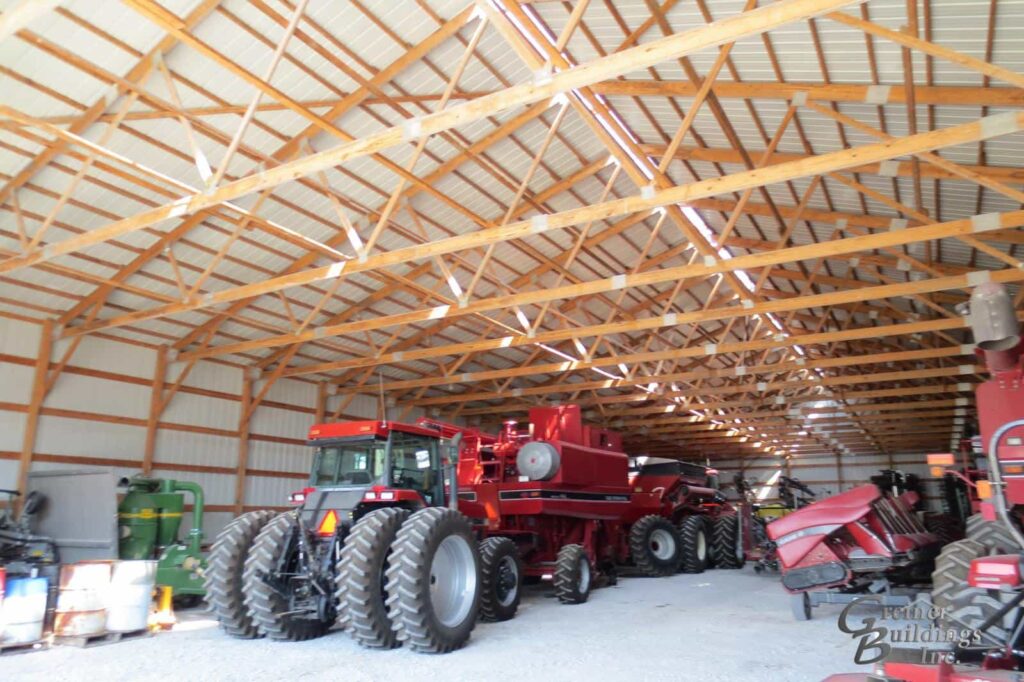 2. Livestock Shelters & Barns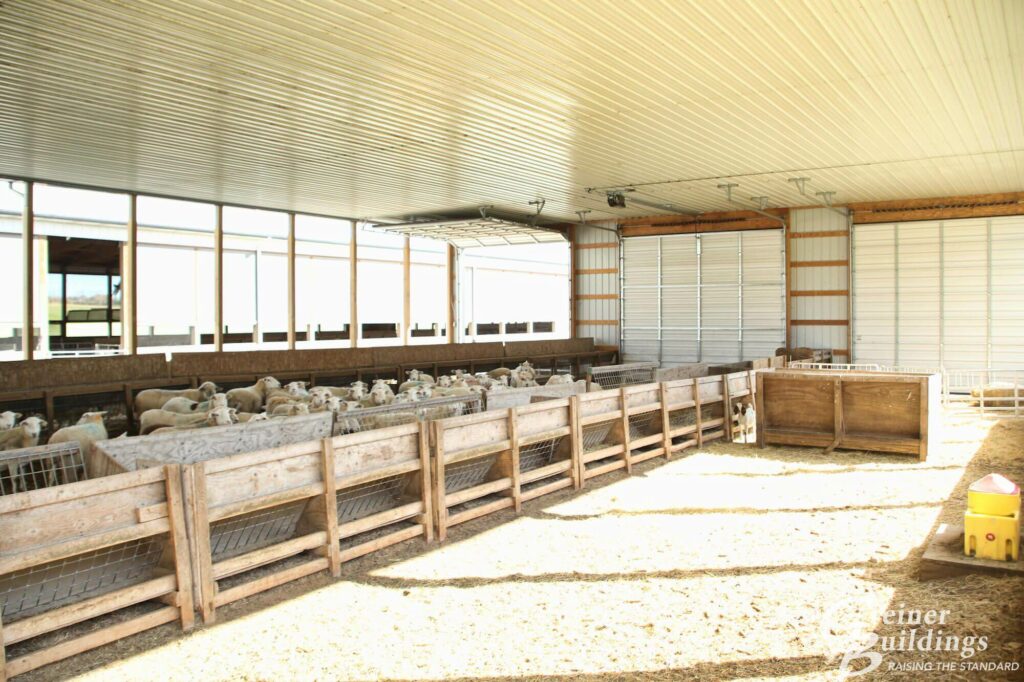 Just like machinery, livestock animals are a large investment that can be protected with the shelter of a pole barn. Not only do pole shelters physically protect your livestock from extreme weather conditions and unhealthy insects, but they also help provide them with a stress-free environment where they can feel safe and grow strong.
Our team is extremely experienced in building custom cattle barns for both beef and dairy cattle, and we recently built a large sheep building that won the National Post Frames Associations (NFBA) Livestock Building of the Year.
Depending on your needs and that of your livestock, we can custom design and build the most ideal livestock building that also works with your budget. Some options include natural lighting panels, concrete foundations, open sidewalls, and mono-sloping roofs. Ask our team about all the livestock building options available and how they can provide a healthier experience for your animals.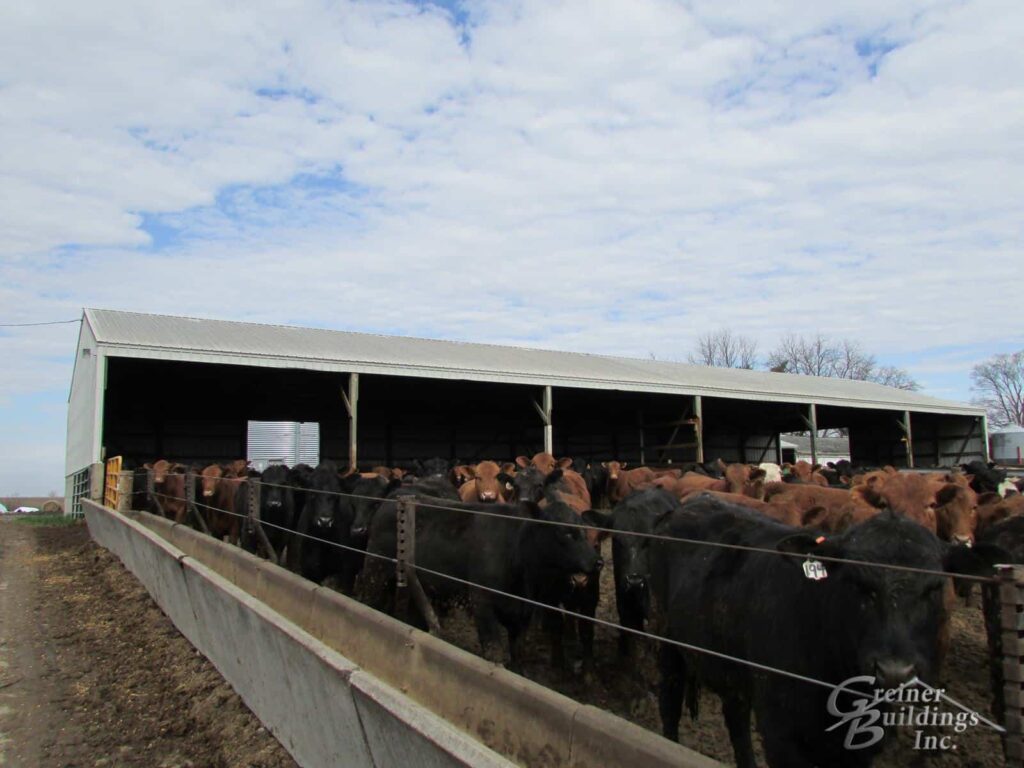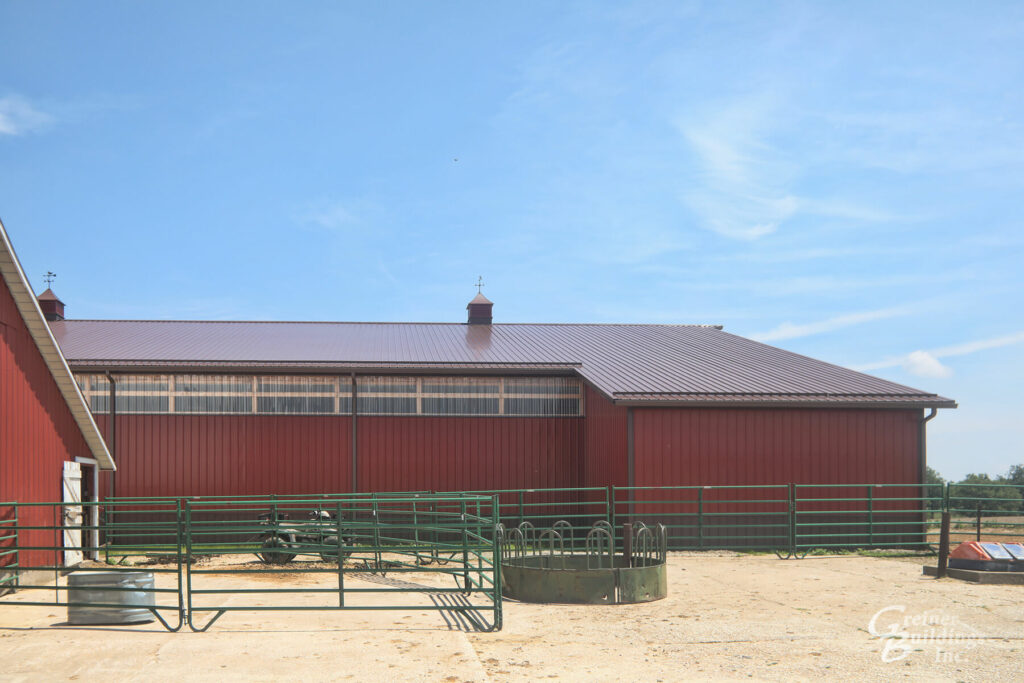 3. Commercial Seed Dealerships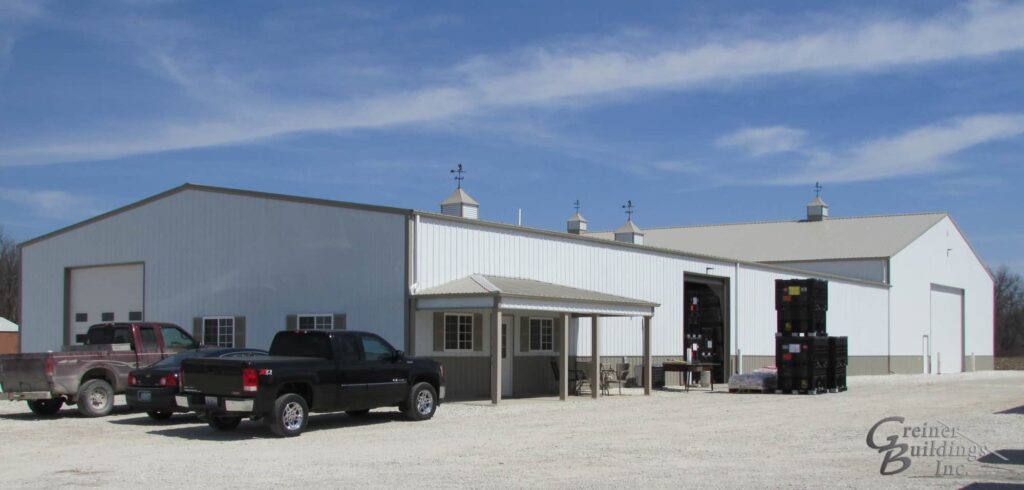 Pole buildings aren't only useful on farms, they're also a popular choice for commercial businesses across the Midwest. Again, a big reason for this is the fact that they be customized to your specific needs. Floor plans can be designed for operational efficiency and future business growth, and everything from overhead door width to warehouse ceiling height can be constructed to match your exact specifications.
Adding exterior features like cupolas, porch overhangs, and window shutters will increase curb appeal and make for a more enjoyable work environment.
It's also fairly common for seed dealership pole buildings to include some sort of finished office space within the building. Our past builds have included everything from carpeted meeting rooms, to fully plumbed bathrooms, and even complete kitchen break-room areas.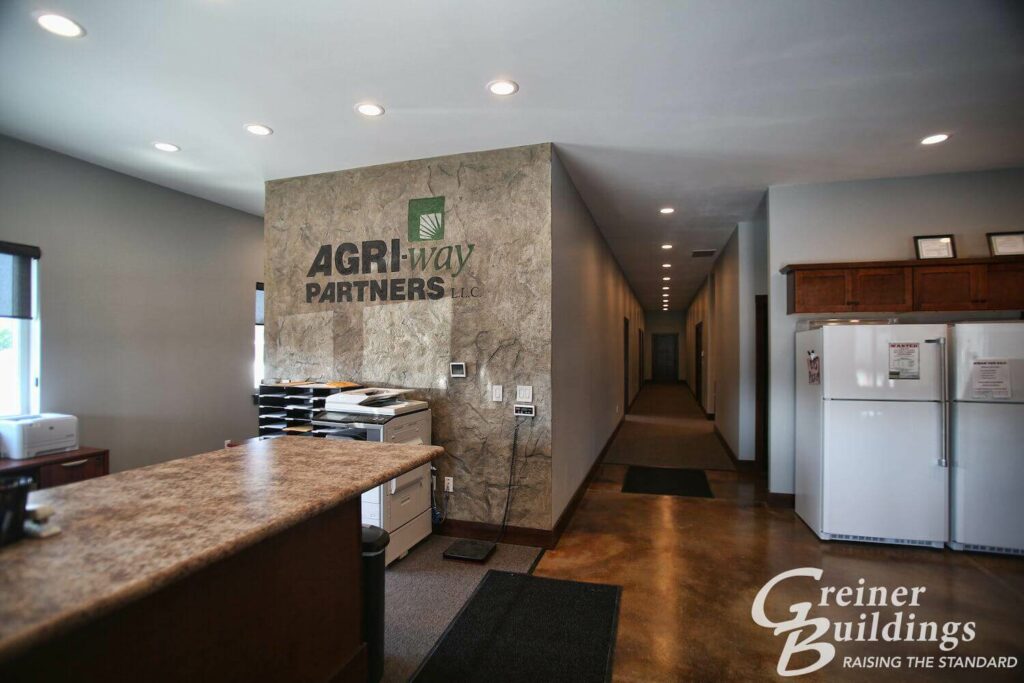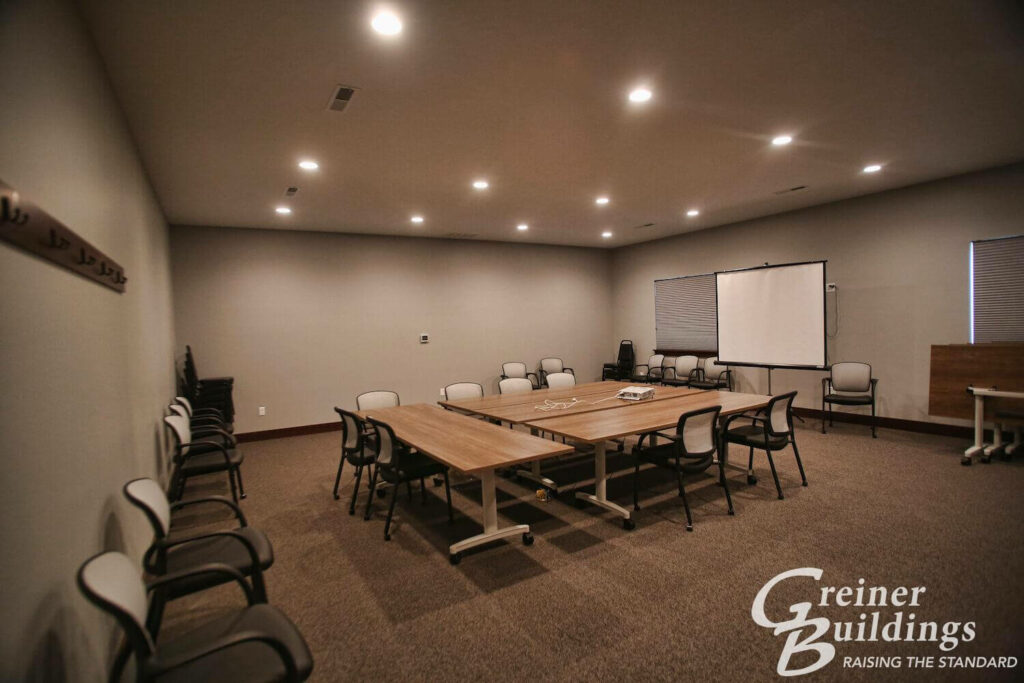 Building Your Agricultural Pole Barn
Overall, the versatility, durability, and affordability of metal pole barns make them a popular choice in the agricultural industry. While ag pole buildings can be built and used in many different ways, they're all alike in the fact that they keep ag workers (and their commodities) covered.
When you're ready to build a quality pole barn for your farm or business, contact Greiner Buildings for a fast and free quote followed by unmatched service and quality.
What are you looking for?
Iowa and Illinois Accredited NFBA Builders. Washington, Clive, Kewanee, Quad Cities, Muscatine, Burlington, Des Moines, Ankeny, Winterset, Cedar Rapids, Iowa City, Solon, North Liberty, Mount Pleasant, Fairfield, Pella, Tipton, Williamsburg, Newton, Keota, Sigourney, Hiawatha, Marion, Columbus Junction, Wapello, Oskaloosa, Knoxville, Marshalltown, Altoona, Urbandale, West Des Moines, Bettendorf, Davenport, Ames, Kalona, Riverside, West Liberty, Princeton, Geneseo, Galesburg, LaSalle, Dixon, Rock Island, Moline, Wyoming and Sterling. Iowa and Illinois Quality Built Post Frame Pole Barns.